Jenna Zeug Enjoying Her Forensics Experience
Published Thursday, March 04, 2021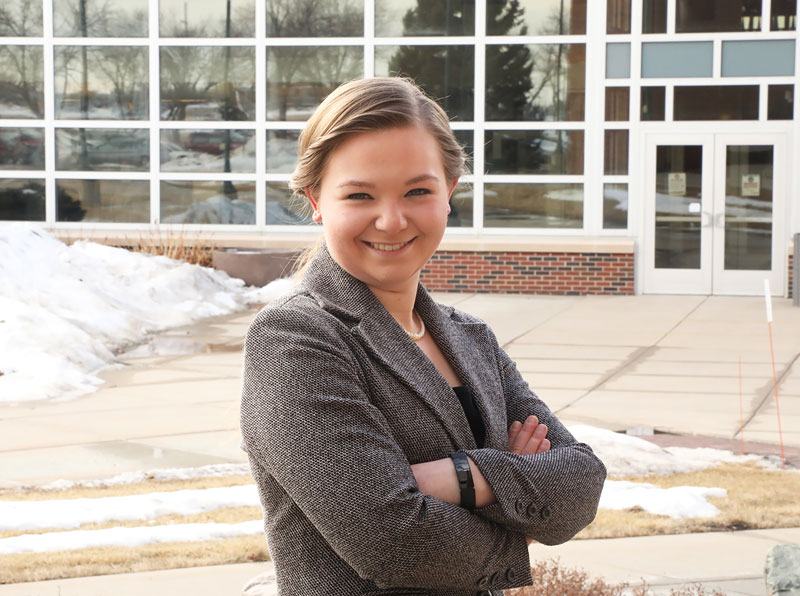 Jenna Zeug
Jenna Zeug developed an interest in speech way back when she as a student at Holy Redeemer School in Marshall.
Zeug is a sophomore History Education major and the daughter of Joe and Bobbi Zeug from Marshall. She placed in two categories at the recent Minnesota Collegiate Forensics Association (MCFA) state tournament, where her Southwest Minnesota State University team won the limited entry championship.
She teamed with Dominique McPhail, a freshman from Murdock, Minn., to place third in the Duo Interpretation category, and placed fourth in the Informative Speaking category.
She took part in the "Informative" category while in high school "and continued it into college," she said. Her fourth-place state finish was about the U.S. Postal Service — "the history, its current financial issues and possible solutions in the future," she said.
"I started speech in middle school at Holy Redeemer. I was inspired by my sister Bethany, who did it before me. She was having so much fun, and I heard so many stories about what they did at tournaments. It sounded like too much fun not to try it."
There are several differences between high school speech and college forensics, she said. "I'd say the culture is a bit different," she said. "In high school you have a united front to win the team sweepstakes. In college you get more involved with other people, other teams. You recognize names when you see them. In college you make connections to other speakers and coaches. There's a lot more connectivity."
College forensics has more competition categories than high school speech, she said. "There's a lot of categories, divided into sub-categories of public address and interpretation. There's a category for everyone," she said.
The SMSU season abruptly ended last March and Zeug was unable to compete in two national tournaments she qualified for. The recent state tournament was held virtually, and that added an unusual dynamic, she said. "It's different when you have an audience (during a performance)," she said. "You have eye contact and get feedback — visual cues so you know when your point sinks in with someone. To not have that feedback is difficult from a performance standpoint."
Speech and forensics have really helped her personally, she feels. "I'm really noticing my ability to have confidence, to stand up in front of a room and talk for two-to-three minutes on any given subject. To have that ability makes you stand out to professors."
The SMSU team is very young this year, with just two returnees back from last year's team. There's 25 on the team. "Ben and Julie (Walker) really do a good job of spreading awareness of the team, of letting people know this is a fun activity, and they are constantly promoting the other benefits of this activity."
An avowed bookwork, Zeug enjoys SMSU because "I like how personalized it is. There's a good connection between students and administration. Especially when COVID-19 hit. Some of my college-age relatives struggled keeping their grades up. I felt SMSU reached out to all of us. They have been supportive."
Related Articles