Students Awarded Full-Ride Scholarships as Part of President's Regional Scholars Award Program
Published Tuesday, March 30, 2021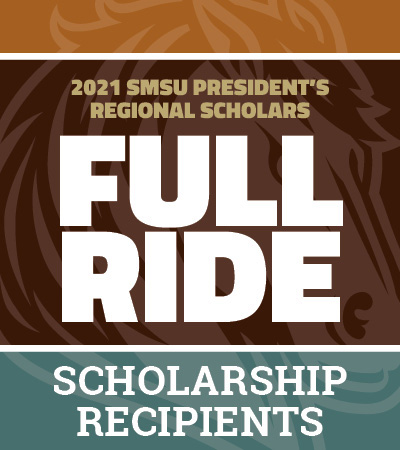 2021 SMSU President's Regional Scholars Full-Ride Scholarship Recipients
Several high-achieving high school seniors have been awarded full-ride scholarships to Southwest Minnesota State University as part of the President's Regional Scholars Award program.
Dimitri Gergen from Marshall High School, Samuel Kleven from Westbook-Walnut Grove High School, and Amanda Wevley from Hancock High School in Starbuck, Minn, will receive full-ride scholarships starting in fall semester 2021. The scholarships are for four years. The students were selected through a combination of their outstanding academic achievements and interviews with SMSU faculty, staff and President Kumara Jayasuriya.
The scholarships are the top tier of awards of the President's Regional Scholars Award program, launched in November, 2019. There are six scholarship levels to the Regional Scholars program, and range from $4,000 to a full ride over four years.
Dimitri Gergen plans on majoring in Theatre Arts and minoring in Creative Writing at SMSU. His dream job would be to write scripts and storylines for a major movie/video game company. He chose SMSU because "I found that the relationships between professors and students is closer than that of many other colleges, and the atmosphere of the student body is inclusive, explorative and positive."
Samuel Kleven is the son of James and Carrie Kleven and plans on majoring in Secondary Math Education. That degree, he hopes, will lead to a high school teaching position. He'd like to teach somewhere close to home. "I guess my dream job would be to teach at Westbrook-Walnut Grove," he said. Kleven chose SMSU because of its proximity to home, "and I'm familiar with it. I've been to SMSU for basketball camps, FFA Ag Bowl and basketball section tournaments. The campus is familiar to me and I think it will be an easy transition from high school."
Amanda Wevley is the daughter of Curt and Marie Wevley and plans on majoring in Agricultural Communication and Leadership. Her career plans include working in public relations or be a sales representative for an agricultural company while living on a hobby farm "with beef cattle, pigs and goats." She chose SMSU "because it feels like home to me. I knew from my college visit back in October that I was meant to be a Mustang. Everyone is so friendly, and the professors truly want to see their students succeed. I like to be involved, and SMSU has many opportunities that it offers students, like being an Ambassador, a member of the Ag Club and the Living & Learning Community."
"Our purpose in implementing the President's Regional Scholars Award program was to keep the best and brightest students in southwest Minnesota, attending SMSU," said SMSU President Kumara Jayasuriya. "We look forward to having these four outstanding students join the Mustang Family in the fall."
For further information about the scholarship program, contact the Office of Admission at: 507-537-6286; Admission@smsu.edu.
Related Articles