Bayerkohler is Cowan Award Winner
Published Wednesday, April 14, 2021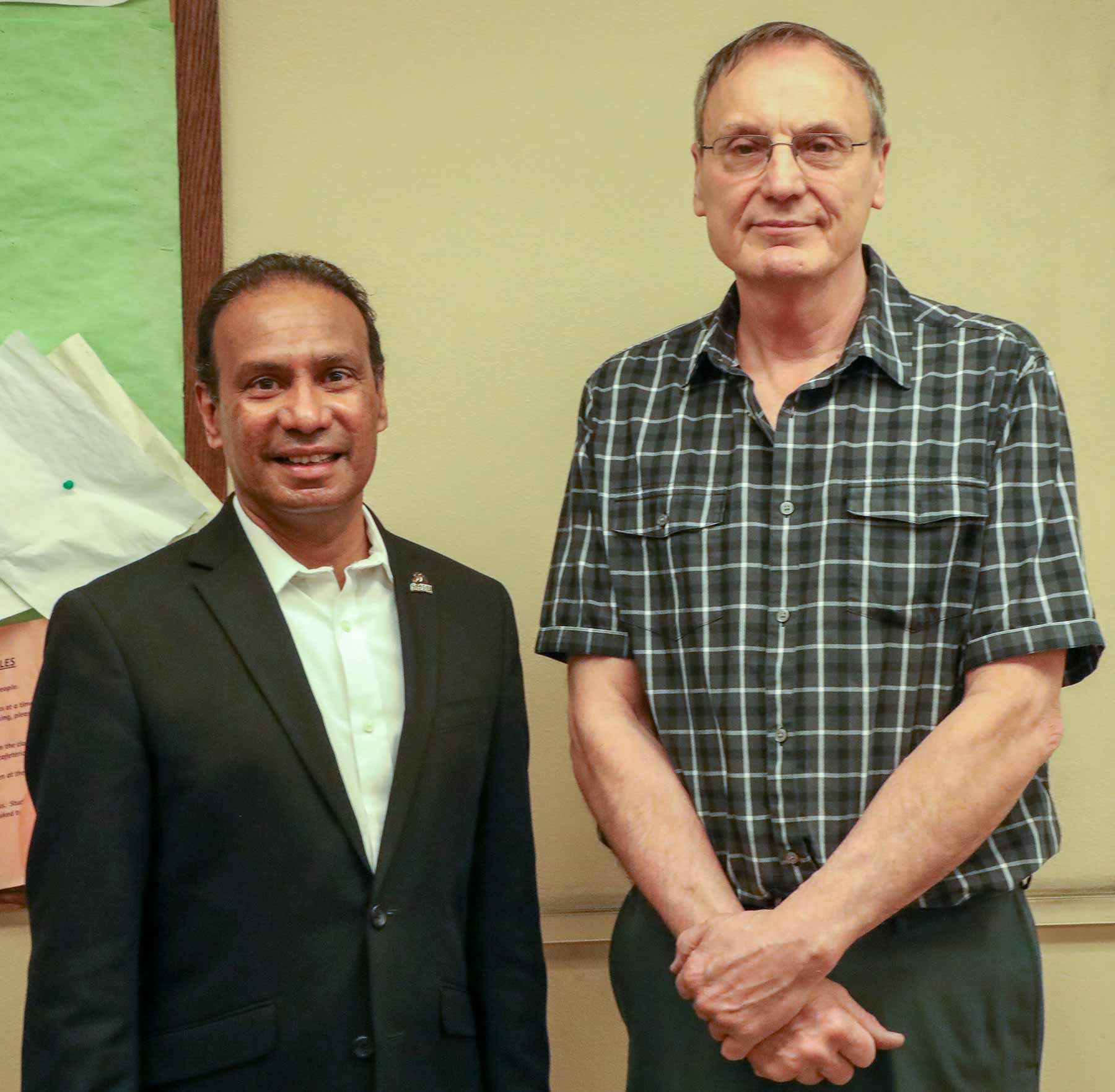 Glenn Bayerkohler, right, with President Kumara Jayasuriya
Accounting  Professor Glenn Bayerkohler, in his 33rd year at Southwest Minnesota State University, has been named the 2021 Cathy Cowan Award winner.
Bayerkohler came to SMSU in 1988.  Prior to that he worked one year for a law firm in Fairmont and for seven years as a professor at Northwestern College in Orange City, Iowa. He earned Mathematics, Business Administration and Accounting degrees from Mankato State University; a Master's in Professional Accountancy from the University of South Dakota; and his Juris Doctor degree from William Mitchell College of Law.
Why the move from law to higher education? "I always wanted to be a teacher," said Bayerkohler. "Originally I thought I was going to be a math teacher. I liked numbers. But I ended up in accounting."
After earning his law degree, "I thought I was going to be a business law professor, but there were more openings in accounting than business law, so I started teaching accounting."
He would receive several certifications, including Certified Public Accountant, Certified Management Accountant and Certified Financial Management. He earned the Johnson & Johnson Silver Medal Award for having the second-highest Certified Financial Management test score in the country.
He also served in the Minnesota Army National Guard.
Bayerkohler keeps a low profile on campus, where he's a student favorite. "When the time came closer to look for employment after my time at the university, Professor Bayerkohler helped me do so. I'm grateful SMSU has faculty such as Professor Bayerkohler dedicated to the success of his students beyond just that of the classroom," wrote one of his students in his Cowan nomination form.
A former non-traditional student cites his teaching skills and civic-mindedness. "His goal is to provide students with a strong foundation in accounting so they can successfully apply their knowledge and skills in the workplace and volunteer opportunities," she said.
Bayerkohler tells his Accounting students that after graduation they should give serious consideration to serving on various community board and committees where they can use their talents and abilities to serve others.
In the community, Bayerkohler most recently finished two terms on the Marshall City Council, where he was known for being well-prepared on the issues and a steward of the taxpayer dollars. He served from 2013-2020.
Bayerkohler served on the Marshall School Board from 2002-2005 where he felt he could make use of his backgrounds in education, law, and accounting.
He has served various terms on the Good Shepherd Lutheran Church Council during the 1990s, and was the church's Building Committee Chairman from 1993-95 when the church built its new sanctuary.
"I could have retired already, but I really enjoy what I'm doing," he said. "Working with students keeps you young at heart."
He grew up in Lakefield, a community of 1,700 along the Iowa border. "I knew I wanted to live and raise my family in southwest Minnesota," he said. "I'm a small-town guy, and I like small-town living. I like a school like SMSU where you get to know the students. You get to know the students in smaller class sizes, and the staff, too."
He's humbled by the Cathy Cowan Award. "I was reading about it, it's an award for doing good for others — that's honorable," he said. "I look at the people who have won in the past, they are people that try to do good for others, not because it will get recognition, but because it's the right things to do, and they get satisfaction from helping others. It's a big honor and I'm certainly surprised by being selected."
Glenn and his wife Carolyn are the parents of two grown sons (and SMSU alumni), Aaron and Ryan.
Related Articles