Turek Wants to go Out on Top as Paralympic Gold Medalist
Published Wednesday, July 07, 2021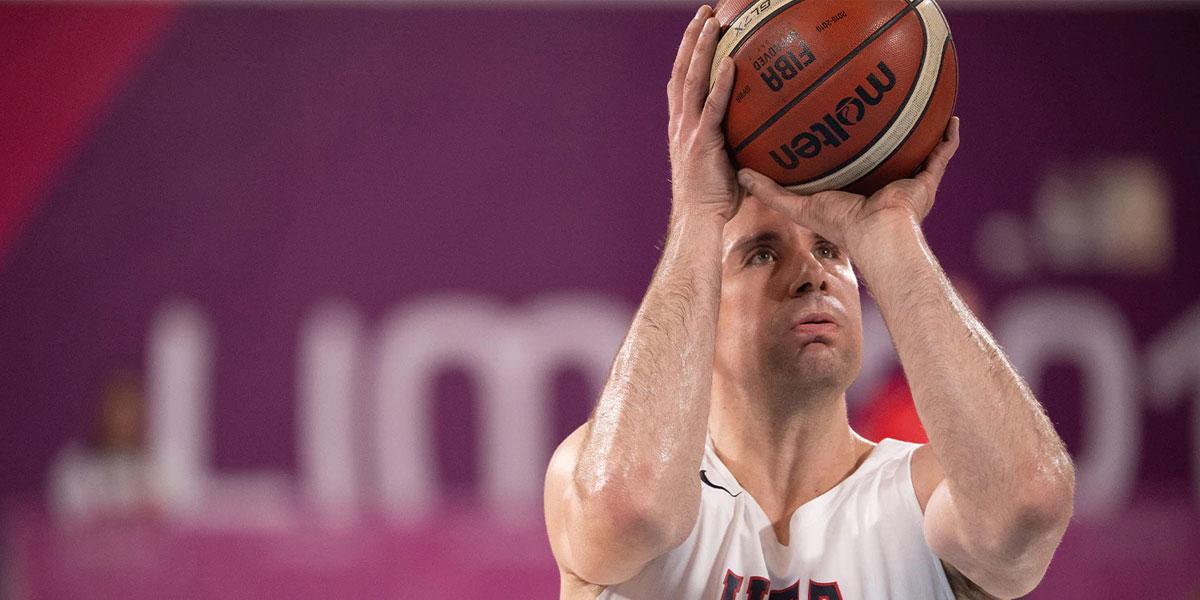 Josh Turek
Josh Turek, a 2002 SMSU alumnus and the most decorated wheelchair basketball player in program history, is just about ready to leave one phase of his life, and begin another.
The operative words are "just about." He's got one bit of unfinished business he'd like to take care of first.
Turek is a member of the United States Paralympic basketball team, which will defend its gold medal at the upcoming Paralympic Games in Tokyo Aug. 24-Sept. 5. That competition will be his last as an athlete.
"This is it," said Turek, who is making his fourth appearance on the Paralympic team.
He won a gold medal in 2016 in Rio de Janeiro, a bronze in 2012 in London, and was a member of the seventh-place team in 2004 in Athens. "My goal for entering the sport from Day 1 was to represent the U.S. in the Paralympic Games and win a gold medal," he said. "I was happy to stop there."
But the best laid plans sometimes go awry. "I was still playing (professionally) in Spain, which is the best league in the world. I was among the top scorers and named to the 'All-Star 5' team. The U.S. played in the world championships in 2018 without me and we ended up losing. A lot of the players and staff got in touch with me and told me they needed me to come back on the team. So I said, 'Let's do it.'"
His grand plan was to play one more year in Spain, go to Tokyo in 2020, win a gold, and retire from the sport. "But COVID shut down the Spain league, and the Paralympics were delayed. So I ended up back in (Council Bluffs, Iowa, his hometown). I took a fulltime job, and since last March I trained by myself, trying to make it work."
Turek is 42, the oldest player on the U.S. team, and he credits discipline for "allowing me to play on the backside of my career — to have that kind of longevity."
He recently returned from training camp in Colorado Springs, and is looking forward to the Paralympic Games. "I'm playing really well now, and I'm happy with my decision to come back and help the team," he said. "This one, it's like it's for your legacy. It's an achievement of a lifetime to make four Paralympic teams and have the possibility of winning another gold medal."
Turek is a proud, driven athlete and would like nothing more than to solidify his stature as one of the sport's greatest players with a second gold medal.
He was fresh out of Southwest Minnesota State University with a history degree in 2002 when he quickly found himself in Italy, playing professional wheelchair basketball. "In 2001, we had one of the best teams and ended up in the Final 4 in Chicago. There were scouts there from a team in Milan, Italy, and they approached me."
He was a junior then. One year later, he started a near-17-year professional career in Europe, playing for teams in Italy, France and Spain, where he met his wife, Jarolin. "It wasn't NBA money, but it allowed me to do two things  — play the sport I love, and see the world on someone else's dime," he said. "I feel like I'm a better person for having done it, I've experienced other cultures and I'm grateful for the opportunity."
Turek comes from a basketball family. His brother John played at Nebraska and professionally in France, while his sister Elisha is an Oral Robert Hall-of-Famer and played professionally in Spain. Turek will be inducted into the SMSU Hall of Honor in February, 2022.
He has since earned a master's degree from Keller University, New York. His European professional days are over, and he now works for NuMotion, the country's largest supplier of mobility devices/solutions.
At SMSU, Turek played one year for coach Thomas Williams and his final four years for the late Dale Erickson. He credits Erickson for knowing how to handle him. "I was young and talented and you have to have some stubbornness, confidence and self-belief to achieve the things I've achieved. Dale understood how to coach me. Some players need soft love, and some need tough love. He realized I perform better with tough love, and I appreciate that. Without him I'm not sure I'd be able to achieve what I have."
Another influential person is his life is former teammate Ryan Martin. "We played together all five years at SMSU and he played in Europe for 10 years. To this day he's one of my best friends — we talk almost daily."
Turek is the highest scorer in team history with 4,024 points. He also grabbed 1,213 rebounds, was a four-time team MVP, four-time All-American and a three-year captain. He was the 2002 Male Student-Athlete of the Year.
He'd like a storybook finish to his basketball playing days. "It's rare to go out on your own terms. Most of the time, as an athlete, you are shown the door. I don't want my last experience to be a meaningless game in a half-empty gym. I played to be at the top level, and I'm playing well enough now I could push it off (for a time)."
He's hoping the 2021 Paralympics will be his "Michael hand-in-the-air" finish. "It would be the perfect way to end my career," he said.  "I have a whole lot more to do; I want a successful 'Part B' in my life, and to do that I need to start now."
Related Articles