Five to Receive Alumni Awards During Homecoming
Published Wednesday, September 15, 2021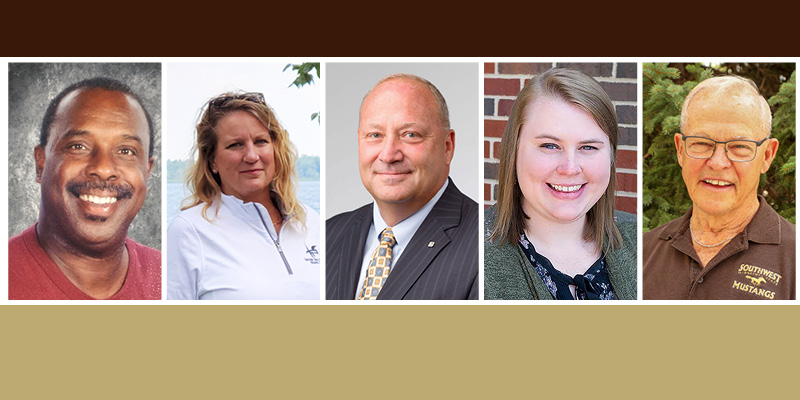 2021 Alumni Award Recipients (l-r) Cooley, Frederiksen, Werpy, Squires, Frandson
Five individuals will receive Alumni Awards as part of Homecoming 2021, with a theme of "Brown & Bold: Bringin' It Home."
Alumni Achievement Awards are presented to alumni in recognition of professional success and the positive reflection made on the university and fellow alumni. This year's winners include: Posthumously, Michael "Dexter" Cooley, '78, teacher and coach, Wakefield High School, Raleigh, N.C.; Erin (Mork) Frederiksen '99, co-owner, Westridge Shores Resort, Alexandria, Minn.; and Todd Werpy, '85, Senior Vice President and Chief Science Officer, ADM, Chicago, Ill.
The Graduate of the Last Decade (GOLD) Award recognizes a recent graduate with exceptional achievement and contribution to the recipient's profession, community/society or university. This year's GOLD Award goes to Lauren (Teal) Squires '13, Project Specialist, Beacon Health System, South Bend, Ind.
The Honorary Lifetime Membership Award is presented to an individual or couple who are not an SMSU graduate but give their time, talents, and enthusiasm as if they were. This year's award goes to Gary Frandson, retired Associate Professor of Business Administration, 1969-2007.
They will be honored at an 11:30 a.m. luncheon on Friday, Oct. 8 in the Conference Center Ballroom on campus.
Alumni Achievement Awards
Michael "Dexter" Cooley '78
Michael "Dexter" Cooley was one of those guys everyone knew when he grew up in North Carolina. "I used to joke that when we went on vacation or to the beach, someone there knew him," said his widow, Nancy (Byrne) Cooley, a 1983 alumna.
Cooley is being posthumously honored with an Alumni Achievement Award from the Alumni Association. He graduated in 1978 with a Health major and PE minor, and spent a distinguished career as a teacher, coach and administrator in his home state.
He died Dec. 16, 2019, following a courageous battle with colon cancer.
Cooley came to SMSU to play basketball. He was recruited by Dale Honeck, and made an impact when he arrived. He was an honorable mention NAIA All-American in 1977-78, as well as first-team All-NSIC and NSIC Player of the Year.
He made friends quickly, and caught the eye of freshman Nancy Byrne when she first came to campus. "I was in my first year, and he was finishing up his last year. He transferred from Louisburg Junior College (Louisburg, N.C.). I think Dale (Honeck) coached around there and recruited Dexter."
When he graduated, Cooley returned to North Carolina and took a job as a teacher and coach. "I was still at Southwest and decided to venture out East," said Nancy. "I enrolled at Barton College (Wilson, N.C.), and we dated during that time. Dexter focused on coaching and teaching and I focused on working on my education degree. I ended up going back to Southwest to complete my degree. I actually taught in Marshall for two years."
The two would marry in Nancy's hometown, Ghent, in 1989, "and then we moved out East."
Dexter got a teaching and coaching job at Bunn High School, then moved over to Millbrook High School for 13 years as a teacher/coach before taking on the duties of teacher, boy's basketball coach and athletic director at a new high school, Wakefield High, which opened in 2000. It is located in Raleigh, N.C. He was there for 15 years before retiring to fight colon cancer.
In his 37 years as a coach he won over 400 games, and was named conference Coach of the Year 8 times. He was honored with the Charlie Adams Distinguished Service Award and Athletic Director of the Year Award in North Carolina.
Nancy was an elementary education teacher for 38 years before she retired.
What was Dexter like? "On the court, he was very competitive and got fired up. He demanded discipline from his players. He preached acting like a gentleman, representing your school, and taking pride in who you are. He was a mentor to a lot of players. At home, he was a man of few words, but when he spoke, the boys listened. He was a very positive, upbeat guy, and that carried through to his cancer battle. He was gracious, grateful, and very popular. Every time I turn around I miss something about him."
Nancy will attend the Alumni Association Awards Luncheon Oct. 8 with their two sons, Michael and Phillip.
 "This is really a nice award for Dexter, and I'm very happy to come back and accept it for him. He would be so pleased," she said.
Erin (Mork) Frederiksen '99
All Erin (Mork) Frederiksen was looking for was a place to park her boat. She ended up buying a resort.
The Alumni Achievement Award winner graduated in 1999 with a Biology degree, with minors in Computer Science and Math. "I had enough credits for a Biology degree in the spring of 1988, but never filed for graduation," she said.
Frederiksen took a job as a programmer at the Schwan's Company for some time when she returned to SMSU for a degree in Biology Education. She taught at Balaton High School in its final year of existence, then filled in for a year at Murray County Central in Slayton. She also taught summer school in Marshall and Art in Alexandria.
How that education translated into her current position as a resort owner is, well, a fortuitous fluke.
"I went online looking for a place to park a boat," she explained. "I had a position as a public health educator, and my grant funding was ending." 
A phone call to the owners of the Westridge Shores Resort on Lake Mary near Alexandria changed everything.  The owners were ready to sell and Frederiksen was ready to take a chance.
After 20 years in Marshall, she moved her children up to Alexandria and began a new life, one she embraces, though in the beginning, it was not easy. She learned quickly what she didn't know.
"Thank God I was young and dumb and had a lot of energy," she said. She bought the resort in 2003 and married her husband, Eric, in 2005. They've continued to improve Westridge Shores each year. 
"When we started there were 17 beds. It has grown to over 60," she said. There are 13 cabins now, with the largest being an 8 bedroom and 4,500 sq ft.
"I learned immediately no amount of education can give you the knowledge for this. I took over on Memorial Day, and it was baptism by fire."
When purchased, the resort was seasonal. Now, it's year-round. "All the cabins are winterized," she said. She insists on keeping it a family resort, something increasingly rare in Minnesota.
"We had a 90 percent return rate after two years," she said. "We are not progressive. My daughter calls us dinosaurs. We insist on visiting with every guest. Summer is exclusively for families.  We are proud to have old-fashioned values at our Ma and Pa resort."
She calls Lake Mary "an amazing fishing lake" and in the early spring, fall and winter, fishermen are welcomed. But in the prime-time summer months, the resort is for families only.
She took many art classes at SMSU, and the activities offered at the resort are unique for the region. "My go-to elective was art," she said. Pottery, painting and other art-related activities are available at the resort and she is proud of the fact that her resort "has a 5-star rating on Google; our guests and staff are a very important part of the resort's success. We offer cabins and amenities that others don't, and I'm grateful we are able to provide an option families can enjoy."
Her ties to SMSU run deep. She has six children, ages 36 to 15. The kids grew up in the SMSU bleachers attending events as booster club members. Matthew Fischer of Alexandria is a 2009 alumnus who played football for the Mustangs. His wife, Whitney (Dierks), was a volleyball player and a 2010 alumna. David Fischer lives in Marshall and his wife Samantha (Downing) earned her MBA from SMSU. Son Zachary Frederiksen, a sophomore at Alexandria High, is taking concurrent enrollment classes through SMSU. Daughters Melissa Fischer and Dr. Katie Teague are working in the cities and son Nicholas Fischer and wife Katie live in Asheville, N.C.  "Life is changing in amazing directions; our 9th grandchild is due in January."
Frederiksen enjoyed her time at SMSU. "My professors were always available," she said, mentioning Ed Carberry, Sandy Hoffbeck, Alan Holmes and Henry Kyllingstad.  "I met Ed and Al when attending a science summer camp in 8th grade.  SMSU had me sold from age 14 on," she said.
"I am completely and totally humbled by this award," she said. "I hope to live up to it."
Todd Werpy '85
Todd Werpy's father Galen was a baker in Marshall for 50 years. "He retired once, got bored in three days, and went back to work. He'd go in at 2 a.m. He loved it," he said.
It took Werpy just a couple of days working alongside his father to know "that I didn't have that vision for myself."
He chose another path, and today is the Senior Vice President and Chief Science Officer for ADM, a Fortune 500 company of nearly 40,000 employees based in Chicago, Ill.
He graduated in 1985 with a degree in Chemistry from what was then Southwest State University. And had it not been for a gentle nudge from his mother Mary his life would be vastly different.
"To be honest, I didn't enjoy high school that much. I thought about the Air Force. Mom finally told me to go to college for one year, and if I didn't like it, I could do something else. l ultimately stayed in college for nine years."
He thought to himself, OK, if I have to do this, I'm going to do something I like. "For me, in high school, that was chemistry and physics" he said. "At SMSU, (chemistry) was accredited by the American Chemical Society."
And at that time, he had engaged faculty members like Ed Carberry, Robert Eliason and John Thomas, each in their own way big influences during his time at SMSU. "A big factor for me, too, was that it was affordable," he said. "I never had more than eight people in a major class — I was getting a private school education at a public school price. If I remember correctly, I had just eight juniors and seniors taking fourth-year courses."
That's a far cry from Michigan State, where he earned his Ph.D in chemistry. "I liked the class sizes at SMSU, and the one-on-one attention. I went from that to Michigan State, to a school of 48,000 and 300 people in a class. It was a different dynamic."
He's the fourth in his family to graduate from SMSU. Two sisters and a brother are also alumni.
Upon graduation from Michigan State, "I had the opportunity to work at the Michigan Biotechnology Institute, a small biotech company (and one of the Department of Energy's national laboratories). It was a really cool experience. I had the opportunity to work with university faculty who were on the staff there and had a lot of exposure to engineering and biotech. I was at an impressionable point in my career, and it was a good decision."
From there he went to Pacific Northwest National Laboratory, where for 15 years he was responsible for research and business development for new chemicals and chemical intermediates from renewable feedstocks.
He joined ADM in 2007 as Senior Vice President, Research & Development. He oversaw ADM's efforts to expand its product portfolio while strengthening its research partnerships with government agencies, academic institutions and corporations.
He was then promoted to his present position, which includes a seat at the table of the company's Executive Council.
"From a career perspective, I've been fortunate," he said. As a member of the Executive Council, he has a voice in the company's strategy, capital allocations and investment decisions, while advocating for research and development initiatives, "which create added value for ADM."
What's ADM? It's a global leader in human and animal nutrition, and the world's premier agricultural origination and processing company.  "ADM touches everyone's life, but you might not know it," he said. "It's a Fortune 500 company, but is generally business-to-business. It's tough to go through a day where you're not in contact with an ADM ingredient, whether that's food you eat or gas you use to drive. I've always found that interesting."
In other words, the name may not be on the bag, but ADM plays a part in the ingredients. Brush your teeth? Use paper? Feed a pet? Eat a veggie burger? ADM is involved. It has a plant in Marshall, which brings him back home occasionally.
He holds 30 U.S. patents in the area of catalysis and chemical conversions of biomass to chemicals, and was selected as the 2015 American Chemical Society Award for Affordable Green Chemistry.
The best part of his job? "I feel I have a lot of influence in the direction we've taken in science and technology, and individuals have an opportunity, and a voice. ADM is a large company, and I'm not sure you can say that about a lot of large companies. You're not a number at ADM. It's an amazingly collaborative organization."
Werpy met his wife, Aundrea, in Decatur. Together, they have three children: Courtney, Chase and Reagan.
"I am humbled by the Alumni Association award," he said. "SMSU gave me a solid foundation, and I have such fond memories of my time there. I'm very grateful."
Graduate of the Last Decade (GOLD)
Lauren (Teal) Squires '13
The value of a liberal arts education is embodied in Lauren (Teal) Squires' story.
Squires graduated in 2013 with Sociology and Literature degrees. Today, she is a project specialist with Beacon Health System, where she has been since 2019 after completing her master's degree in sociology from University of Notre Dame in South Bend, Ind.
Squires is this year's Graduate of the Last Decade (GOLD) Award winner. She grew up in Texas until middle school, when her parents moved to Brandon, S.D. So many of her classmates and family members went to a nearby institution, "and I was the first insubordinate one," she quipped. "I wanted to go someplace close, and loved the tour when I was on campus. Plus, my husband's family lives in Marshall," she said.
Though her undergraduate degrees were in Sociology and Literature, she found her interest in Sociology late, when she happened to take a class from Dr. Kerry Livingston.
She chose to apply to Notre Dame's graduate school because former English Professor Jim Zarzana "kept giving me a hard time, asking why I didn't apply there."
About that same time, she was thinking about what to do with her future. "When I started at SMSU I was set on being an English teacher," she said. "Then one day he (Zarzana) asked if I thought my personality fit that. I had fallen in love with sociology through my classes with Dr. Kerry Livingston. I did want to be a professor, so I went with sociology," she said.
While pursuing her graduate degree she worked on different research projects. After receiving her master's, she went to work for Beacon Health System as the Grant and Community Partnership Coordinator, "which is a long name for a grant writer," she said. "Then I transitioned into my new role, project specialist, where I help continue these relationships with partners we fund from our health care community outreach program." Beacon Health System consists of two primary hospitals, Memorial Hospital of South Bend and Elkhart General Hospital, as well as four ancillary hospitals.
She has done research work regarding "what stops people from getting health care and what can we do to reach those populations that can't get the same care as others. My job is part of the Community Impact Department, and is involved with how hospitals can reinvest their money and resources for those less touched by the health care system."
Her area recently received a $1 million grant to combat COVID-19 hesitancy in Latin communities. "They live in a dense area of anti-vaccination people, the worst in Indiana," she said. "Using community health workers, it's a door-to-door campaign, giving factual information and helping community members make informed decisions, as well as addressing barriers."
Squires said "two years ago, could I see me in this position? Probably not." But I likes to make a difference. I like helping the hospital decide where it's important to spend its resources. I like helping to address identified needs. I adore my co-workers who are like-minded and want to make a difference. And I also like using two interests of mine, sociology and English."
Lauren and her husband Gage are the parents of a daughter, Olivia.
She's very humbled to receive the GOLD Award, and credits SMSU with giving her the educational foundation that has taken her on this interesting path.
Honorary Lifetime Members Award
Gary Frandson
Gary Frandson looks back at those early days at Southwest Minnesota State University and remembers a young institution, and a real family feeling.
Frandson, who began a 38-year teaching career at SMSU in 1969 and retired in 2007, remembers the newness of the university, and how young the faculty were in those early years. "There weren't many buildings. Most of the faculty were just hired, and just about everyone was young and starting a family. We were interested in Marshall as a place to raise our families, and at a place (Southwest Minnesota State College back then) that was a good job. We did a lot of things together. And when you talk about a place having a family environment, that was it."
That camaraderie was solidified in a number of ways, from handball and racquetball games, acting as an athletic scout, taking a friend's airplane for recruiting trips to regional high schools, and other inclusive events. "There wasn't a lot of us, and we did a lot together," said Frandson.
One thing he was proud of then, and which hasn't changed today, "is that "students were always number one. They received the personal touch; they were given attention."
Frandson retired as an Associate Professor of Business Administration in 2007. He did some adjunct work in 2009 and 2010, also. "I was hired for Business Education and Secretarial and Office Administration programs," he said. "There was a reorganization of the department later on."
Frandson grew up in tiny Verona, N.D., population 300, located 50 miles south of Valley City. He ran cross country there, and at Valley City State University, where he earned degrees business education and economics. After graduating, he taught at St. Thomas, N.D., four years and Sauk Centre, Minnesota for one year before coming to SMSU. He earned a master's at North Dakota during the summer months while teaching high school.
"I was looking to teach at a college," he said. "Dick Warner interviewed me, and Ken Mukomela came into the interview later. After a while, Dick asked if I wanted the job. Things were different back then as far as hiring goes. We moved here and loved the community's size, and the newness of everything."
It's at SMSU that Gary met his wife, Mary (Haller) Frandson. They were married in 1970. "She came from Hopkins, where she worked for GM. She was a non-traditional student and was going to school for a degree in elementary education," he said. She was the first Founders Day queen— the precursor to Homecoming.
Frandson points to colleague Mukomela as an influence during his time at SMSU. "We worked together in the same department, but really, everybody was an influence in one way or another."
Frandson is an avid motorcyclist, having been to Sturgis over a dozen times, and up until two years ago was an avid jogger. "I've had to cut back (due to a respiratory problem) but I've been a jogger most of my life."
Gary and Mary are the parents of three grown children: Angela Hoyme, Woodbury, Minn.; Kimberly Hoseck, Marshall; and Jason, Baltimore, Md.
As for the Alumni Association award, "I'm honored to be receiving this award. I don't feel as though I am truly worthy of this, and I'm proud of my time here. The students were always first at SMSU."
Related Articles