Mustangs Give: A Message From the President
Published Friday, September 24, 2021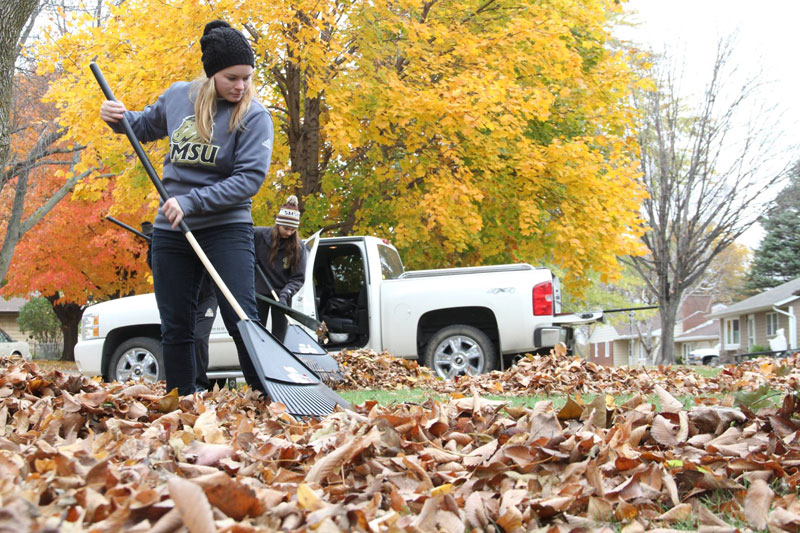 SMSU students give their time to help out in the community.
All of us at SMSU are fortunate to be part of a community that broadly supports our students and helps make our campus the wonderful place that it is. On Wednesday, October 6th  10:00 am - 4:00 pm, SMSU is hosting "Mustangs Give," our 2021 SMSU Day of Service, an opportunity for us to give back to the communities that we are proud to be a part of. I would like to invite you to help show our gratitude throughout area communities by volunteering some of your personal time to help other organizations and those in need.
Faculty, staff and students who register to volunteer will receive a free t-shirt compliments of the SMSU Foundation. I encourage you to gather your friends and colleagues and help us look for volunteer opportunities around the community.  If you don't have one, we have several already lined up. To sign up and see what projects are available, go to www.smsu.edu/go/mustangsgive.
Registration is encouraged by Wednesday, September 29th to ensure that we have enough projects to accommodate everyone. All volunteers should stop by the Founders Hall lobby between 10:00 am - 4:00 pm on October 6th to pick up a t-shirt.  We are also encouraging participants to share photos of their experiences by using the hashtag #MustangsGive and tagging @SMSUToday on social media.
Thank you for helping give back!
Sincerely,
Kumara Jayasuriya
President
Related Articles