Meet Ezira Tafa, Student Body President
Published Wednesday, October 20, 2021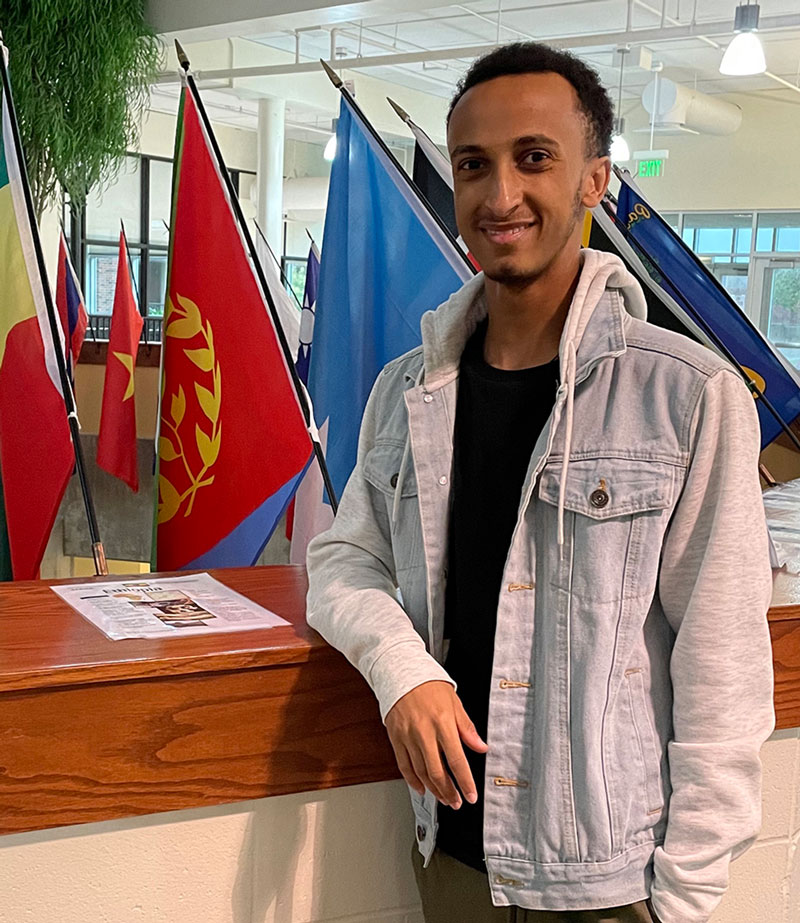 Ezira Tafa
"You need to change in order to grow."
So says Ezira Tafa, the Southwest Minnesota State University student body president. Tafa is from Addis Ababa, Ethiopia and is the youngest of five children. His parents, Hailu Taku and Sakamyelesh Hailu, strongly encouraged their children to pursue higher education. All but one of his siblings earned degrees from institutions in either Europe or Africa. He is the first to attend college in the United States, and he is pursuing a degree in Healthcare Administration and Human Resources.
Tafa enjoys many sports, notably soccer (fútbol in Ethiopia) and UFC fights. In his free time, you can find him hanging out with friends and watching movies.
Globally, there are agents that can help international students find higher education in the U.S. They aide in school placement and counseling when it comes to families sending their children to college. Tafa used an agent to help him in his educational search, and chose SMSU from several other schools.
Tafa said he's happy to have found SMSU. "The professors, community, and job opportunities on campus are all things I like about SMSU," he said. His advisor, Assistant Professor of Management Heather Rickgarn, has played a key role in his academic journey, he said. "She has helped in class selection, and career planning."
"I was the type of student who did not participate in anything my first year," he said. Tafa saw an email about running for student body president — the deadline was that evening. He turned his application in at 11:57 that night. Little did he know, that three-minute window would change his experience at SMSU.
The position of student body president comes with a lot of responsibility. From leading meetings, appointing members to committees and positions, and writing reports, all were new things to learn. "During the pandemic, it was really difficult to get members to join (student government)," he said. Since then, there's a leadership team in place. The Student Senate currently has 21 members.
Tafa said the position has really helped his skill development in any number of ways. From speaking at convocation, managing a whole student organization, and meeting regularly with SMSU President Kumara Jayasuriya, all of these have helped him improve his leadership skills. His goals while he is in office are focused on campus experiences. He would like to see international students have more job options on campus, he said. His dedication to the well-being of students radiates when he speaks about his position as student body president.
Tafa's advice to new students? "If you want to change, you have to change something in your life."
And that's what he did.
Related Articles