Oldest Graduate Lois Widmark Turns 100
Published Sunday, January 23, 2022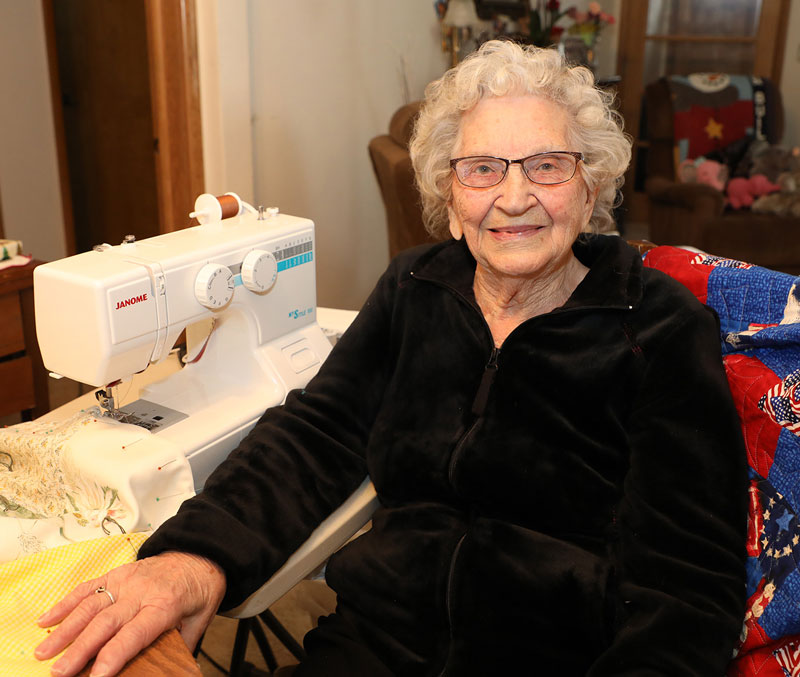 Lois Widmark, who turned 100 on Jan. 1, 2022
Southwest Minnesota State University's oldest living alumna, Lois (Paine) Widmark '71 has a standard response when someone asks her "How does it feel to turn 100?"
"How am I supposed to feel?" she always replies. "I guess it feels like any other day. Some aches and pains, but who doesn't have those?"
Widmark is a 1971 charter class graduate with an Elementary Education degree. She taught in Arco for a year before that school closed, and was a kindergarten teacher for 21 years in Lake Benton before retiring in 1988. If the math doesn't seem to add up, it's because she taught full-time while taking courses part-time.
She lives in Ivanhoe, not far from her son, Alan, and daughter Dianne Bunjer. A third child, Jackie, lives in Coon Rapids. Her husband, Arnold, passed in 1979. Alan lives on the family farm outside of Ivanhoe.
Dianne earned an Elementary Education degree from SMSU in 1973. Alan attended SMSU and was an all-conference football player and a member of the inaugural Mustang football team in 1968.
Widmark was a non-traditional student when she attended what was then Southwest Minnesota State College, and for a couple of years, she and Alan and Dianne were all SMSU students together. She was 49 when she crossed the stage and received her diploma and the famous Charter Class brick, symbolic of the building of a new university on the prairie.
She got a two-year teaching degree from Dana College in Blair, Nebraska, where she used her military benefits to attend that liberal arts institution at minimal cost. She and a friend, over lunch hour in Lincoln, Neb., enlisted in the Navy WAVES (Women Accepted for Volunteer Emergency Service), and from July 1944-July 1946, was a Washington, D.C.-based  "code-breaker," who played an important role in unraveling Japanese communication codes during World War II.
After that she attended Dana College and married Arnold in March of 1948, while a student there. They moved to their Ivanhoe farm in 1949.
Back in those days, the requirements to teach were much different. She started taking courses part-time when Southwest opened in 1967 while she was holding down a teaching job. "You had to show you were making progress towards a four-year degree," she said.
She is as sharp as a tack, and recently renewed her driver's license. "Another four years," she said with a smile. "I hope my car makes it — I have a '96 Oldsmobile." She lives with a cat at her home in Ivanhoe, enjoys cooking and animals, especially elephants, which she  collects.
She scoffs at the idea of someday living in an assisted care facility. She'll have none of such talk.
Widmark is an avid quilter, and her sewing machine sits next to the dining table. She makes both traditional quilts, which she gives to Ivanhoe graduates and to the veterans home in Luverne. She also makes Lutheran World Relief "mission quilts" — a particular kind, with no batting — which go to needy individuals all over the world. She is also a voracious reader. "I've always liked learning," she said.
Her 100th birthday was celebrated at the Ivanhoe VFW on Jan. 1, 2022, exactly 100 years to the day of her birth. Friends, family and former teaching colleagues were on hand.
SMSU's oldest graduate is fiercely independent and approaches life with a twinkle in her eye. She doesn't know what all the fuss is about marking her centenarian status.
"It's just another day," she said.
Related Articles