Jefferson Lee IV is Cowan Award Winner
Published Tuesday, March 29, 2022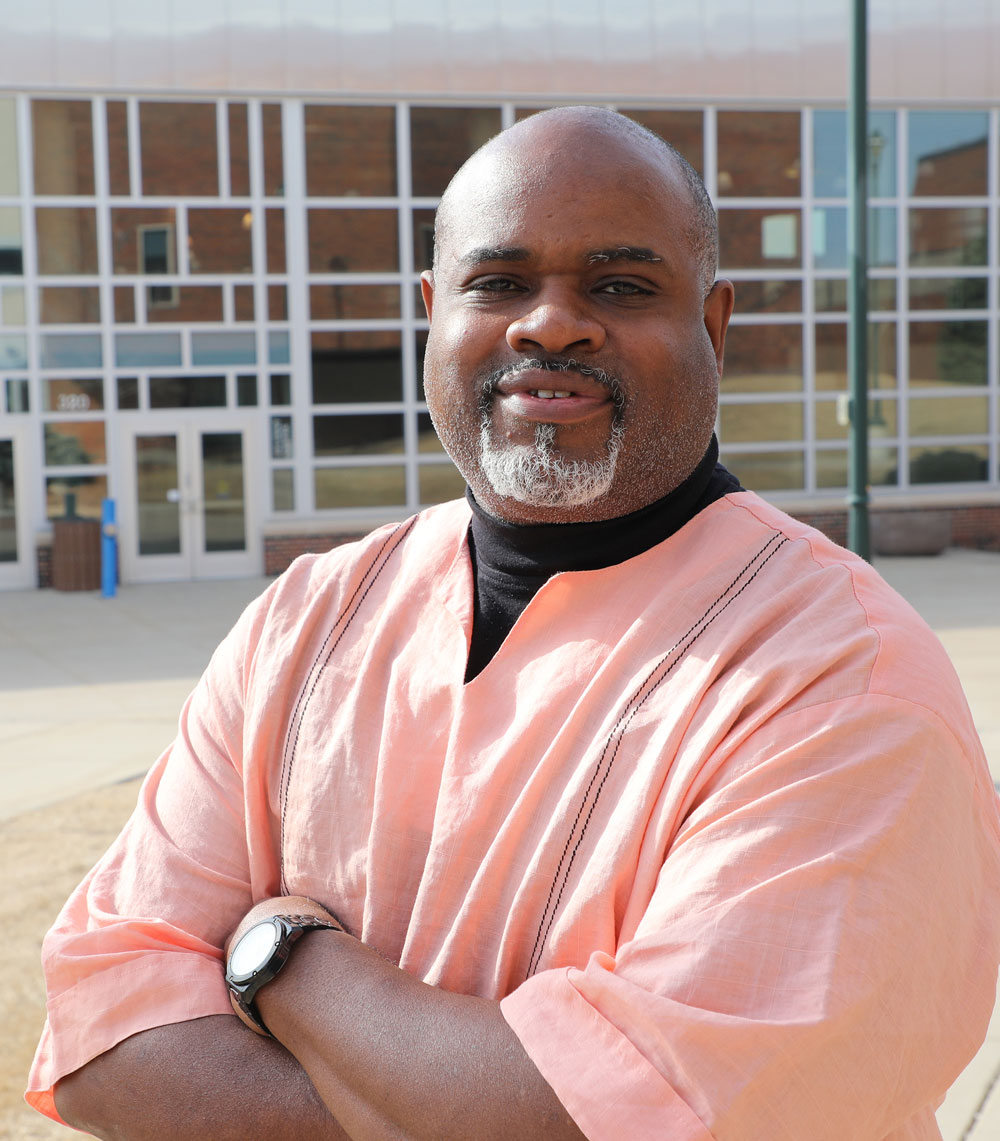 Jefferson Lee IV, the 2022 Cowan Award Winner
Sometimes, when talking about someone who shies away from the limelight, it's best to hear from others.
Such is the case with Jefferson Lee IV, the 2022 recipient of the Cathy Cowan Award, the most prestigious annual award at Southwest Minnesota State University.
The award is named for the late Cathy Cowan, a Psychology professor who was tragically killed in an auto accident in December, 2001. Recipients are selected for service to SMSU, Marshall, and the region. A big criterion is "doing good for others."
"JLee," as he is known on campus, is the Director of Access Opportunity Success, Mustang Pathways and Intercultural Services at SMSU. He's an alumnus with a degree in Sociology.
 "Mr. Lee stands out from other individuals because he has spent the entirety of his career actively pursuing and advocating for equality, diversity and inclusion on our campus and in the community of Marshall," reads one of the letters in support of his nomination.
"I recall asking him once about why he felt motivated to help struggling students and he told me that as an undergraduate, 'I was that student,'" writes another colleague.
Another: "A couple of weeks ago we were meeting with (two colleagues) and they posed a question to us: What is our Olympic talent? Jay's response? 'To serve others.' This is who Jay is, and who he was raised to be."
And another: "His relationships with almost every office on this campus makes him a key cog in helping students and employees navigate our sometimes-confusing institution. This is particularly true for students of color, whether born in the U.S., or not."
He operates below the radar on campus, but makes his presence known when he feels an injustice has been done. He is a powerful voice for those who feel they have none.
He arrived on campus in 1988, when faculty member Dave Simpson came to his Minneapolis Roosevelt High School "to recruit and increase the diversity on campus. He recruited seven of us, and I was the only one who stayed and completed my degree."
Why did he stay? "I was the first in my family to go to college and they could not fathom me not completing my degree. My grandparents had no more than a sixth-grade education, and my grandmother said, 'we are depending on you.' Also, people need to know this place, in a good way, puts its hooks in you as a student. It's a challenging, and nurturing environment."
He had many influences while here, mentioning Charles Grubb, Marilyn Leach,. Lynn Monge and Eve Nichols as positive influences.
He went on to earn an MBA from SMSU, and a master's in Human Resources Development, with in emphasis in Student Affairs, from SDSU.
He works in an area that is student-driven. "What's kept me here is having an opportunity to work with some phenomenal people — Michelle Knife Sterner, Dr. Erin Kline, Connie Smisek, other faculty and staff members. This is a place that when people work together, it really clicks. We all have a vested interest in our students' success."
In an ironic twist, "I was one of those students who utilized the services that today, I help provide."
His on- and off-campus contributions are many. He was the campus diversity officer for years, a recipient of the MLK Humanitarian Award, regularly presents on the Diversity Panel for the First-Year Experiences courses, is an adjunct instructor, and is an active supporter of the SMSU food shelf, Mustang Market. He's on the city's Diversity, Equity and Inclusion committee (past chair), helps students find jobs in the community, and collaborates with Hy-Vee in supporting diversity in hiring initiatives, among others. There's more, but he prefers to keep those quiet.
He is married to Sarah (Friedrich, undergrad '99 and '06, MBA '10). They have three children: Jefferson V, who will graduate from SDSU in May; Tyrese, completing his fourth year in the Air Force; and Devon, in her second year at SMSU, studying Graphic Design.
As for receiving the Cowan Award, "l was caught by surprise. I feel very humbled. I give credit to others, rather than take the credit.
"We are touching people's lives here, and I like being a part of that," he said.
Related Articles