Alumnus Kent Roers '98 is Commencement Speaker
Published Thursday, April 28, 2022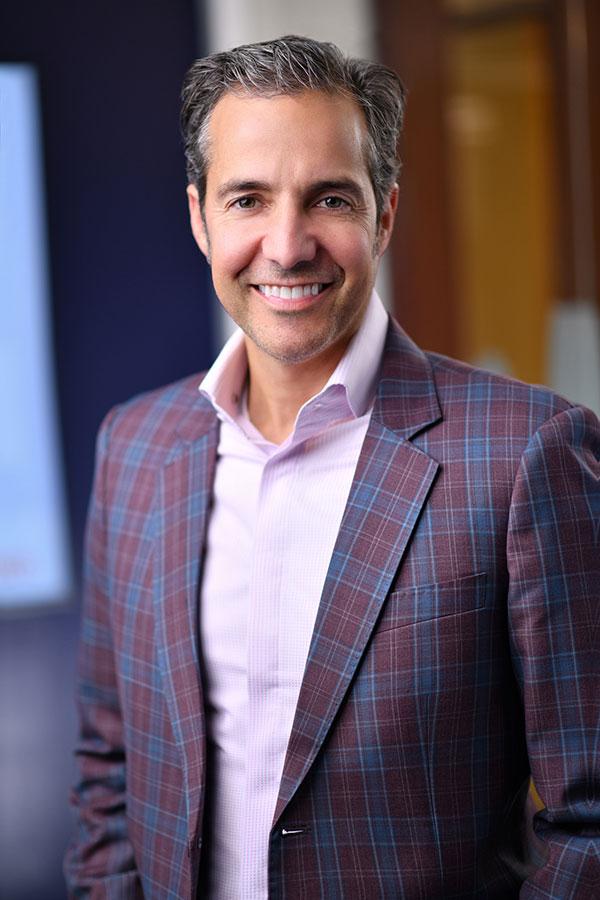 Kent Roers
Kent Roers, a Marshall native who owns one of the fastest-growing real-estate development firms in Minnesota, is the 2022 SMSU Commencement speaker.
Roers Companies was founded in 2012 by Kent and his brother Brian. The company is anything but conventional in its approach. In fact, they take great pride in being unconventional.
Roers earned a Business Administration degree from SMSU in 1998. He started out in the financial services industry when he was a senior, as a College Agent for Baird Securities/Northwestern Mutual Life in Marshall. He ranked fourth nationally in sales out of 1,000 college interns and maintained a commission-based schedule while attending college full-time.
That precocious start led to positions with The Kuhr Group, American Express Financial Advisors, Claymore Securities, Axa Equitable Group and Sun Life Financial Distributors before he started Roers Companies with his brother.
He describes the company as one that "builds apartments and senior facilities" but of course there's more to it than that. Its success is based on a philosophy that is front and center on the company website — "Fortune Favors the Bold."
What makes Roers Companies so unique? "A number of other firms in Minnesota do what we do, but they go to institutions to get their money," said Roers. And while his brother "is the CPA, he is operations, numbers" it is Kent's job to "dream and build relationships, and raise the money," he said. He works with "smaller individual investors. We have a process, and it works very, very well."
The firm employs "about 140" said Roers, and has grown tremendously in recent months. "A year ago, we were in five states. Now we're in 12," he said.
Aggressive growth of the company was actually born out of necessity. Kent and Brian were doing rental properties on the side before forming the company. They built a trio of apartment complexes to house oil field workers in North Dakota  — the first was 32, then 40, and then 66 units — and then the bottom fell out. "I watched oil go from $120 per barrel to $33 in six months, so we told the wives and kids we were going to lose our houses. I also told them not to worry, that we'd come back."
The two personally guaranteed the financing of the apartments. "I could not give the keys back to the bank, because there was no bank," said Roers. "So the only way to get out was to grow as fast as we could possibly grow. We blew the doors off the place, and we've forgotten to slow down ever since. It was a silver lining. We wouldn't have been forced to grow without the scare of going broke."
They are still paying on those apartments, but made sure investors didn't lose any money. "We haven't made money on those, but have sold $200 million worth of product in the last month alone," he said.
The most recent addition to their real estate menu has been a low-income housing practice, which comes with it a good number of governmental rules and regulations. "Sixteen months ago we had two people in that group, and now we have 11. We don't go into things lightly," said Roers.
Indeed. When the pandemic arrived, "we hit the gas pedal. I was getting contractors to do projects at cost. People need food and housing. I am building the second, and there's a shortage."
Roars' parents, Joe and Betty, raised their children in Marshall. Kent is the oldest, followed by Brian, Neil, and Jody.
Joe Roers is a member of the SMSU Foundation Board of Directors, and Betty was the first director of GOLD College, formerly called Senior College, at SMSU. They are both avid supporters of SMSU.
"Mom asked at Christmas, 'why do you guys keep stressing and growing?'" said Roers. "Growth doesn't stress me. It drives me. I like to win, and people who come to our organization now believe and see that they can make an impact, and help change the world. One of my phrases is 'smart, humble and hungry.'"
When he picked a college, SMSU was a convenient choice. He thought in the future he may transfer to a private institution, "but I loved it there. I loved the faculty and adjunct faculty." He mentioned George Seldat, Steve Titus and the late President Doug Sweetland as influences during his time at SMSU.
He's come a long way since then. For the third year in a row, Roers Companies has been listed as a top developer in the Twin Cities by Minneapolis/St. Paul Business  Journal. It's been ranked among the fastest-growing private companies in the Twin Cities Metro by that same publication, as well as the Inc. 5000 rankings of most-successful private companies. Individually, he's been listed as one of the "100 People to Know" by Twin Cities Business.
He's done all of that in just 10 years with the company, and their growth continues at an astonishing pace. He hires people as driven as he is, and has created a culture where hard work is expected, and rewarded.
He has an uncanny eye for growth, a common-sense approach to gauging market opportunities, and a steadfast belief in his "against the wind" approach to development that has made Roers Companies a model of success, even in the most trying of economic times.
Related Articles