Agronomy Field Day Set for July 18
Published Friday, July 07, 2023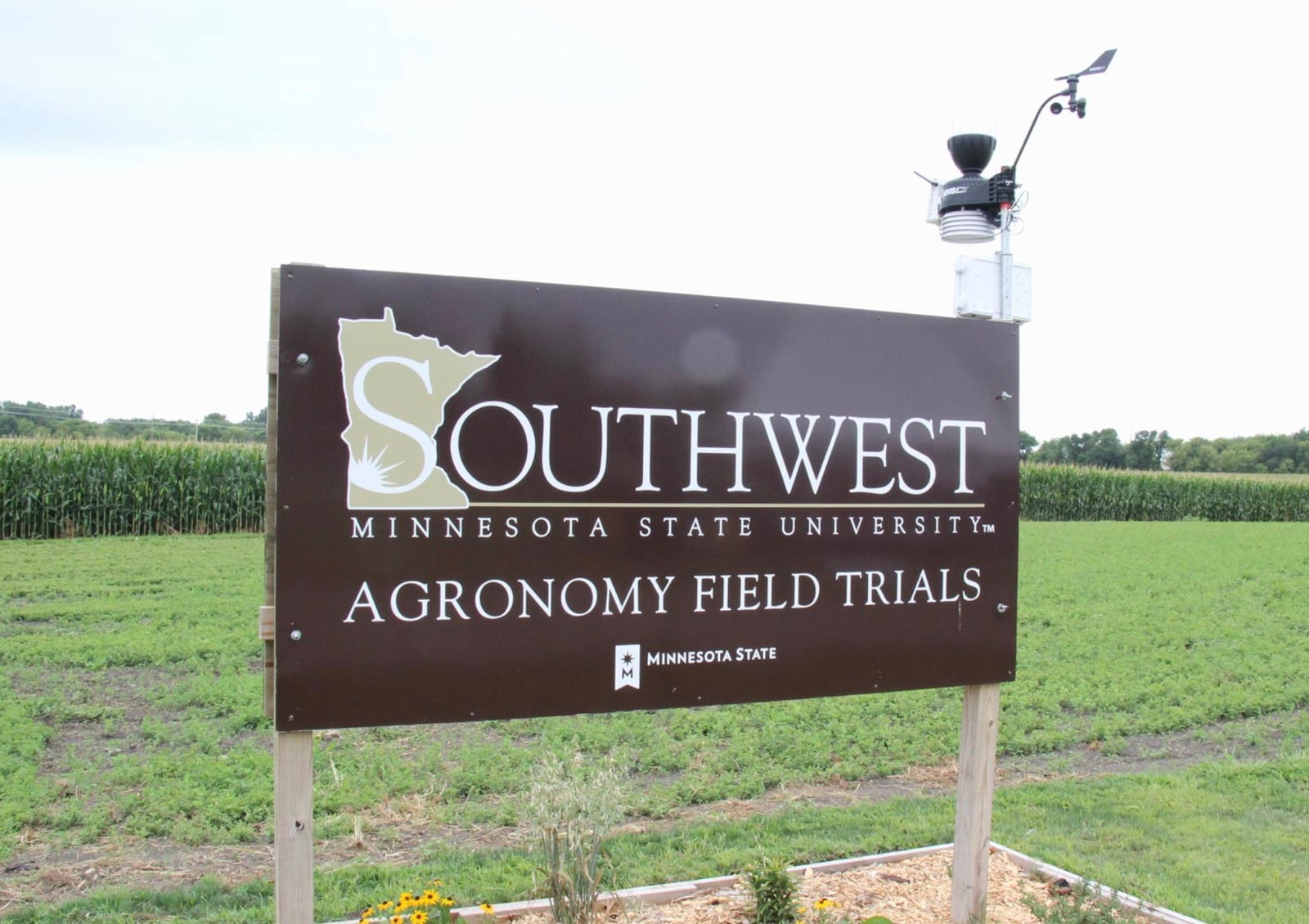 SMSU Agronomy Field Trial Site
The fifth annual SMSU Agronomy Field Day is scheduled for Tuesday, July 18 from 11 a.m.-1:30 p.m. at the Jon Knochenmus Center for Innovation and SMSU Agronomy Field Trials Farm site, located on the north edge of Marshall.
The day will include lunch, tours, and presentations highlighting SMSU field-trial research, plus related programs and projects.
The schedule includes:
Welcome from SMSU President Kumara Jayasuriya and Provost Ross Wastvedt.
Dr. Adam Alford, SMSU Agronomy Assistant Professor, with SMSU Interns Victoria Imafidor, Lynn Foster and Owen Colline, "SMSU Field Trials and Valuable Hands-on Internship Learning Experiences."
Allen Deutz, Deutz Heritage Farm. "Benefits and Challenges of Managing the Transition to Organic Production."
Dr. David Kee, Director of Research, Minnesota Soybean Research & Promotion Council. "Update on Check-Off Supported Research in 2023."
Dr. Michael Stutelberg and Clay Newton, AURI Research Scientists. "Analyzing the Effects of Cover Crop Utilization on Meat Quality."
Dr. George Taylor, SMSU Sam Walton Fellow/Faculty Advisor, with Valerie Messner and Elaina Leach, SMSU Student Enactus Project Leads. "Enactus: Mindful Meals and Composting: Impacting Our Community through Sustainability- Driven Initiatives".
Dr. Lee Opdahl, R & D Manager, Agnition. "How Microbes Unlock Fertilizer."
"Several years ago, Lee French took the initiative to create a field plot before we even had our current farm site. He involved students in the proprietary research he and Sam Tutt were conducting," said Dr. Gerald Toland, Professor and Chair of the Agriculture, Culinology, and Hospitality Management Department. "When the McLaughlin Family donated the land for our field trials and we created the Agronomy Field Day to give people an opportunity to see the work we are doing to support agriculture in the region."
"The SMSU Agronomy Field Day is a way to connect with the community and with local producers," said Toland. "It's a great outreach opportunity to let them see the hands-on research in a real-world setting that prepares our students for careers in agriculture."
The event sponsors include Ralco, Deutz Heritage Farm, Millborn Seeds, Minnesota Corn Growers Association, the Minnesota Soybean Research & Promotion Council, Minnesota Wheat Research and Promotion Council, AgCountry Farm Credit Services and the SMSU Foundation.
The event is free and open to the public. Please RSVP for lunch by 5:00 PM on FRIDAY, JULY 14 at https://qrco.de/smsuagfieldday The farm site is located at 2927 265th Avenue, Marshall, Minn.
Related Articles