GOLD College Fall Kick-Off, Sept. 13
Published Wednesday, August 30, 2023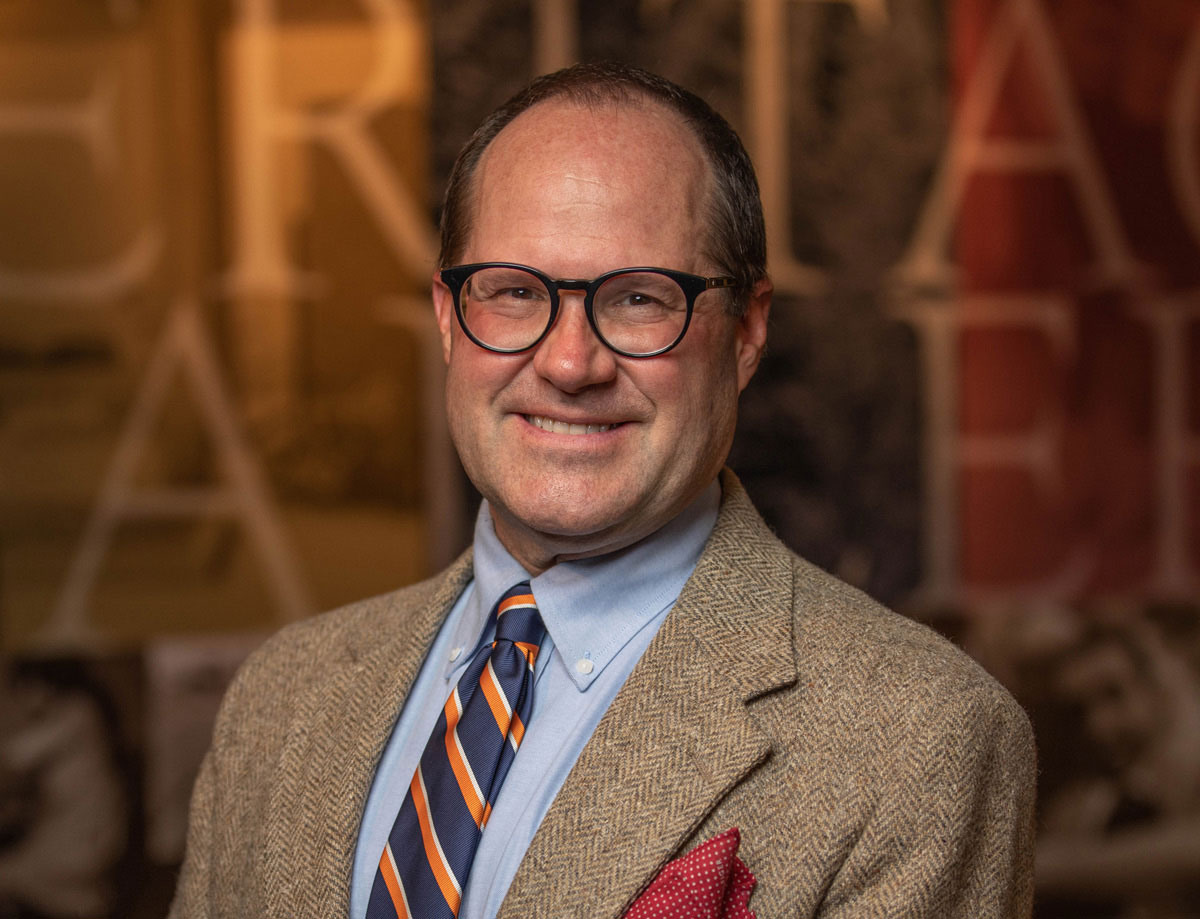 Dr. Tom Williford, keynote speaker
The fall kick-off session for GOLD College will be held on Wednesday, Sept. 13 starting at 2:00 p.m. in the William Whipple Gallery at SMSU.
The kickoff event will feature keynote speaker: Dr. Tom Williford, SMSU Professor of History. His presentation is entitled "Conspiracy Theories and Political Violence: Colombia Yesterday and the U.S. Today."
Williford has taught Latin American and world history at SMSU since 2005, including several courses in GOLD College.  He has published a book and several articles examining the political history of Colombia in the 1930s and 1940s, and just returned from a year-long sabbatical in Bogotá where he prepared a new manuscript in English on this theme.
Born and raised in the Adirondack Mountains of northern New York, Dr. Williford has a bachelor's degree in history from Georgetown University, a master's in Colombian History from the Universidad Nacional in Bogotá, and a PhD in Latin American History from Vanderbilt University.
Williford's talk is free to everyone, even those who are not registered for GOLD College.
GOLD College is an exciting program that offers lifelong learning opportunities to adults in areas of personal interest. GOLD is an acronym for "Growth, Opportunity, Learning, Development." GOLD College offers non-credit classes with a variety of topics: art, history, computers, current events, music, writing, health, physical well-being, and more. Each class is held one day per week for two hours. There are no tests or grades, and it is for students of any age who wish to continue learning.
Fall 2023 courses are scheduled from September 25-November 3 with coursework delivered in-person and in a hybrid format that allows students to choose in-person or Zoom.
Contact the Gold College office for registration material and more information: GoldCollege@smsu.edu or call 507-537-6483. The William Whipple Gallery is located in the SMSU McFarland Library, Bellows Academic at SMSU. Parking permits are not required for visitors to the SMSU campus.
Fall 2023 GOLD College courses include:
MONDAYS
Zumba
Staying healthy takes work... but you should have fun doing it! A low-impact, dance-inspired workout set to energetic music. Great for any age, fitness, or experience level.
Instructor: Chad Conway '16, Mondays, 11:30-1:30pm (In-Person)
Public Speaking
The number one fear, besides death and taxes, is public speaking. Many people are afraid of being judged. In this class, you will learn how to give and evaluate speeches, and you will also improve your extemporaneous speaking by giving table topics. You will also learn to improve your leadership skills by fulfilling meeting roles such as speaker and evaluator.
Instructor: Mike Runholt, Mondays, 2:00-4:00pm (Hybrid)
TUESDAYS
Finding Joy
Our life journeys are most enriched when we discover what brings us joy. Throughout this course, an entertaining and knowledgeable variety of guests will share how they discovered their joy. Class members will also be invited to share their own joyful experiences, if they wish. We hope you will choose joy and join us!
Instructor: Deb Ahmann '79, Tuesdays, 9:00-11:00am (Hybrid)
The American Revolution and Constitution
The American Revolution will cover the time from 1763 to 1789: the crucial decade leading up to the Revolution, the war itself, the establishment of the new republic, and the writing and ratification of the Constitution. What did Americans see themselves doing when they decided to establish a republic? How did they win their independence from the strongest country in the world? And how, having won the war, did they launch their new and perilous experiment?
Instructor: Joan Gittens, Tuesdays, 11:30am-1:30pm (Hybrid)
WEDNESDAYS
Seasons of Life Through Literature
Through literature, this course parallels the different seasons of nature with the various seasons/stages of life. Students will experience pioneer life in Nebraska during the late 1800s as they read MY ANTONIA by Willa Cather. They will also experience life in rural Vermont during the 1920s as they read A DAY NO PIGS WOULD DIE by Robert Peck. Students need to have their own copy of both novels. Interwoven throughout the course will be excerpts on the different seasons of life as shared by the instructor from THE WISDOM OF MORRIE by Morrie Schwartz.
Instructor: Janet Ellingworth, Wednesdays, 9:00-11:00am (Hybrid)
A Life of Memories – Little Golden Books
Many of us were raised with this charming genre of children's books. This interactive class will provide opportunities: to learn about the history of Golden Books; to study some great authors and illustrators; to discuss the biases and controversies embedded in these books; and to share your stories about favorite Little Golden Books. The facilitator/"Golden Book enthusiast" has been collecting for 15 years, amassed a large collection, given presentations since 2015 and has grown to love these books even more than in her childhood. Through this exciting hobby, she has come to believe that everyone has a Golden Story. Be ready to revisit fond emotions and memories of your own childhood. (milk and cookies optional)
Instructor: Dr. Ellen L. Radel, Wednesdays, 11:30 a.m.-1:30 pm (In-Person)
Adventures on the Prairie: Lecture/ Outdoor Adventures
Discovering the prairies of southwest Minnesota can be a fun, educational adventure! This six-week series explores different ways to safely engage with the outdoors, and learn about resources in our own backyards. Participants can expect fireside conversations, outdoor exploration, and hands-on education opportunities as we learn about the tall grass prairie ecosystem, migratory birds, fall/winter animal adaptations, and so much more.
Instructor: Katie Chapman '08, Wednesdays, 2:00-4:00pm (In-Person)
THURSDAYS
Exercising
Interested in exercise but not sure where to start? In this class you will leave each week with the knowledge to complete workouts on your own! This class is great for a beginner who wants to expand their horizons on bringing exercise to the next level and making it fun!
Instructor: Katie Serbus '15, Thursdays: 9:00-11:00am (In-Person)
My Favorite Lecture
This class features six different SMSU faculty and staff on topics of special interest to them.
Sept. 28: Lloyd Petersen "Women on the Homefront in World War II"
Oct. 5: Tony Amato "Bees on the Brink: Honey Bees and their Overlooked Roles in Our World"
Oct. 12: Michele Knife Sterner "Indigenous History, Culture, and Spirituality"
Oct. 19: Amanda Sieling "How the Courts Work"
Oct. 26: Will Thomas "How Accounting Can Change the World: From Accounting to Sustainability"
Nov. 2: Marcy Olson '93/'05 "Thirty Years of Graphic Design at SMSU"
Thursdays, 11:30am-1:30pm (Hybrid)
Acrylic Painting Class
"I can't paint!" Words that many people say when they think about joining a painting group or taking a class.  I say, "Yes you can paint!"  This group will start you on your artistic journey. You will produce at least one work of art to proudly hang in your home and other projects as time permits. Art takes practice.  Perfection is not allowed. You need to bring yourself and a willingness to try something new or continue to develop your artistic talent.  The members of the group are supportive, helpful, and like to laugh. The long-time artists have not forgotten how it felt to hold a brush for the first time and move paint on the canvas. They are willing to offer helpful hints and ideas if you ask them.  The tools needed to complete a painting are available for use throughout the sessions. Paint will also be available, or you may bring your own. You will need to purchase an 11"X14" wrapped canvas. Canvases will be available at the first class. You may also bring your own.  Come spend some time with a great group of people and amaze yourself with what you can create. Your new hobby could begin here!
Instructor: Dale Hiland, Thursdays, 11:30am-1:30pm (In-Person)
How to Improve Your Mental Wellbeing
We all experience stress in our lives in a variety of different forms. Stress impacts everyone's physical and mental wellbeing that has adverse side effects. There is no absence of stress in life, more so looking for different ways to cope with those stressors. In this class students will learn new strategies, skills, and tools to use for managing stress and improving their mental wellbeing. Instructor: William Sturgeon, Thursdays, 2:00-4:00pm (Hybrid)
Note: Years listed indicate the instructor obtained their degree from SMSU. First year is the undergraduate degree, second year is the graduate degree, if applicable.
Related Articles