Management
About the Program
The Management degree and certificate programs are is based on a strong curriculum that provides a comprehensive foundation in core Management skills. Our students may select concentrations in Human Resource Management, Entrepreneurship, General Management, Supply Chain Management and Healthcare Administration as part of their degree.
The Management major enables students to become well-grounded in the fundamentals of business, in addition to real work application, while the concentrations allow management students the opportunity to focus their course work on their career goals.
The faculty are professionals who have industry experience and strong academic credentials. More importantly, the faculty are dedicated educators with a passion for teaching and learning. We care about our students and are constantly improving our programs to make sure that students are fully prepared for a competitive, global world where change is the only constant.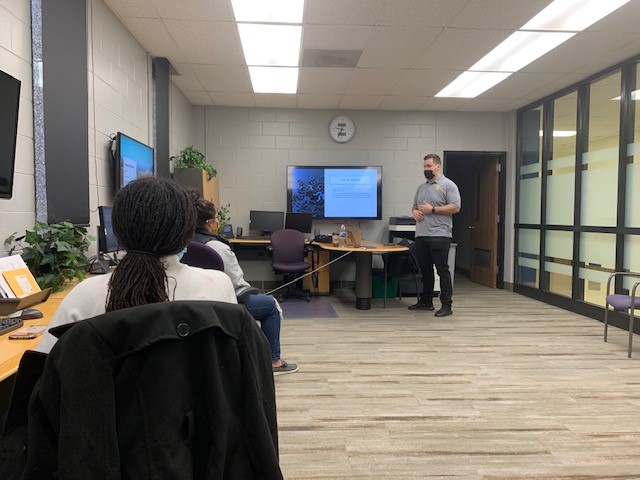 Preparation
Management careers require knowledge in management, accounting, finance, economics, business law, marketing and other business disciplines, as well as professional level skills in communication, writing, mathematics, and statistics. In addition to the assessment provided in their courses, SMSU Management students also have their performance evaluated via a nationally recognized senior examination. Southwest Minnesota State University Management students have consistently achieved academic excellence by earning high marks in the Senior Exam. The test covers eight academic areas from the curriculum: management, accounting, economics, quantitative business analysis, finance, marketing, legal and social issues, and international elements.
Clubs & Organizations
Students may participate in several robust and active student clubs. SHRM, ENACTUS, Student Government, and SIGMA are just a few of the student club options available.
ENACTUS

ENACTUS is an international student organization with chapters on more than 1400 campuses in 42 countries. The goal of ENACTUS teams all over the world is to "change the world" by engaging in projects that improve their communities and the lives of people all across the globe. ENACTUS team members leverage their personal educational experiences, the expertise of their faculty advisors, the support of their local business advisory boards, and the resources of their institutions to implement programs that create real economic opportunities for members of their communities. The effectiveness of their programs is judged at competition. Each national ENACTUS organization conducts a national competition, which is judged by leaders from its business community. SMSU's ENACTUS team has over 60 members and is a very competitive organization. It has won regionals and made it to the national competition for the past five years, advancing all the way to the Elite 8.

SIGMA

SIGMA (The Southwest Investment Group and Management Association) sponsors a speakers series – Brown Bag Business Briefs. Through this speaker series, professionals from diverse organizations have come to SMSU to speak to students and provide networking opportunities. Recent speakers include professionals from Honeywell, ReMax Realty, Wachovia Securities, YMCA, and Northwestern Mutual.

SOCIETY FOR HUMAN RESOURCE MANAGEMENT

The Mission of the student chapter is to provide a forum of personal and professional enrichment, an opportunity to develop leadership skills and an environment in which students may network with other members to enhance employment opportunities once they have graduated. The club has a formal affiliation with the Professional Society for Human Resource Management. The SMSU SHRM Club has won regional academic contests and has ranked nationally in competitions. This society of human resource professionals has 250,000 members world-wide.
Placement Opportunities
A very important option for hands-on experience is a Management Internship. Many regional businesses highly value the SMSU Management Intern, and we encourage students to include an internship as part of their degree program. The internships are designed to provide practical management training and academic credit simultaneously. During your internship, students will apply theories, concepts and strategies learned in the course work. Management internships are available for 1-6 credits. Students find internship opportunities in businesses, nonprofits, and public agencies.
Management careers are found in every industry. Management involves all aspects of planning, organizing, leading and controlling the activities of an organization. A manager also oversees the work of others by building consensus, motivating high levels of performance, problem solving, decision-making, empowering employees and coordinating activities. Management students can pursue a number of career possibilities including:
Production Manager
Human Resource Manager
Purchasing Manager
Operations Manager
Supply Chain Manager
Distribution Manager
Healthcare Manager
Purchasing Manager
Retail Manager
Facilities Manager
Training Manager
Entrepreneurship Manager
General Manager
Contact Information
Management Program - Office
CH 129, Southwest Minnesota State University
1501 State St.
Marshall, MN 56258
Telephone: 507-537-6223
Fax: 507-537-6227
Email: bis@smsu.edu
FRESHMAN ADMISSION PROCESS
Complete Application
$20 Non-refundable Application Fee
Official High School Transcript(s)
ACT or SAT Test Scores
FRESHMAN ADMISSION REQUIREMENTS
Rank in the upper half of graduating class
Score a composite of 21 or above on the ACT or 990 on the SAT