Political Science
About the Program
Studying political science at Southwest Minnesota State University allows students the opportunity to investigate political phenomena ranging from the behavior of individual voters to relations among nations. We seek to develop an awareness of the moral and ethical implications of political action, and an understanding of political institutions and processes from empirical and comparative perspectives.
Activities
Political science students have opportunities to expand their learning horizons and sharpen their leadership skills through such groups as the Political Science Association, Pre-Law Society, College Democrats, College Republicans, Model United Nations, Student Government, Lyon County Exit Poll and U.S. Supreme Court Mock Trial. SMSU's Forensics and Broadcast and Digital Media programs provide additional hands-on opportunities for learning and skill development for political science majors.
Majors & Minors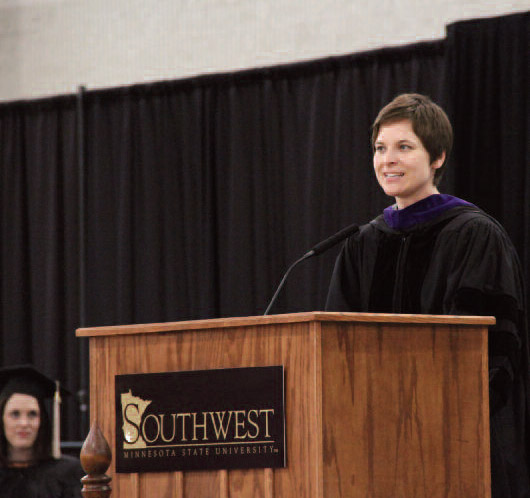 Christy (Kubat) Brusven is an attorney for the Minneapolis law firm Frederikson & Byron, where she specializes in the energy industry, permitting wind, solar, transmission and pipeline projects and representing utilities and other clients in energy-related matters. Christy was the keynote speaker at SMSU's 2014 commencement exercises on May 10, 2014.

Christy Brusven '02
Political Science & Public Administration
Placement Opportunities
Internships are an essential part of a college career for those students who wish to complement their classroom knowledge with practical experience and enhance their attractiveness to employers. The Political Science Program coordinates a growing number of internships with the Minnesota Legislature, local governments, regional and federal agencies, the Minnesota court system, law firms, and political organizations.
Attorney
Campaign Manager
City Manager
Peace Corp/Vista Worker
Probation Officer
Community Relations Director
Broadcast Journalist
Contact Information
Political Science Program - Office
CH 129, Southwest Minnesota State University
1501 State St.
Marshall, MN 56258
Clubs & Organizations
FRESHMAN ADMISSION PROCESS
Complete Application
$20 Non-refundable Application Fee
Official High School Transcript(s)
ACT or SAT Test Scores
FRESHMAN ADMISSION REQUIREMENTS
Rank in the upper half of graduating class
Score a composite of 21 or above on the ACT or 990 on the SAT