SMSU Facilities Overview
The Southwest Minnesota State University campus is on a 215 acre site located in a northeast quadrant of the City of Marshall, Mn. Included on the grounds are a number of athletic facilities and the ADM Environmental Learning Area.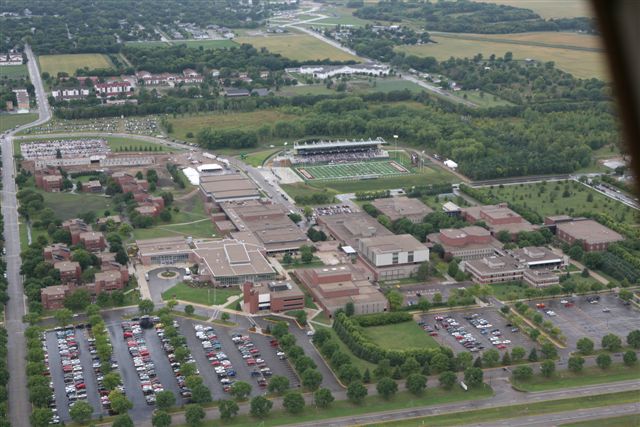 The campus was master planned and is comprised of 26 buildings – 14 academic buildings, 12 revenue funded facilities and one Child Care Center. Square footage of all facilities is approx 1.2 million. All academic buildings, the Student Center and the Conference Center are connected by enclosed above and below grade links or tunnels (72% of campus sq. footage is interconnected). The architectural design of the academic buildings is almost barrier free to accommodate students with disabilities.
Most academic buildings are two - level. The library (in Bellows) extends to five levels and Founders Hall is four levels. All campus buildings are steel structured, with pre-stressed or poured in place concrete floors, block walls and brick exterior walls.
Twenty three buildings were constructed over a period of six years (1966-1973). Since the initial construction phase of the campus facilities the:
 RA Facility came on line in 1995
 Student Center and Conference Center received a major renovation that was completed in 2005
 Schwan Regional Event Center was constructed in 2008
 Sweetland Hall (a residence hall) was completed in 2009
 Major renovations were completed in the McFarland Library (Bellows) in 2005
 Science and HRI remodeling project occurred in 2009-2011 (science labs and Culinology labs were renovated)
 City of Marshall and MnDOT constructed an underpass under HWY 23 from the SMSU campus to the Marshall High School the summer of 2010
 Alumni Plaza construction occurred the summer of 2010
City of Marshall completed construction of a bike path along the eastern perimeter of the SMSU campus the summer of 2010
City of Marshall completed construction of a pond on the southwest corner of SMSU property, near the intersection of Hwy 23 and 19. This pond provides storm water retention for run off from both City and University property.The pond fulfills a longstanding SMSU master plan goal to have a pond at that site.
SMSU and the Marshall School District funded the renovation of the Marshall Regional Track and Field Complex. Renovations were completed fall of 2014.The facility provides a Mondo surfaced running track as well as a synthetic turf field. Track event sites are located to the north of the track and field.
One of SMSU's major strengths is its physical facilities. Southwest MSU's location provides room for growth. Handicapped accessibility is excellent due to elevators (newly updated in 2010 and 2011) in each academic building and the system of links and tunnels connecting the academic buildings. The campus also benefits from being mostly all electric (exception is Sweetland Hall). It is served directly from the Bureau of Reclamation at Huron SD via the trunk lines from the Missouri River hydro electric project and via trunk lines provided by Lyon-Lincoln REA Cooperative of Tyler Minnesota and the East River Cooperative of Madison, SD.