Success Data
Percent of total students
First generation (71%)
Pell Eligible (57%)
Students of Color (78%)
High School
2020: 1.48-2.50
2021: 1.77-2.19
2022: 1.9-2.9
Program (5 college credits)
2020: 2.40-4.00
2021: 3.08-4.00
2022: 2.25-4.00
Review of Results
In the first week of the summer program, students take a pretest in ACCUPLACER English and the College and Career Readiness Standards for Adult Education (CCRS). The graph below reflects the pre and post-test scores for the 2022 MPP summer bridge program in the first and third week of the program. On average, student's ACCUPLACER test scores increased by 10.2-points from pre to post-test. Our 2021 test results were very similar with a 11.4-point average increase.
The combination of mandatory study tables, one-to-one conferences with instructors, student success-oriented events, presentations, and discussions directly contributes to the success we are seeing among student participants.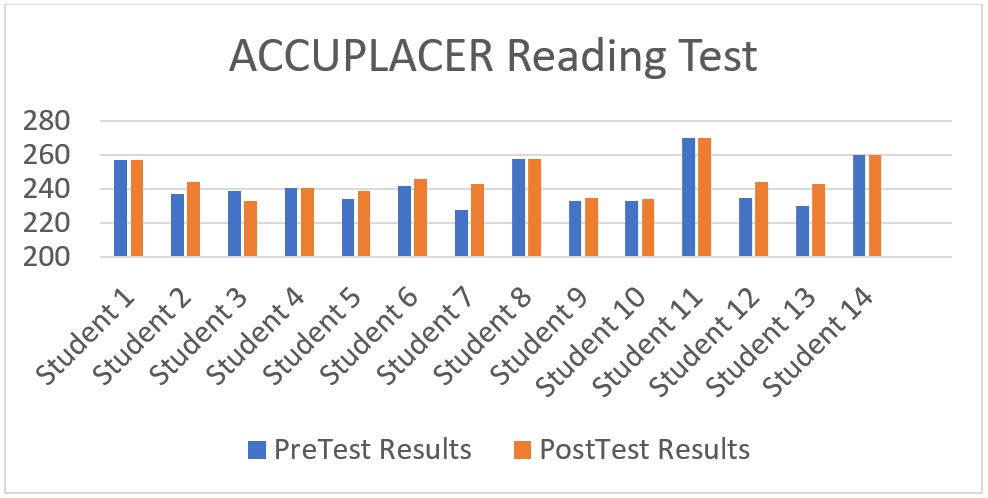 Our partners in Adult Basic Education (ABE) administer and proctor the CCRS exams during week one and five. Results indicate that 50% of students had at least a two-grade level increase in reading scores from pre to post-test.
Retention Strategies
A key part of retention is fostering a sense of belong, a process that reflects intrusive advising, programming specific to student's needs and interests, and skilled faculty and staff. We also foster a sense of belonging through student involvement in our Living and Learning Community, monthly Achieve meetings, and participation in the Pathway Scholars cohort classes in the first two semesters at SMSU.  Our Fall-to-Fall retention rate is 63%, on par with the University rates if not slightly higher.