Residence Life Staff Busy During Summer
Published
Thursday, July 21, 2016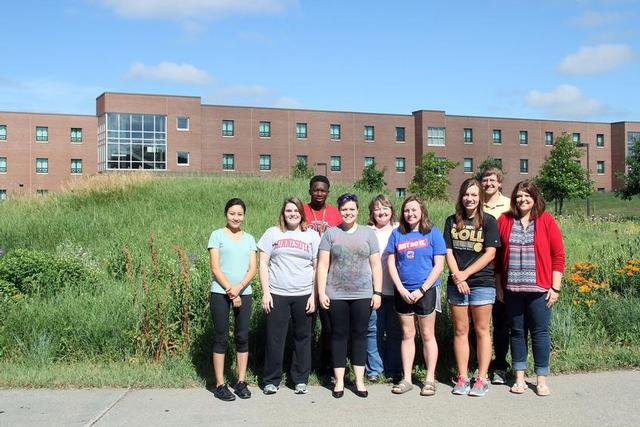 In the past few weeks, six different groups have spent at least one night in the residence halls at SMSU. By the end of the summer, a total of 18 groups will have passed through the halls. Jessica Bentley, SMSU Residence Life Coordinator, says communication and staying on top of the schedule are key to keeping everything running smoothly.
Coordinating general summer repairs and maintenance with the various camps takes some flexibility. The maintenance staff cleans the halls before and after each group's visit. If possible, the general maintenance work for specific halls is scheduled between camps, but occasionally a room will be left empty during a camp for repairs.
The couch cushions from two lounges were reupholstered in May before Boys State moved into the residence halls. Other work such as painting, bathroom repairs, switching furniture and setting up rooms for fall is being finished between other camps.
Several camps and activities have been added to the SMSU summer schedule in recent years. The Southwest Minnesota String Festival has grown since its beginning a few years ago, and the cross country camp is new this year, and the wheelchair basketball camp is new, too. Also new this year was a visit from the Northern State University Upward Bound program from Aberdeen, S.D.
The team football camp has seen the most drastic growth in recent years. Last summer was the first time the various football team camps were combined into one, with a total of about 540 students and coaches. This year close to 725 athletes are anticipated, which will completely fill the Traditional Hall capacity at SMSU. Teams from around Minnesota, South Dakota, and Iowa will be participating.
At the same time as the various camps, the Upward Bound and Summer Bridge programs are also held on campus. Over 80 college students were housed in the Foundation Residence Apartments this summer as part of those programs.
Residence Life has nine student staff members this summer to help Bentley, Scott Voss, and Wanda Paluch with day-to-day operations. The students coordinate checking keys in and out to the visiting groups. They respond to any issues that arise during camps and walk through the halls each night. They also help with cleaning and other preparations, as needed.
Camps are winding down and Residence Life is looking forward to August 6, when RA training begins. Fall sports teams will arrive August 8-10, bringing the total number of students to 200 before Gold Rush Days begin August 18.
SMSU's Residence Halls have been busy this summer and will be ready to welcome the buzz of students back to campus.