Employee Milestones and Retirements Celebrated
Published Friday, March 31, 2023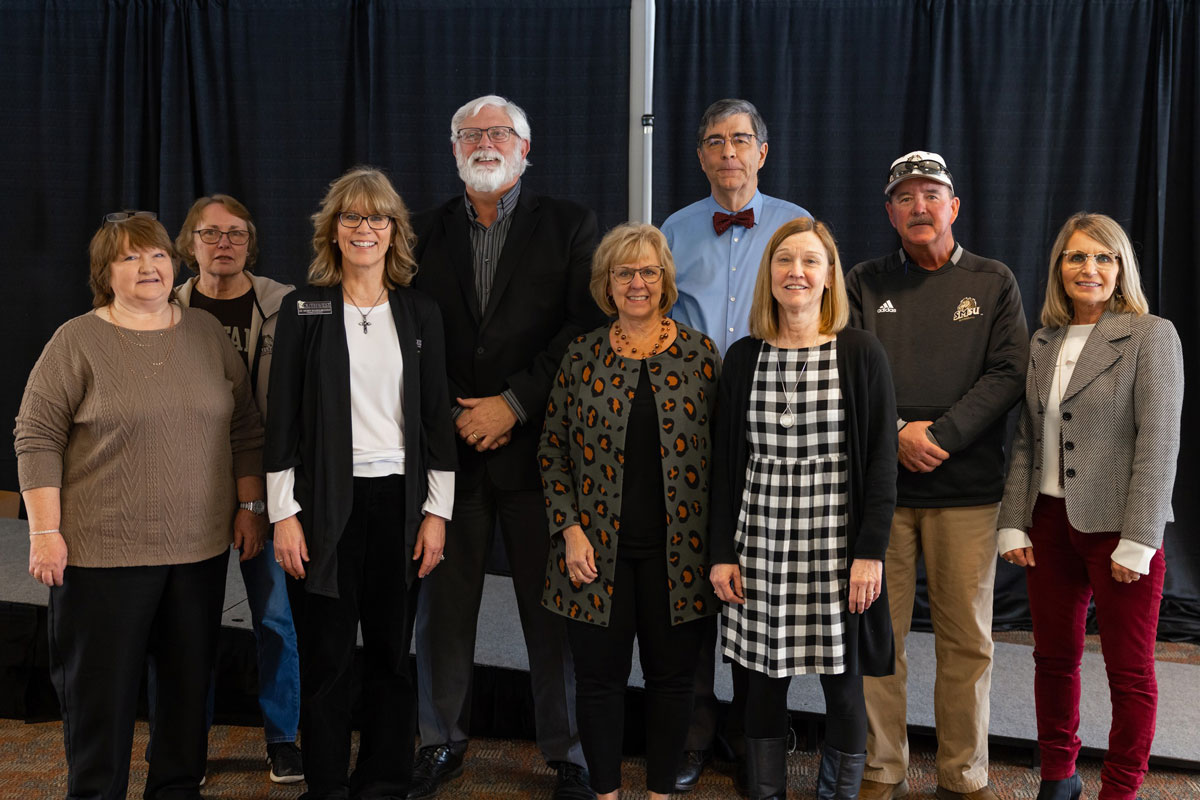 Retirees attending this year's reception.
On Wednesday, March 22, Southwest Minnesota State University recognized employees who achieved work anniversary milestones and those who are or will be retired in the academic year 2022-2023.
Each year, SMSU celebrates individuals who have reached 10, 15, 20, 25, 30, and 35 years of service. The contributions by this year's honorees adds up to 795 combined years of service to the University.  This year's milestone recipients include:
10 years
Dawn Bahn
Barbara Berkenpas
Trevor Christopherson
Kris Cleveland
Sarah Huseby
Lisa Lucas
Heather Rickgarn
Diane Stieper
Jennifer Swanson
LeAnne Syring
15 years
Cynthia Aamlid
Michelle Beach
Brett Gaul
Denise Gochenouer
Alma Hale
Sangnyeol Jung
Maria Kingsbury
Michele Sterner
David Volden
Christina Westfield
Māra Wiggins
20 years
Frances Albitz
Jessica Bentley
Sandra Craner
BC Franson
Tony Greenfield
Jeffrey Jennings
Dennis Lamb
Raphael Onyeaghala
Wendy Schoolmeester
Judy Wilson
25 years
Timothy Alcorn
Lori Baker
Jay Brown
Corey Butler
Kelly Loft
Lon Richardson
Ruthe Thompson
30 years
Mark Fokken
Jeffrey Kolnick
Bill Mulso
Robert Schwoch
35 years
In addition to the work anniversaries, SMSU marked the retirement milestone for a number of employees. The combined years of service given to SMSU by the 17 individuals retiring in the 2022-2023 academic year equals 511 years.
Retiring/Retired
Chris Anderson
Linda Baun
Paul Blanchard
Paulette Buchholz
Scott Crowell
Pamela Ekstrom
Jill Engebretson
Richard Herder
Garry Mercer
Wanda Paluch
David Pichaske
Ronald Schoephoerster
Wendy Schoolmeester
Conni Stensrud
Liz Struve
Joan Tutt
Kathleen Wilking
The total years of service by all individuals recognized this year comes to 1,306 years. SMSU and the entire Mustang Family are grateful for the dedication and contributions made by these employees. For more information on the milestones or current employment opportunities, contact the SMSU Human Resources Office at 507-537-6208 or visit https://www.smsu.edu/administration/humanresources/index.html
For the full collection of photos, check out the Facebook album.
Related Articles