Ghent Bluebird Creek Conservation Club Donates Land to SMSU Foundation for Environmental Classroom
Published Monday, April 01, 2019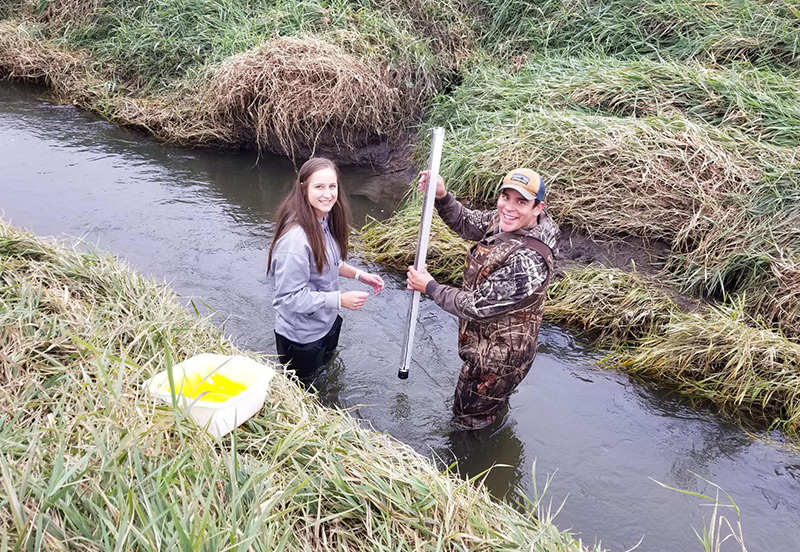 Brenna Kramer and Marco Gacke do research at Bluebird Creek
Bluebird Creek Conservation Club of Ghent has donated 48 acres of natural prairie land to the SMSU Foundation, to be used as an environmental classroom.
The land consists of natural habitat, and the Bluebird Creek runs through the land.
"It's natural prairie, plus with the creek, it's a wonderful combination of prairie and water ecosystems," said Dr. Emily Deaver, Environmental Science professor at SMSU. "We'll use it for classes and for student research. We've already made use of it this past fall with an ecology class, and we had a couple of students do some of their research that was presented at the Undergraduate Research Conference."
Jerry Schaefer, Bluebird Creek Conservation Club member, explained that the land was part of a number of parcels that were acquired by the Ghent EDA for the Bluebird Creek Housing Development, on the southwest part of Ghent, about 15 years ago. The initial acquisition was about 100 acres, approximately half of which was for the housing development. The balance of the land was put into a conservation reserve program. With the end of that sign-up approaching, Bluebird Creek board members said the time was right for the transaction, said Schaefer.
The land will be known as the Richard and Irene Maertens Conservation and Research Area, to honor the Maertens' willingness to sell the original parcels to the Ghent EDA "for well under the market value," said Schaefer, who was the Ghent EDA director at the time of that purchase. The Maertens family also wanted part of that land to remain in a natural state.
Richard Maertens was a former SMSU Foundation Board member, while Schaefer and current Bluebird Conservation Club President Michael Murray are both SMSU alumni.
The club itself is very small. "We have three active members," said Murray. "Jerry and Darwin Dyce and I were looking for a way to have the land managed and maintained, because it became too much for a small group."
Schaefer talked to his wife, Kathy — an Assistant Professor of Management at SMSU — about the situation, and she suggested contacting Deaver. A meeting was set up with Conservation Club members and SMSU personnel, and that's what started the ball rolling.
The land will be used for outdoor classes and student research. "This will be an educational resource for our students, and a natural area that can be enjoyed for years," said Bill Mulso, Executive Director of the SMSU Foundation. "We're appreciative of the Bluebird Conservation Club for their willingness to gift this land, which will be an asset for all SMSU students."
A formal dedication will take place this coming fall.
Related Articles