SMSU, Bee Club Collaborate to House Hives on Campus
Published Monday, September 16, 2019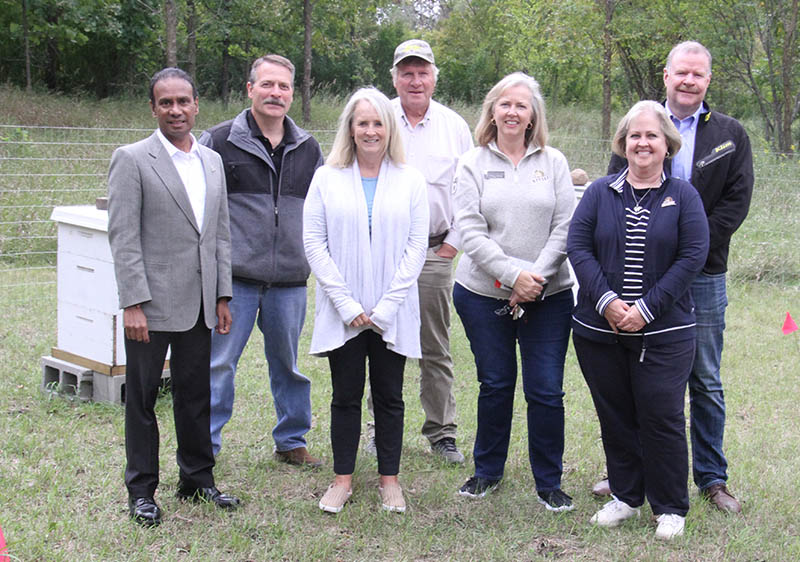 President Jayasuriya, Ron Prorok, Deb Kerkaert, Russ Koopman, Dean Aimee Shouse, Emily Deaver, Bill Reilly
A collaboration between Southwest Minnesota State University and the Southwest Minnesota Bee Club has resulted in a permanent home for the hives of area bee enthusiasts on the campus of SMSU.
The Community Pollinator Project will be an educational tool for SMSU students and other groups in the region, and will bring the hives of club members to a single site on campus. By law, citizens can't house a bee hive in a residential area of Marshall.
The genesis of the project goes back to early 2019, when club member Bill Reilly discussed the idea with SMSU administrators. Those talks led to the establishment of the bee yard in the northern portion of the SMSU-ADM Nature Center.
The site is dedicated to Reilly's late mother Pat. "She had a real love of gardening, the planning for the bee yard was going on during the time she passed," he said.
The club is comprised of approximately 40 individuals, and about 25 attend the monthly meetings, which are now being held at the Community Pollinator Project site.
 "We have monthly meetings, but members go out there every week. As members are doing things in the bee yard, they send out emails and invite others join them," said Ron Prorok, club president.
Right now there are 11 hives owned by 5 individuals, he said. A healthy hive will have between 20,000 and 50,000 bees, which will pollinate a two-and-a-half-mile radius, said club members.
The first hives were put in place in May 2019. The area — mowed and fenced off — was prepared by Grounds and Roads Supervisor Jeff Jennings and his crew.
"The apiary has been a key aid in both educating new hobbyists and creating general awareness of how pollinators contribute to the food chain," said Prorok.
"This is a wonderful partnership," said Aimee Shouse, Dean of Arts, Letters and Sciences. "The Southwest Minnesota Bee Club members have the benefit of a place to host their hives, and the university has the benefit of using the bee yard as an educational resource."
She said that soon, SMSU will be registered as an official Bee Campus USA site, the only educational institution to earn that designation in Minnesota.
The site is already being utilized by SMSU faculty, said Shouse. "Tony Amato (who keeps a hive in the bee yard) has taught a class on bee keeping and the importance of bees, and (Assistant Professor of Biology) Alyssa Anderson, our entomologist, has worked it into her curriculum. (Biology Professor) Tony Greenfield and (Professor of Environmental Science) Emily Deaver will also be using the bee yard to help teach about pollinators and study ecology," she said.
There's also the possibility of selling "Mustang Honey" in the future.
Club members hope the grow the number of hives in the bee yard in the future, and use the location as an educational tool for area schools, groups and organizations who wish to learn more about the bees.
Related Articles