Mustang Market Helping Meet Student Food, Hygiene Needs
Published Thursday, October 24, 2019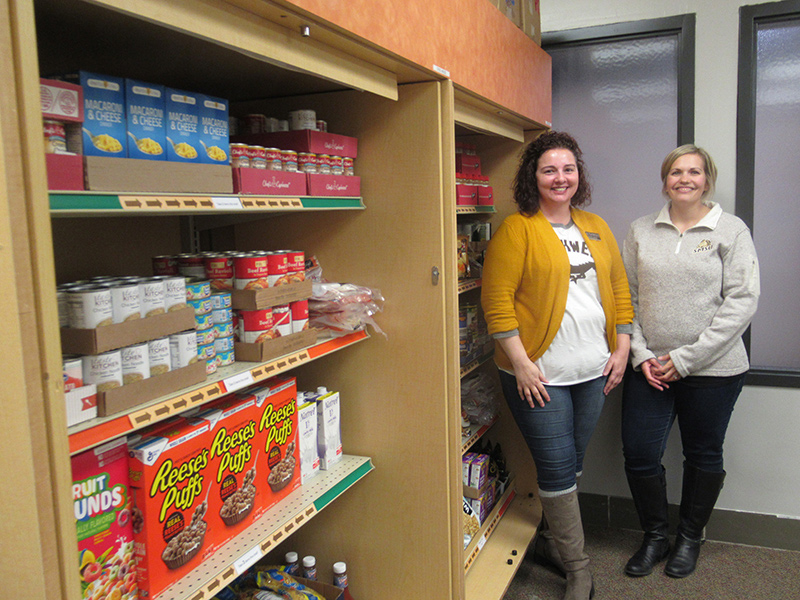 Crystal Watts, left, and Melissa Scholten (courtesty of Marshall Independent)
Mustang Market — an on-campus food shelf that distributes non-perishable food and personal hygiene items — has proven to be popular with Southwest Minnesota State University students.
The Mustang Market grew out of a student survey in 2017 from the Center for Civic & Community Engagement. The survey gathered information about the SMSU student experience in a number of areas. One of those was food insecurity, and the need for assistance in that area.
Food insecurity refers to the USDA's measure of lack of access, at times, to enough food for an active, healthy life for all household members and limited or uncertain availability of nutritionally adequate foods. Food insecurity may reflect a household's need to make trade-offs between important basic  needs, such as housing or medical bills, and purchasing nutritionally adequate foods.
Forty percent of survey respondents said that hunger sometimes interferes with school and/or work; over 10 percent of respondents utilize/access food assistance on a monthly basis (SNAP/food shelf); more than half of respondents need help from friends to pay for food; and 20 percent of respondents indicated that more than half the time they will eat less so they have something to eat the next day.
That got the attention of Melissa Scholten and Crystal Watts. Scholten, the Center for Civic & Community Engagement director and Watts, an AmeriCorps Health VISTA member serving at SMSU, came up with the Mustang Market idea.
 With the help of a $30,000 SMSU Innovation of Student Success Award and the cooperation of a number of different groups and organizations — on campus, and off — the Mustang Market was launched.
Healthy56258's Nutrition Network — a group of SMSU employees and community members — has been integral in shaping Mustang Market, said Scholten. "And we've been using student feedback to help direct the set-up of the pantry."
Students voted last spring to name the effort "Mustang Market."
Mustang Market had a trial run last year, first in December 2018, then, later, in March and May, 2019. The "Mustang Pop-up Pantry," as it was then called, served 61 students in 30 minutes on its first try, and then 110 students and 120 students in March and May, respectively.
Mustang Market was open one day per month in both September and October this semester. Other dates will be November 13 and December 11 from 11:30 a.m.-1:30 p.m., said Scholten. Second-semester dates will be announced near the end of the fall semester.
Students who miss the Market's open hours may arrange an appointment through Scholten's office.
In September, the Pantry served 90 students and distributed 600 pounds of food and hygiene items. In October, it served 84 students and over 1,000 pounds of food and hygiene items.
"There's a real need, definitely," said Scholten.
The Mustang Market is also a good place for students to volunteer, and Watts works with students and community members who volunteer their time.
The October Mustang Market was the launch of a food drive, and that's just one way people can contribute, said Scholten.
More information about the Mustang Market can be found online at: https://www.smsu.edu/campuslife/civicengagement/mustang-market.html. The site includes a "Mustang Market Wish List" for those wishing to donate items.
Cash donations are also welcome, said Scholten. "Monetary donations allow us to order product from Second Harvest Heartland," she said. That Minneapolis-based food recovery organization is part of the Feeding America network.
Mustang Market partners include Healthy56258, Nutrition Network, Campus Religious Center @ SMSU, LuMin, Newman Club, Holy Redeemer Catholic Church, Esther's Kitchen, United Community Action Partnership, Second Harvest Heartland, Marshall Food4Kids and SMSU Center for Civic & Community Engagement.
Still in its infancy, Mustang Market will continue to grow and serve the needs of SMSU students, said Scholten. "We are continuing to improve," she said. "The Market is based on student feedback and student needs. Crystal has been instrumental in building a lot of relationships."
Related Articles