Conservation Club Gifts 48 Acres to Foundation for Outdoor Classroom
Published Sunday, September 29, 2019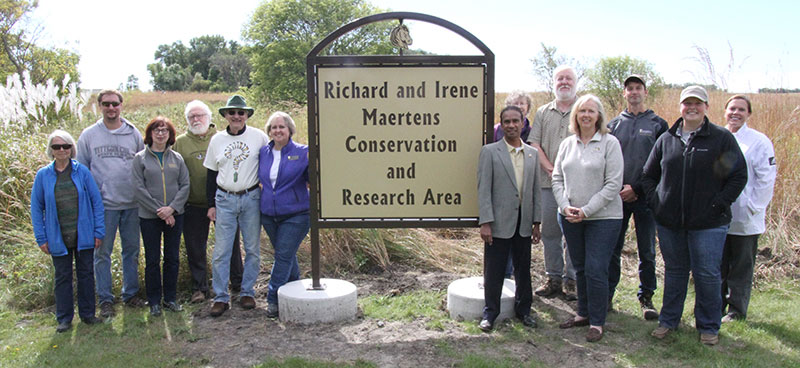 Conservation Club Group Photo
A 48-acre parcel of natural prairie land gifted to the Southwest Minnesota State University Foundation by the Bluebird Creek Conservation Club of Ghent was dedicated during a ceremony on Saturday, Sept. 28.
The area, located on the southwest edge of Ghent, will be known as the Richard and Irene Maertens Conservation and Research Area and will be used as an outdoor classroom by SMSU faculty and students.
The educational applications of the land are many, said Dr. Tom Dilley, Environmental Science professor at SMSU. "Student projects are up and going," he said. "This area floods on a regular basis, and lays down new sediment. A long-term project could be looking at the layers of soil over the years. It's a perfect place to bring students."
Bluebird Creek snakes its way through the land on its way to Three Mile Creek, and that body of water offers additional research opportunities, said Dilley.
A new plant biologist, Shelby Flint, will arrive on campus in January, he said, and is full of ideas already on how to utilize the area for SMSU students.
"There's many areas of study that can benefit from the land," said Dr. Emily Deaver, Environmental Science professor. "Our ag students, in terms of conservation land. Art and English students, to come and gain inspiration. It's a fabulous spot for people who want to come out and enjoy nature."
Jerry Schaefer, an SMSU alumnus and Bluebird Creek Conservation Club member, said the land was part of a number of parcels that were acquired by the Ghent EDA for the Bluebird Creek Housing Development 15 years ago. Schaefer was the Ghent EDA director at the time. The EDA purchased most of the land from Richard and Irene Maertens. "They sold it to us for about a third of what it was worth," he said. "They gave us a real good deal."
Richard Maertens was a former SMSU Foundation board member, while Schaefer and current Conservation Club President Michael Murray are both SMSU alumni.
As part of the sale, the Maertens family requested that part of the original 90 acres remain in a natural state.
For a number of complicated reasons, said Schaefer, the prairie land changed hands from the EDA to the Bluebird Creek Conservation Club.
The 48 acres of natural prairie land were put into a conservation reserve program. With the end of that sign-up approaching, the trio of active Bluebird Creek Conservation Club members felt the time was right to look at options. The land required upkeep, and the club memberships wasn't big enough to handle those demands.
Schaefer talked to his wife  Kathy — Assistant Professor of Management at SMSU — about the situation, and she suggested contacting Deaver. That was the first domino in a series of events that led to the club donating the land to SMSU.
"There's nothing like it in the whole world," said Kathy Schaefer, talking about the beauty of the area. "There's purple and red, the sunsets are gorgeous. It feels like the best place on the planet."
"I am beside myself," said Jerry Schaefer. "This is just a wonderful thing."
SMSU President Kumara Jayasuriya began his duties as 10th president of SMSU on July 1. "One thing I've learned is how dedicated the staff and faculty are at SMSU, and the support the university receives from the region. This is another example of that."
Related Articles