Mustang Market Receives Large Donation of Feminine Hygiene Products
Published Thursday, February 20, 2020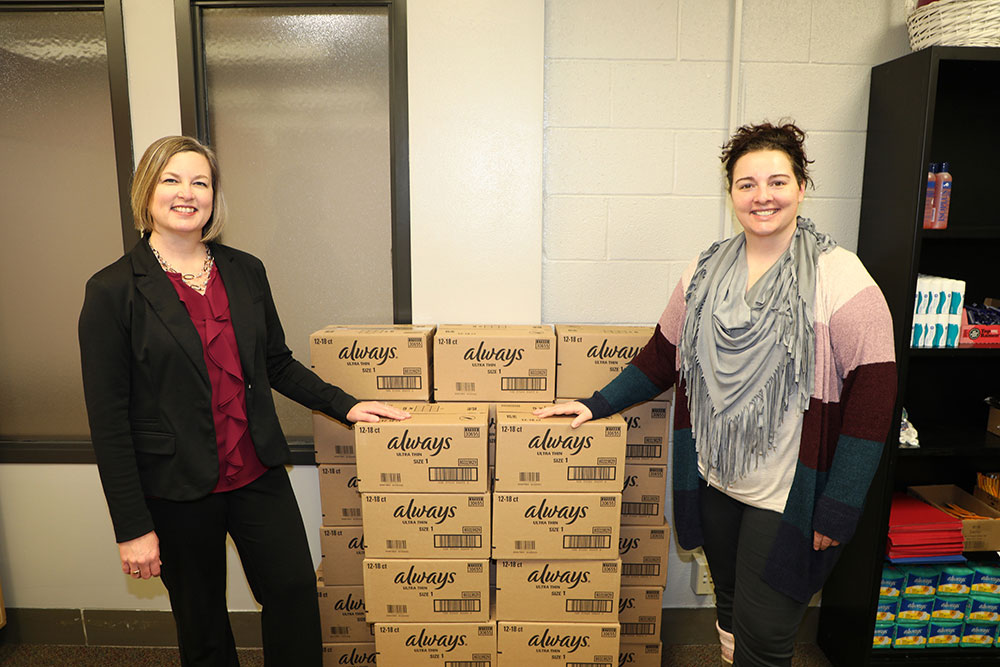 Lisa Haen, left, and Crystal Watts
Mustang Market recently received a large donation of feminine hygiene products from the Always company, a gift that is especially needed at the Market, according to Crystal Watts, AmeriCorps Health VISTA representative on campus.
Mustang Market is SMSU's food shelf that distributes non-perishable food and personal hygiene items. It is located in the Center for Civic and Community Engagement, BA 161.
Watts enlisted the help of SMSU alumna Lisa Haen, Senior Learning and Development Specialist at Schwan's. Haen is on the Nutrition Network board, a work group under the umbrella of Healthy56258. "We were talking about the Market development, and how getting hygiene items was more difficult. Women don't have a choice but to deal with their period. We wanted to look for sustainable ways to get those products. I asked Lisa to take it on, and boy, did she ever," said Watts.
Haen explained that she's a part of the Network of Executive Women. "As a corporation we belong, and there's a couple of hundred women who belong. I started with someone in Minnesota, and she connected me with someone not in Minnesota but (leading) the charge of the End Period Poverty campaign. I put out a request through email and a month later, voila!"
The Always company shipped 30 boxes of feminine hygiene product to Watts. There's 12 packages of 18-count pads in each box, said Watts.
"End Period Poverty is a social media initiative from the Always company that supports typically younger girls with access to period care products," said Watts. "They just asked us how many women we need to support."
Watts said women "are looking, at a minimum, $5 for name brand products each month. It's sort of a layered effect how each female handles period care. Women's menstrual cycle is not just here and gone, it's on a continuum so lots of care products may be needed. Women spend $15 to $20 per month and it typically is part of the grocery budget, as the products are located in the grocery store," said Watts.
Watts said it can be difficult to receive donated feminine hygiene products. "People have good intention, but we can't distribute those that are already opened, and we're not allowed to break up very large boxes of product."
The Mustang Market has a webpage — https://www.smsu.edu/campuslife/civicengagement/mustang-market.html — and on that page there's a 'wish list' of items. "We've added period products to the wish list and instructions to keep in mind that smaller packages are better for distribution, so more women have access to the products on a continuing basis."
Next year, said Watts, "we want to potentially connect with the Marshall school system to get them involved, for their middle school and high school girls. When you get a resource, it's great to share."
She's not sure if the Always feminine hygiene products will be available next year, but she's hoping so. "We plan on continuing to ask, since we know this may be a continuing option now. This summer we may have a 'big ask' to supply us for a year," she said.
The Mustang Market is open from 11:30 a.m.-1:30 p.m. Upcoming spring semester dates include March 4, March 31 and April 28. And the word is getting out on the Mustang Market. "We typically have 20 to 30 people waiting on the days we are open," said Watts.
Students who can't make it can contact Watts to arrange for Mustang Market distribution items.
Related Articles