Despite Odd Ending, Seniors Happy with SMSU Experience
Published Tuesday, May 05, 2020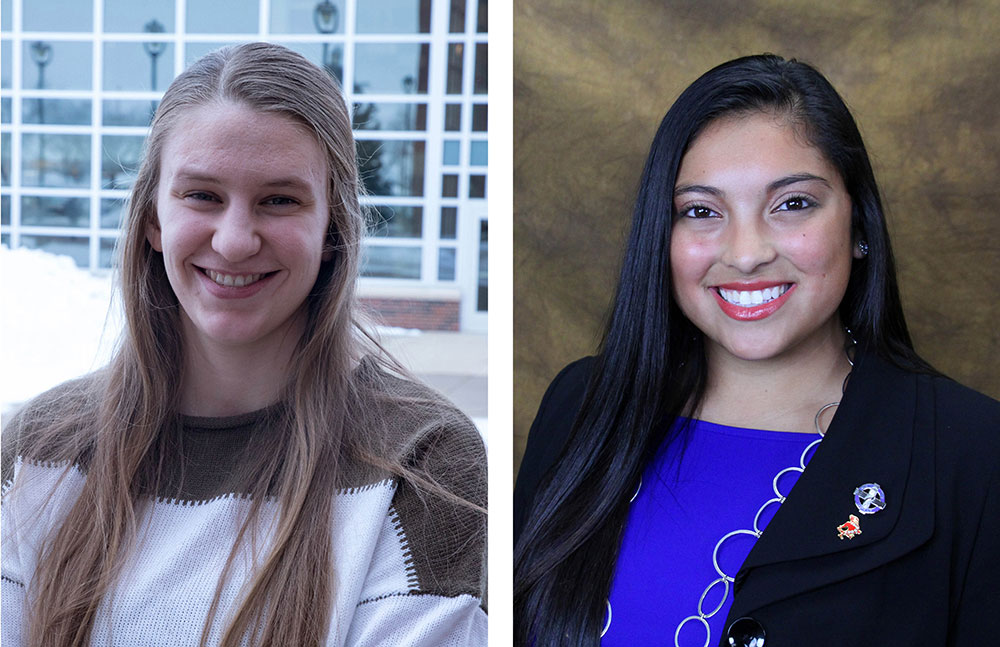 Sariah Cheadle, left, and Melinda Lopez
Commencement exercises for approximately 565 SMSU undergraduate and graduate students was to have been held May 9. Due to COVID-19, that ceremony has been postponed to the fall semester (at a date to be announced).
That leaves SMSU seniors like Sariah Cheadle and Melinda Lopez with mixed feelings during finals week.
Cheadle, an English Literature and Theatre Arts double major, said she had no way of knowing she'd end up where she is today when she entered SMSU five years ago. She came to play basketball, but due to an injury, left the team at the start of her sophomore year. "That was a hard transition, and I might have decided to transfer had I not also been in my first SMSU theater show and found a new 'team' with new goals and opportunities," she said.
The abrupt end to attending classes in person took place during spring break. "We were already off campus when we were told that we wouldn't ever be coming back in the same way — almost two months before we would have to do that. No in-person good-byes with professors, no final gatherings of friends and classmates. No end-of-semester sleep-over in the Black Box Theatre with the Drama Club."
She's picked up many new talents at SMSU — "I've learned how to sew, how to weld and how to be really scary at a haunted house — a tip: snow shovels freak people out when banged on a cement wall."
Faculty members have played in important part in her education. Retired English Professor Marianne Zarzana encouraged her to study abroad in England. And University Librarian Pam Gladis helped grow in her an interest in libraries. She will be attending Kansas State University in the fall, where she'll pursue a master's in Children's Literature and, later, Library and Information Science, with a goal of working in a university library.
Though she'll miss walking across the stage, she has one special memory that'll last. "Last week I spent a nice evening at home throwing a football around with my siblings and parents on a walk. We went inside for a delicious homemade chocolate cake made by my mom while my family — led rousingly by my brother — hummed the graduation theme song 'Pomp and Circumstance.' In some ways I think it was a more intimate and special graduation than a gymnasium full of people would be."
Melinda Lopez works as a charge nurse for various units at Hillcrest Rehabilitation Center in Mankato. She is a precocious student, having graduated from the Minnesota West RN program last May 17, and, 16 days later, she graduated from Fairmont High School. She's gone through the RN to BSN program at SMSU in just a year.
"I decided to finish my courses in one year, which meant taking multiple classes each semester. I felt fully supported by the nursing faculty as they provided countless opportunities for professional growth. Being part of the nursing program has made my time at SMSU so valuable and I feel I have become a better rural nurse because of it."
The COVID-19 situation has placed additional demands on her, but she's been able to handle the job and classroom responsibilities. "Working in a rehabilitation center, nurses in this situation have been fighting a different battle. We are working on protecting our residents from the outside world and struggling to make sure that everyone is feeling loved and cared for. We feel the fear of bringing something in and are working hard to keep the 'outside' away and ensure the safety of our residents. Quite honestly, the front line is really scary at times."
The RN to BSN program is predominantly delivered online, and Lopez said she leaves with fond memories. "SMSU became a home away from home. It was filled with countless people from all over the world who had different backgrounds and cultures. SMSU really fosters their students to feel comfortable showcasing their history and it was culturally enlightening to experience a whole new world. I love that SMSU has always been a student-centered campus. One of the first things I noticed when I started my time at SMSU was just how well-respected the alumni are. I am excited to give back to SMSU as an alumni!
Her plans include "spending this next year in the medical school admission process." She wants to become a surgeon specializing in pediatrics, as well as "being educated as an obstetric gynecologist."
While the academic year has ended in a way neither could have expected, they both said they made the right college choice, and will forever be a Mustang.
Related Articles