Three Students Awarded Full-ride Scholarships as Part of President's Regional Scholars Award Program
Published Tuesday, May 19, 2020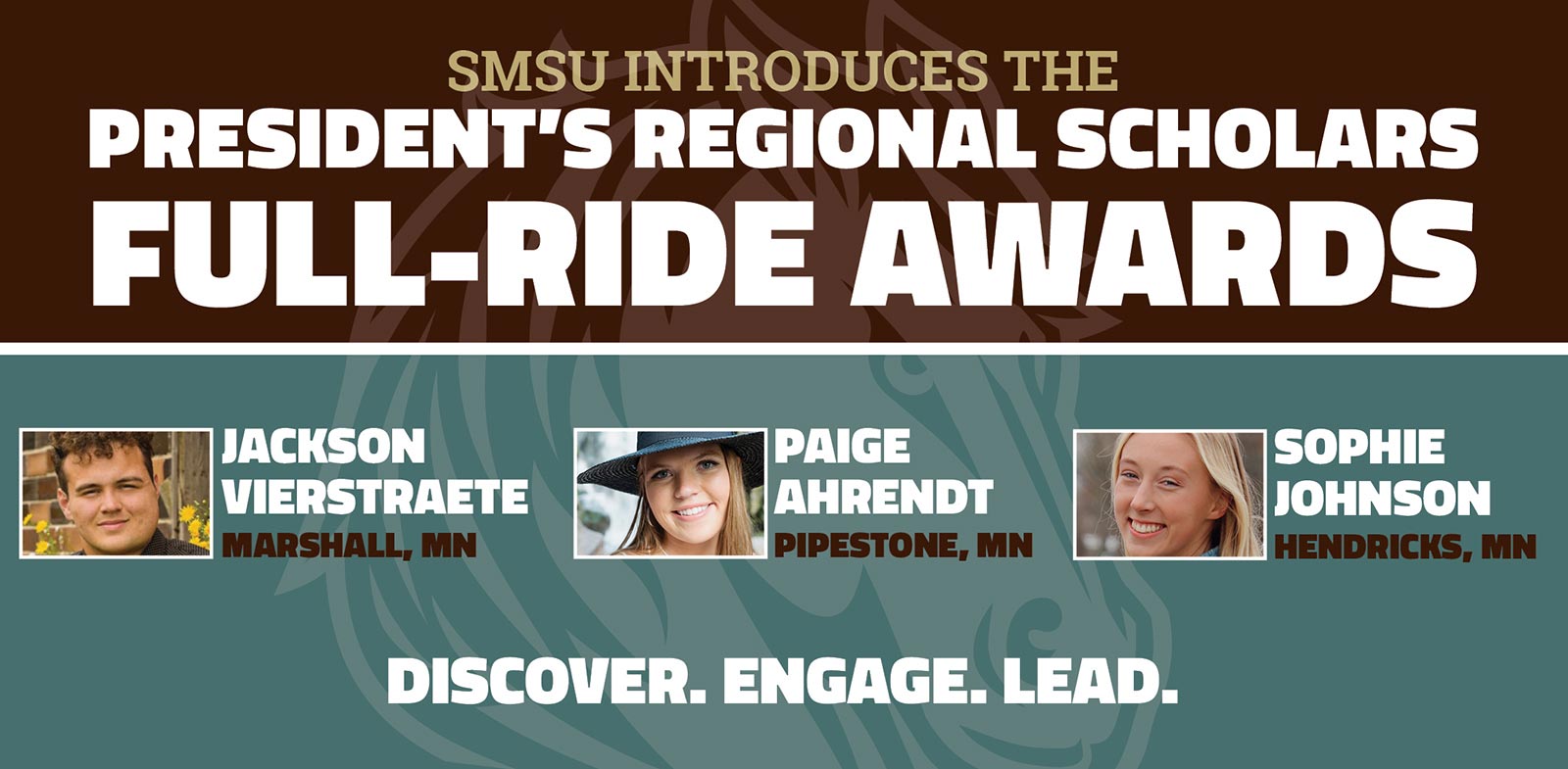 President's Regional Scholars Award program
Three high-achieving students have been awarded full-ride scholarships to Southwest Minnesota State University as part of the President's Regional Scholars Award program.
Paige Ahrendt from Pipestone, Sophie Johnson from Hendricks and Jackson Vierstraete from Marshall will receive full-ride scholarships starting in fall semester 2020. The scholarships are for four years. The students were selected through a combination of their outstanding academic achievements and interviews with SMSU faculty, staff and President Kumara Jayasuriya.
The scholarships are the top tier of awards of the President's Regional Scholars Award program, launched in November, 2019. There are six scholarship levels to the Regional Scholars program, and range from $4,000 to a full ride over four years.
Paige Ahrendt attends Pipestone High School and is the daughter of Keri Prins and Dave Ahrendt. She plans on majoring in Physical Education and Exercise Science, and her dream job is becoming a softball coach and/or a sports psychiatrist. She chose SMSU "because it offers a great education. I also chose it because all of the people and staff on campus were very welcoming and helpful when I went on my visit. It's a place that's familiar to me and it's close to home, so I just knew it was where I was supposed to be."
Sophie Johnson attends Hendricks High School and is the daughter of Gary and Sherri Johnson. She is undecided on a major, and is interested in either a career as a chiropractor for a professional sports team, or developing her own line of wedding dresses. She chose SMSU because "it is close to home and I really appreciate the relationship between the staff and students. The class sizes are small and I know I will receive a very good education." She played volleyball for Estelline/Hendricks, and will be a member of the 2020 Mustang volleyball team.
Jackson Vierstraete attends Marshall High School and is the son of Dustin and Sonya Vierstraete. He plans on majoring in Biology and will be a member of the Honors Program. After graduation he'd like to be involved in a profession "that provides me the capacity to make a positive impact on the environment, as well as others." He chose SMSU because "it's my home, and I love the Marshall area. SMSU provides great academic opportunities for me to be successful in the future."
 "Our purpose in implementing the President's Regional Scholars Award program was to keep the best and brightest students in southwest Minnesota, attending SMSU," said SMSU President Kumara Jayasuriya. "We look forward to having these three outstanding students join the Mustang Family in the fall."
For further information about the scholarship program, contact the Office of Admission at: 507-537-6286; Admission@smsu.edu.
Related Articles