Ben Nwachukwu is SMSU's 'Answer Man'
Published Thursday, March 25, 2021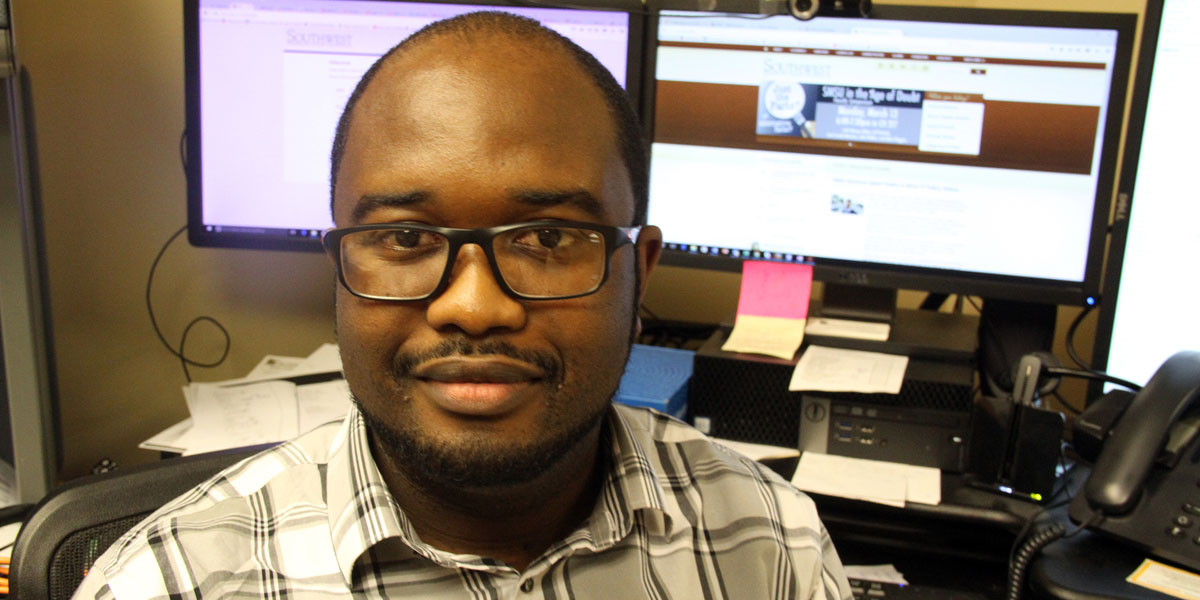 Ben Nwachukwu
If Ben Nwachukwu had a nickname, it would be "The Answer Man."
An SMSU alumnus, Nwachukwu works in the IT Department at SMSU, as an Information Tech Specialist 2. The title does little to explain what he does on a daily basis, and how he makes life easier for the entire Mustang Family.
"I manage the Technology Resource Center (TRC)," said Nwachukwu. The Technology Resource Center moved into the McFarland Library in August, 2016. "It's the front end of the IT Department," he said. "It's where somebody goes if they have any technical issue — faculty, staff or students."
The move of the TRC from the first floor of Bellows Academic into the library has been positive, he feels. "It was a good move for us, being front-and-center of everything. The library is a high traffic area. Students can call and make an appointment, but they also just drop in, and we welcome that."
Nwachukwu came to SMSU as an international student from Nigeria. He received degrees in Accounting, Finance and Management, with an Agribusiness minor, in 2008. He earned his MBA from SMSU in 2010.
"Originally I started out majoring in Computer Science. Then I changed my major to Business, Accounting and Management. I wanted to get enough credits to take the CPA test."
But a funny thing happened on the way to that accounting job. He worked in the TRC for four years as an undergraduate, and was a graduate assistant there while pursuing his MBA. "When I was a grad assistant, I had more responsibility," he said. "I could see this as being a good job." As luck would have it, a full-time opening occurred due to a retirement. "I got a one-year (emergency) contract, and then got the permanent position after that."
He works with another full-time employee in the TRC, along with about 17 students, including two graduate assistants.
COVID-19 put a lot of demands on the TRC immediately. Nwachukwu was on paternity leave after the birth of his fifth child and came back to work on a Thursday. "And everyone was leaving campus to work remotely on Friday," he said.
Helping faculty and staff get set up to work remotely was a huge effort, he said. "It wasn't just a 'plug and play' situation. We were focused on helping faculty transition from face-to-face to online instruction, and helping staff where we could, getting them connected." There were many aspects of that effort, including access to office desktops, external monitors for laptops, connections, etc. Many staff members, too, needed access to special Minnesota State system databases.
What's he like about his job? "It's different every day. I am able to learn different technologies, and how to use them to teach others. Zoom meetings are used commonly today and we were the first people to play with that technology when Minnesota State adopted it.  I needed to know the 'ins-and-outs' of it. Also the Microsoft Office 365 apps, how all of those work."
He started full-time in the TRC in September, 2010 and is constantly amazed at the evolution of technology. "How quickly it changes, and how quickly it is outdated," he said. "The support needed has more than doubled due to everything that's come into play."
How has his job changed since he began? "Back then, if you had 10 students, maybe five had their own personal computer. Over time, with technology advances, and the cost becoming more affordable, the average user now is carrying a minimum of three devices, and they all need support."
He's made a lot of 'how-to' videos since the pandemic changed the workplace a year ago, and works collaboratively with other constituencies across campus. He's worked especially close with Instructional Librarian Kate Borowske creating videos and instructional pieces for faculty and staff to use during the move to working and teaching remotely.
Nwachukwu and his wife, Stella, are the parents of five children: Adaugo, Chimdi, Ikem, Zina and Jidechi. Stella is the Nursing Student Services Coordinator for the RN to BSN Program.
The TRC helps many individuals during a typical day, and Nwachukwu said the most asked questions are about "connectivity, wireless printing, and general problem-solving, such as a virus." He continues to learn as much as he can, and admits, "I get stumped every day."
With technology ever-changing, and work and study environments in flux, it's reassuring that there's an "Answer Man" on the campus of SMSU.
Related Articles