SMSU Agronomy Field Day Set July 14
Published Tuesday, June 29, 2021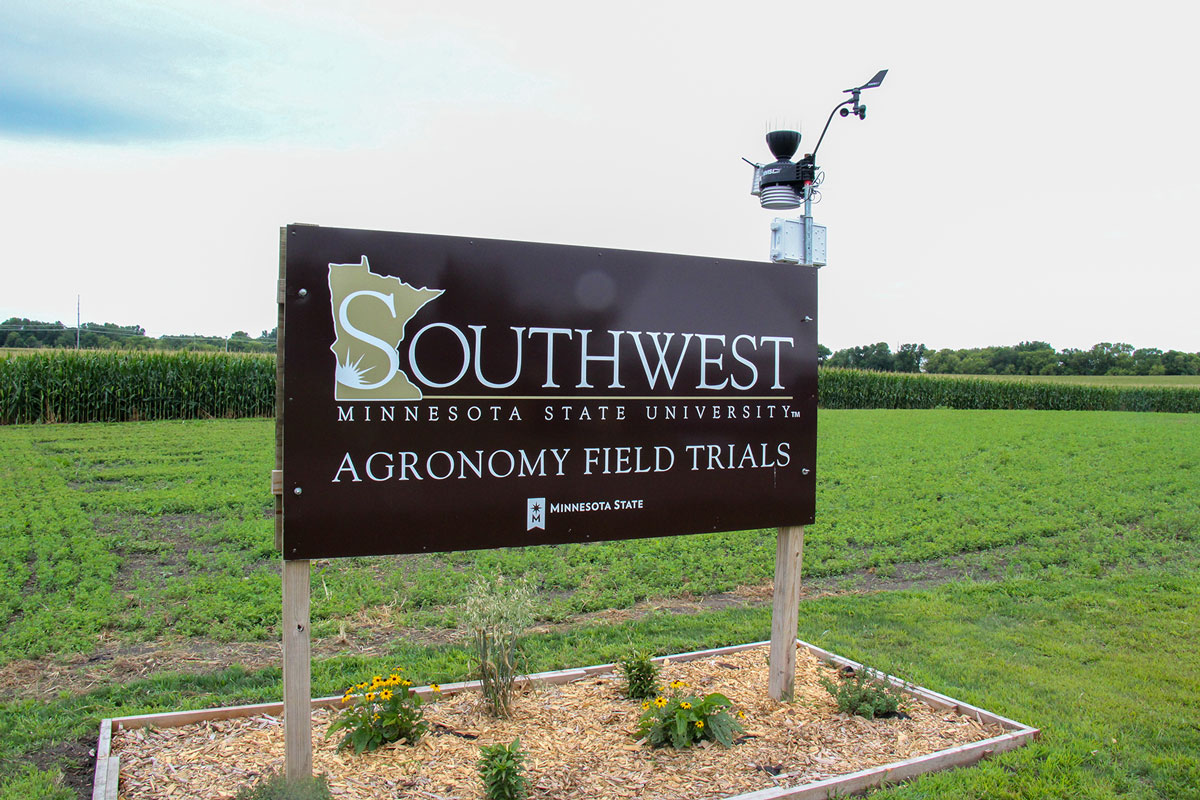 Agronomy Field Trials Sign
The third annual SMSU Agronomy Field Day will be held on Wednesday, July 14 from 11 a.m.-1:30 p.m. at the Jon Knochenmus Center for Innovation and SMSU Agronomy Field Trials Farm site, located on the north edge of Marshall.
The day will include lunch, tours and presentations highlighting SMSU faculty, students, field trials and related projects, including:
Sam Tutt, retired Agronomy professor, retirement recognition.
Dr. Adam Alford, SMSU Director of Field Research; Assistant Professor Kirsten Brichler; and student interns Justin Otto and Jacqueline Wisinski, "Diversifying Crop Field Trials to Gain New Hands-on Educational Experiences and Create Innovative Pathways for Applied Research.
Andrew Lueck, Next Gen Ag, Minnesota Soybean Research & Promotion Council Research Project, "Waterhemp Control in a Conventional Residual Two-spray Herbicide Program."
SMSU Professors Dr. Doug Simon and Dr. George Taylor, "A Farm-to-Fork Initiative: Using SMSU/Ralco Field Trial Produce to Fill the Shelves of Food Banks and Assist Food Insecure Households."
Rachel Raths, Ralco Soil Microbiologist, "Soil Health: Understanding Living Soil and the Microbes Beneath our Feet."
Plot tours will follow the presentations, and partners will share research goals for 2021.
The event sponsors include Ralco, Aspect Ag, AgXplore, Deutz Heritage Farm, McLaughlin Farms, Minnesota Corn Research & Promotion Council, and the Minnesota Soybean Research & Promotion Council.
The event is free and open to the public. The farm site is located at 2927 265th Avenue, Marshall, Minn.
Related Articles