Katelynn Urness Named 2023 Outstanding Senior
Published Friday, May 12, 2023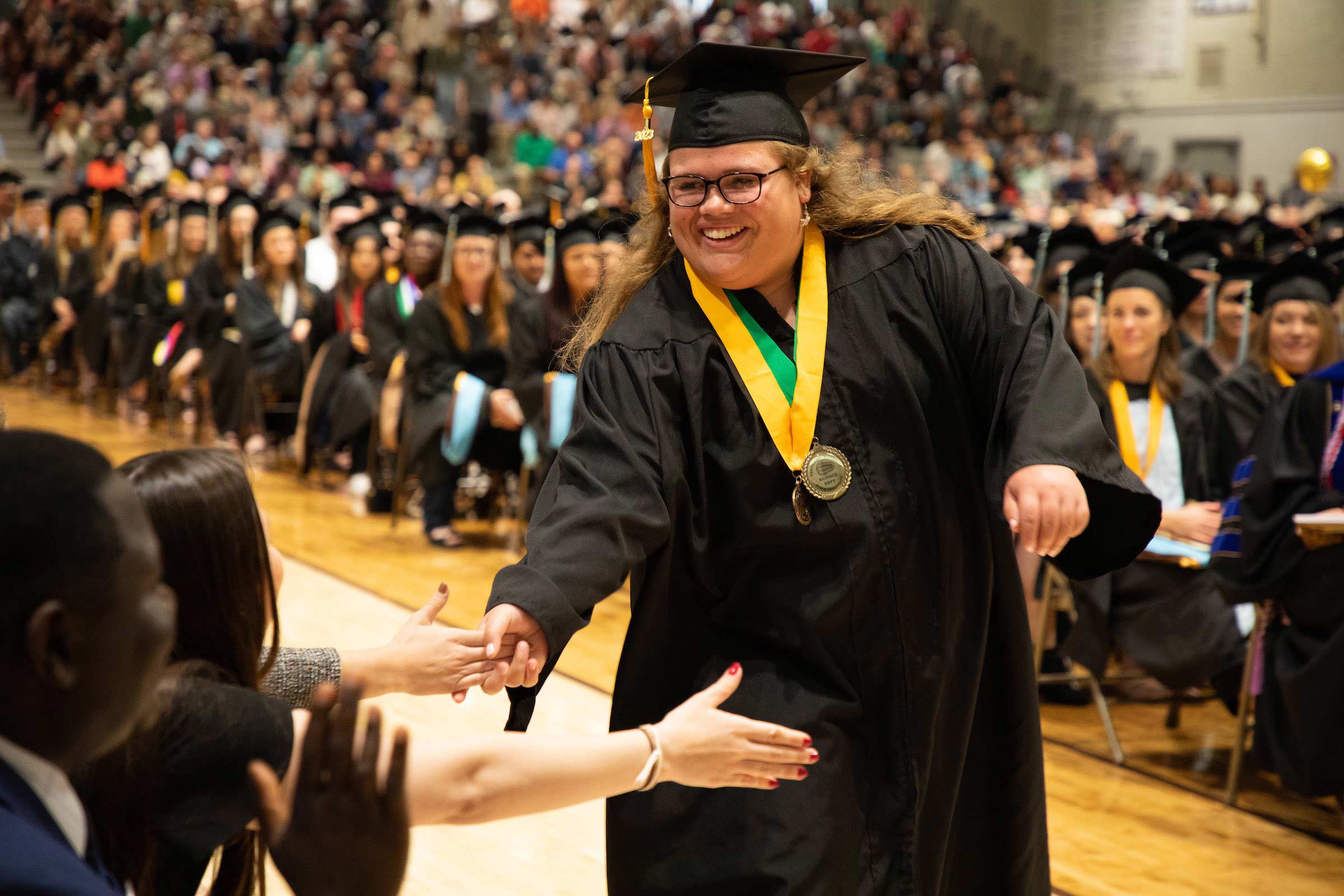 Katelynn Urness is congratulated as she goes to the platform to accept her award.
Each year, the Southwest Minnesota State University Alumni Association presents an Outstanding Senior Award. This honor recognizes an individual who has made the most of their college experience, both in and out of the classroom.
This year's Outstanding Senior is Katelynn Urness of Sioux Falls, South Dakota. She was recognized in a surprise announcement during the 55th commencement ceremony at Southwest Minnesota State University on Saturday, May 6, 2023. She was highly recommended to the selection committee for her academic accomplishments, her engagement in the classroom, her campus involvement, and her enthusiastic attitude.
"This award means a lot to me because I have worked very hard over the last four years being involved and trying to make a difference in our school. I was involved in many different areas across campus, and I believe that I gained lots of experience and was able to do more than if I had stayed with one club or one organization," said Urness. "I am also a first-generation college student so to win this award is truly an honor." 
Urness is a double-major in Biology and Environmental Science. One of her nominating professors said that her passion for biology, conservation, and the environment shown in her academic performance, extracurricular, and community involvement.
"There are several people who have impacted my life at SMSU, but Dr. Alyssa Anderson stands out over my four years. She was one of my advisors and professors whom I not only TA'd for in the BIO 201 lab, but also whom I traveled to a research conference with in Iowa in Fall 2021, and recently to the study abroad trip to the Bahamas," said Urness. "Dr. Anderson has been such an amazing professor who pushed and challenged me to be the best that I can be. She has provided me with guidance and numerous opportunities to gain experience for my future. My time at SMSU would have been drastically different without her in it, and I am so grateful for her."
Urness stood out as a natural leader in the classroom serving as a student teaching assistant in two semesters of Biology 201 course. She immersed herself in research projects that included bird mortality on campus and the prevalence of plastics found on beaches she observed while studying abroad this spring. She spent the past two summers in highly-competitive internships with South Dakota Game Fish and Parks. 
In addition to classroom and research work, Urness served as president of the Environmental Science Awareness Club for the past two years organizing community engagement programs like monarch butterfly tagging. She is also involved in Enactus with Compost Project and Mindful Meals initiatives.
Urness also found time to work in the Natural History Museum on campus. She served as an orientation leader helping welcome new students in the fall, volunteered as a student ambassador giving tours to prospective students, and worked in the office of admission all four of her years at SMSU.
 One of her nominations read: You will not find a more kind, thoughtful, hardworking, mature, and responsible team player. She has a bright future ahead of her.
"This summer I am planning on working at a greenhouse back home in Sioux Falls and volunteering at the Butterfly House and Aquarium in my free time," said Urness. "I will go to grad school eventually, likely studying conservation science, but for now I would like to gain experience and solidify my plans before that."
The SMSU Alumni Association and Southwest Minnesota State University congratulate 2023 Outstanding Senior, Katelynn Urness.
Related Articles