Agribusiness Management Opportunities
Ag Club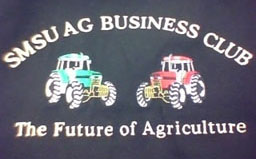 The central purpose of the Ag-Business Club and PAS is to supplement the education of Agribusiness and business related majors by providing opportunities to prepare for successful careers upon graduation.  Each of our club activities is designed to assist our members in attaining the knowledge, experience, connections, and personal characteristics necessary for success in today's world.
Ag Bowl
SMSU's educational programs in agriculture, environmental science and food arts & sciences develop young people who spend their careers working to grow the economic success of the agricultural industry. In acknowledgement of these efforts, the University has been the recipient of the past two Civic Engagement Awards.

Proceeds generated by the Ag Bowl will fund scholarships and programming for worthy student-athletes and young people who will dedicate their careers to business success in agriculture, environmental science and the food industries.
The Ag Bowl is hosted by SMSU's Athletic Department, the Agribusiness Management, Culinology and Agronomy Program. 
Post-secondary Ag Students (PAS)

The mission of the Postsecondary Ag Student organization is to master the following objectives:
To provide an organization for post-secondary students for encouragement and development of individualized characteristics necessary for professional and technical growth.
To promote cooperation and understanding among the various organizations within agricultural related programs.
To develop leadership qualities and individual goals.
To recognize outstanding qualities of members through the use of organized educational activities.
To promote appropriate relations with industry and their related organizations.
To create enthusiasm for continued self-improvement.
To promote community service activities.
To promote social and recreational activities.