International Student Orientation And Arrival Information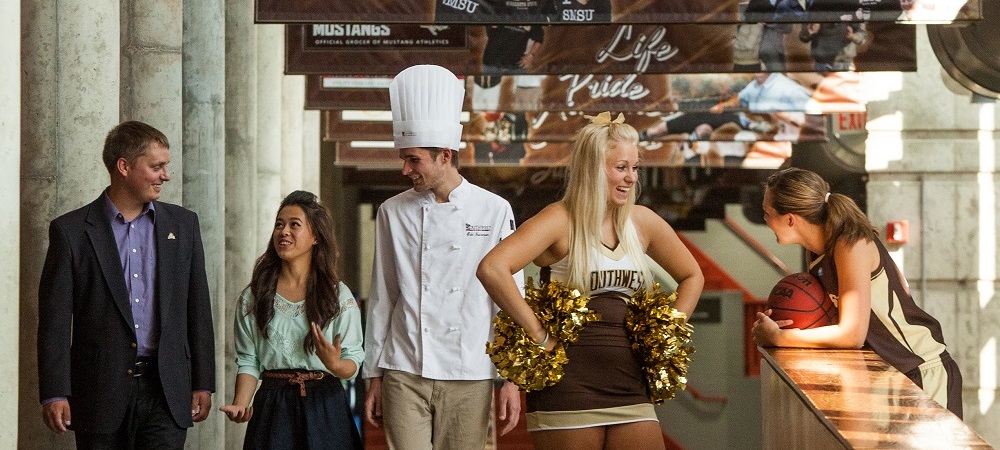 All new graduate and undergraduate students (including transfer students from other universities in the U.S.) must attend the International Student Orientation.  This orientation is mandatory and failure to attend an orientation session will prevent you from registering for classes at SMSU.  
SMSU's International Student Orientation has been designed to provide useful and important information, and help you adapt to your new environment.  It is a way for new students to learn more about campus life, make new friends, and help you retain legal status as a student. As part of the international orientation program, you will take part in the Campus Gold Rush Days; this part of the orientation program is for all new students. You are highly encouraged to attend Gold Rush Days to meet all of your fellow classmates.
Check out our Arrival & Orientation document for more information.
Note: Check-in and orientation is REQUIRED for all new SMSU students who are not U.S. citizens or permanent residents of the U.S, including transfer students.
International Student Orientation will be held Sunday, August 18 - Sunday, August 25 
August 18 - TRAVEL DAY:  Ground shuttle service from the Minneapolis/St. Paul Airport (MSP) to SMSU will be provided departing on August 18 at 1:00 pm. There is a cost of $70 for this service, which is considerably less than any other ground transportation.
You may arrive any time after August 16th and stay in a hotel near the MSP airport.  We have a special rate at a nearby hotel (hotel & shuttle details will be communicated to you in a private email once you are accepted).  The shuttle service from SMSU will leave no later than 1:00 pm on August 18 so please schedule your flight arrive no later than August 18th at 11:00 am local time (Central time zone USA).  
August 19 - 21 – INTERNATIONAL STUDENT ORIENTATION:  Orientation will run from 8:00 am – 5:00 pm each day.  Again, you must attend all of the orientation in order to register for classes. You will also receive information to help you maintain your immigration status and many other vital parts of being an international student at SMSU.  Be sure to make your travel plans accordingly!  
August 22 - 25 – GOLD RUSH DAYS:   Gold Rush Days, is orientation for all new students including International and American students together. These orientation activities will help you meet other new students, adjust to SMSU life, get to know the campus, have lots of fun, and also have some free time. 
Lastly, you MUST be prepared to pay a minimum of $2,500 before you will be allowed to register for classes.  Making this payment will be part of the first day of orientation. Additional information regarding payment options will be sent to you in advance once we know you have received your F-1 VISA and are planning to attend SMSU.
Last Modified: 6/26/19 11:53 AM