International Student Orientation And Arrival Information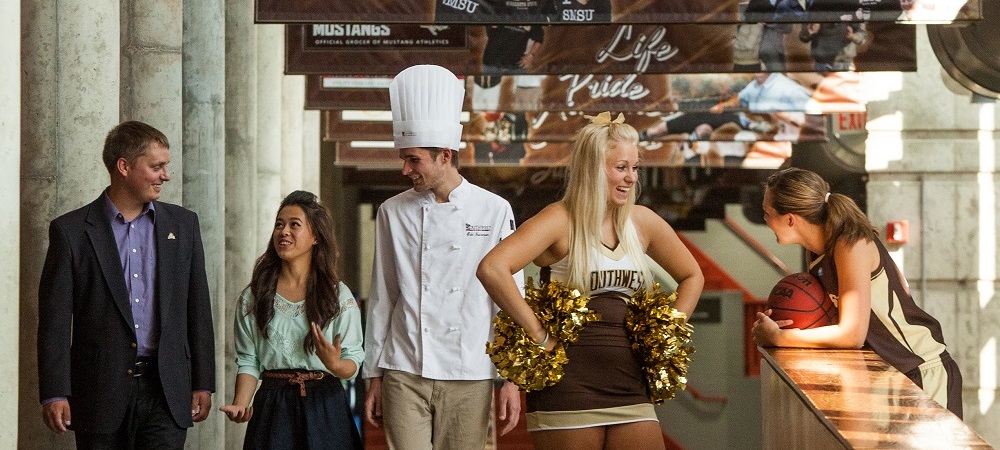 All new undergraduate students (including transfer students from other universities in the U.S.) must attend the International Student Orientation. This orientation is mandatory and failure to attend an orientation session will prevent you from registering for classes at SMSU and gradually adapting to your new environment. SMSU's International Student Orientation has been designed to help you with useful and important information. It is a way for new students to learn more about campus life, make new friends, and help you stay in legal status as a student. As part of the international orientation program, you will take part in the Campus Gold Rush Days; this orientation program will be for all new students in the fall. You are highly encouraged to attend this campus orientation and meet all of your fellow classmates as well.
Check out our Arrival and Orientation document for more information.
Note: Check-in and orientation is REQUIRED for all new SMSU students who are not U.S. citizens or permanent residents of the U.S, including transfer students.
International Student Orientation will be on:
August 19th - 26th, 2018 (Sunday through Saturday )
August 19th  will be our travel day.  You may arrive anytime after August 17th and stay in a hotel in the twin cities.  We have a special rate at one hotel (this will be communicated to you in a private email once you are accepted).   The shuttle service from SMSU will leave no later than 1:00pm on August 19th so please have your flight arrive no later than August 19th at 11am local time (Central time zone USA).  
International Orientation runs from the 19th through the 22nd and you will NOT have time to be doing other things.   All of the orientation is mandatory and you will NOT BE ALLOWED to be a student if you miss any or all of it.   Gold Rush Days, which is the orientation for all new students including International and American students together, will also be a part of this orientation time from Thursday, August 23rd through Sunday August 26th. Gold Rush Days will help you meet other new students, adjust to SMSU life, get to know the campus, have lots of fun, and also have free time. 
Orientation times for the entire time will be:
8:30 a.m. - 5:00 p.m. (Central Time). 
The days will be full of useful and REQUIRED information - orientation is NOT optional.   If you miss all or parts of orientation, you will miss the opportunity to register for classes, missing getting information to help you maintain your SEVIS status and many other vital parts of being an international student at SMSU.   Make your travel plans accordingly!  
Please be aware that there are dire consequences if you miss the orientation. Please make your travel and visa interview plans accordingly.
Lastly, you MUST be prepared to pay a minimum of $2,500 before you will be allowed to register.  We will go down to pay your bill at 8am on your first day of orientation!   If you fail to pay, you will not be allowed to register and will have to immediately go home.  Information on payment options will be sent to you once we know you have received your VISA and are planning on attending SMSU.  
Last Modified: 7/23/18 11:37 AM