Family Weekend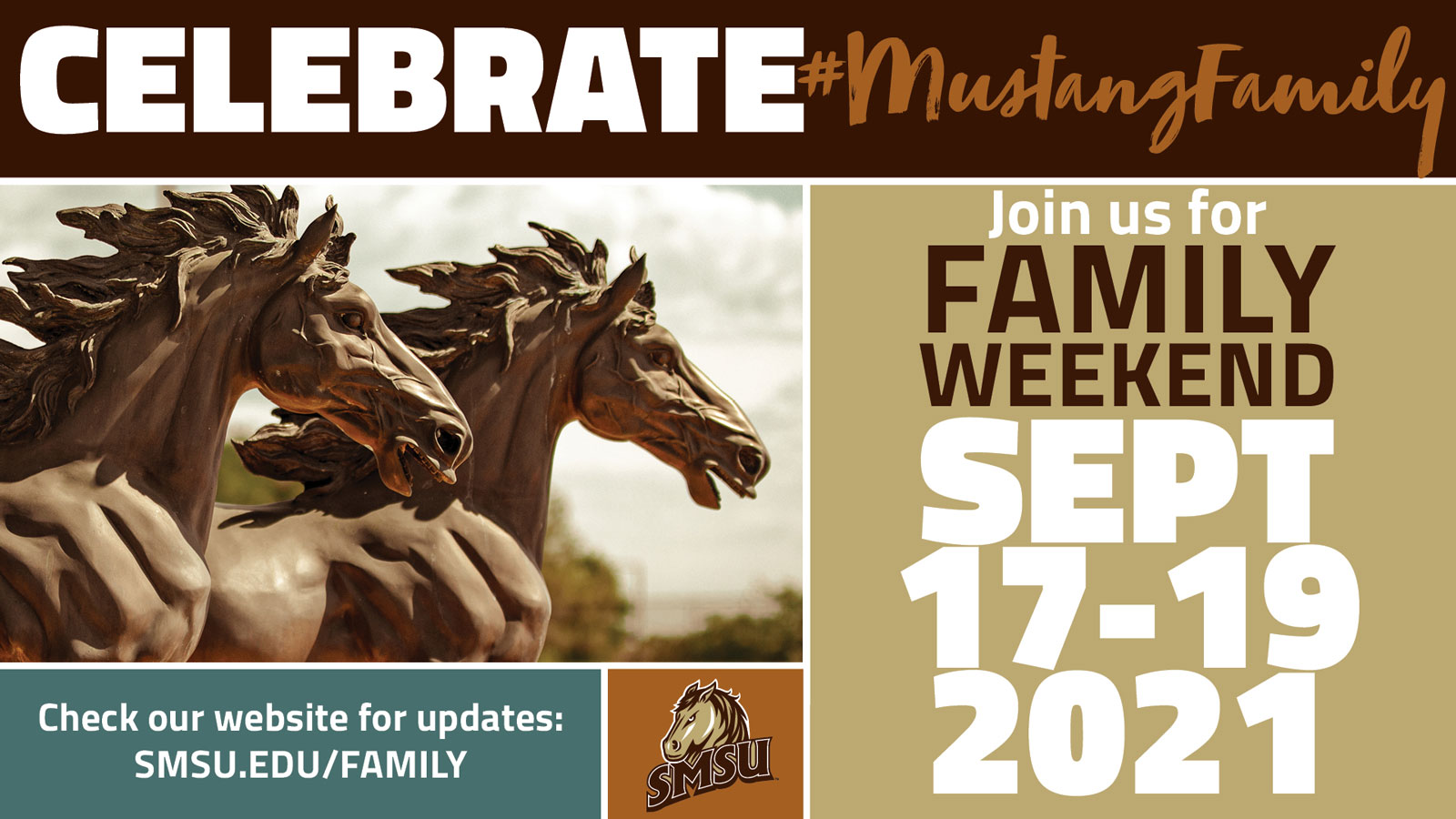 Family Weekend is a tradition at SMSU that brings
parents, siblings, grandparents, and family members to campus
to have fun with their student and experience campus with them.
Friday, September 17
*Dinner On Your Own  
7:00pm — Planetarium Show "Planet Earth in Our Solar System" followed by Laser Light Show — SM Building  (Limited seating for 60)
8:30pm — Take 2 Improv (Drama Club) —  Black Box Theatre, Fine Arts Building
Saturday, September 18
*Breakfast On Your Own                               
10:00am-4:00pm — *Coffeehouse @ SMSU Hours — Student Center Lower Level
10:00am-4:00pm — *Barnes & Noble Bookstore Hours — Student Center Lower Level

10:00am-Noon — Check-in: Schedules/Maps and Information — Student Center East Entrance
Noon — Family Lunch — CC Upper Level Ballroom

    Welcome by SMSU President Kumara Jayasuriya and Student Association President, Ezira Tafa
    Menu to be determined. RSVP deadline is Noon, September 16th:  http://www.smsu.edu/family/forms/form529.html   
1:00-1:30pm — Liquid Nitrogen Ice Cream, BA/CH Link
1:30-3:00pm — Word Art (DIY) first come/first serve —  SC 138 (Lower Level West Entrance)                
2:00-4:00pm — William Whipple Art Gallery —  Use the SMSU Library Entrance
3:00-5:00pm — RHA Yard Games (Bean Bags, Badminton, Yard Dice, Jingo, and more! Popcorn and Cotton Candy — SMSU Central Field
3:00-6:00pm — Student Center Mustang Zone (Free Play) —  SC Upper Level Game Room
3:00-6:00pm — AgBowl-Presented by Ralco-Activities — Regional Event Center Concourse https://smsumustangs.com/news/2021/9/9/ag-bowl-presented-by-ralco-returns-on-sept-18.aspx

Activities for all ages will begin at 3 p.m., and include a petting zoo, tractor displays, hay rides, mini golf, ag-related booths, mechanical bull riding, farm-themed inflatables, a dunk tank, and a FREE football clinic hosted by SMSU football coaches and staff 3:00-4:00 p.m. The popular Kids Pedal Pull for ages 4-11 will take place with registration starting at 4 p.m.

The Ralco 'Food Zone' is serving food and beverages starting at 3:00-6:00 p.m. Hy-Vee, Chartwells, the SMSU Culinology Department and Lingen Dairy, have teamed-up to serve a meal featuring chicken sandwiches, pulled pork sliders, chicken drumsticks, honey Cajun tomatoes, caramel apple slices, ratatouille, butternut squash and milkshakes.
6:00pm —  *Mustang FB vs. UMary — The Schwan Regional Event Center
*Dinner On Your Own

Sunday, September 19
*Breakfast On Your Own
10:00am-4:00pm — *Coffeehouse @ SMSU Hours — Student Center Lower Level
Travel safely!

*denotes cost involved for this activity

Check back for schedule updates as we post them for our 2021 Family Weekend set for
Friday, September 17 – Sunday, September 19, 2021.
Celebrate family with students who have loved ones far away!
We are all a part of the #MustangFamily!
For questions, suggestions, and more information:
Contact Scott Ewing: scott.ewing@SMSU.edu or 507-537-6394.