Jeanne Regnier: A Friendly Food Service Face at SMSU
Published Thursday, February 21, 2019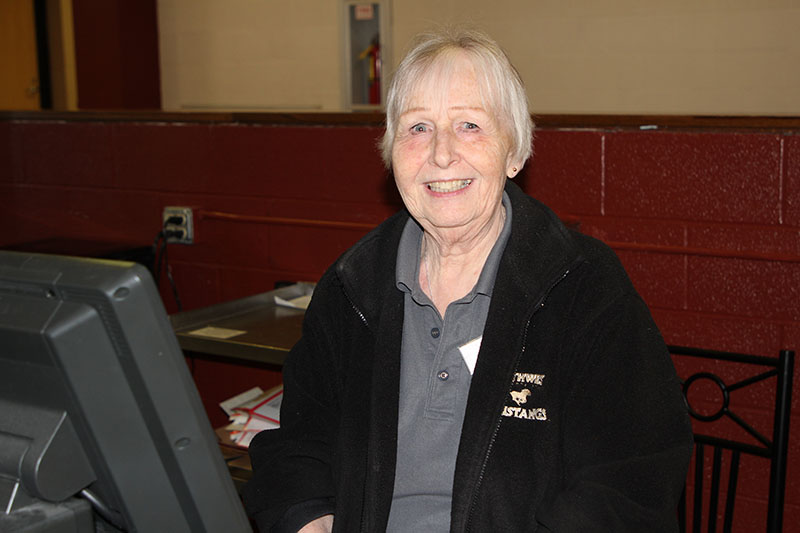 Jeanne Regnier
Jeanne Regnier's family roots run deep at Southwest Minnesota State University. Her mother, Erma Regnier, was one of the very first cooks to prepare food for hungry SMSU students.
"When she started, not all the buildings were finished yet, but there were students already on campus," she said.
After Jeanne Regnier finished high school, she started a job at Northwestern Bell Telephone Company. After being employed there for more than 18 years, the company modernized and eliminated operators in the 1980s.
She was anxious to find a job that she could connect with. That turned out to be with food service at SMSU. She was hired in 1983, and is in her 36th year.
Due to her mother's employment at SMSU, Regnier was familiar with the campus. She also took Psychology courses as a non-traditional student when she was employed with Northwestern Bell.
 "Those were the days, when employers paid for your schooling," she said. 
Her mother told her about a job opening for ARAMARK at SMSU. She applied, was hired, and started as a line server scooping food onto the trays of students.
"At first it was just a job. Northwestern Bell was no more, and I needed a job," she said.  
She soon fell in love with SMSU, and didn't feel finishing her degree was necessary.
 "I wasn't very fond of school anyway. Once I found a job I enjoyed, it was the perfect excuse not to take anymore classes," she said.
Eventually, Regnier became a supervisor for ARAMARK. When a position became available at the Mustang Express, she was ready to give it a try. The Director of Food Service, Tim Kellen, did not think Regnier would enjoy it there and tried talking her of it multiple times.
Under the union contract, Regnier had 15 days to try out an open position before it was posted externally, so she took a chance. After the trial period was up, Regnier was bound and determined to make the Mustang Express her employment home. She took a small pay cut for the job, but that didn't bother her a bit.
"The director was constantly checking in with me to see if I was doing okay, and if I still enjoyed my job. Of course I told him I was happy," she said.
"As soon as I said I wasn't happy working at the Mustang Express, I'm sure he would have taken me back in about two-and-a-half seconds, but that never happened," Regnier said.
Before Regnier was hired there, student workers manned the Mustang Express, and they helped train her in as she had never used a cash register before. "The place was a mess. I felt like I could clean it up a bit." Regnier organized the area, and now has a smooth running convenience store.
She has been working at the Express for nearly 5 years now, and loves coming to work every day.
"I have had a lot of people ask me when I plan on retiring, and I tell them all that I plan on retiring when I am no longer having fun, and I am still having fun. I am not working for the money, I am working here because I love it here," she explained.
"I enjoy everything about working at the Mustang Express. It is in the center of the University so I can see what is going on around campus. It feels homey, and I have the freedom to get to know students, faculty and staff," Regnier said.
Most of her customers are people on the go that do not want, or have time to, walk to the Student Center for a quick snack or lunch. Her busy times, when a line forms, are usually between classes.
The most common snacks students reach for are Mountain Dew, candy, fruit cups, yogurt parfaits and Gardetto's. Professors tend to stop by the Express for their daily coffee run.
"I have a few regulars that stop by every day, but for the most part, my customers are those just passing by looking for a snack," she said.
Regnier has not noticed a difference in snack preferences over the years.
"People are just looking for convenient, on-the-go snacks, or hot food that they can grab and go," Regnier explained.
Regnier takes inventory in the afternoon for the next day. She leaves the list for those that work later. Before she comes in the next day, the other food service workers have everything ready for Regnier to replenish for the day. She also checks the temperatures in the coolers twice a day to ensure they are keeping the beverages cold. She washes the tables and chairs when they need it.  
Regnier is originally from the Ghent/Marshall area, and has plenty of nieces and nephews she likes to spoil.
In her free time, she enjoys using a skill inspired by her father and two of her three brothers, flying planes. She has been a pilot since 1967.
"My GTO wasn't fast enough, so I started to fly planes. My father and two of my brothers became pilots, so I thought I would, too," she said.
She flies most often when her one brother visits with his own plane, as the airport has expensive rates for renting planes, she said.
Her devotion to SMSU and the Mustang Express has made her a lot of friends over the years, and she's happy to be a valuable member of the Mustang Family.
Related Articles