Val Dallenbach Helps Keep Students Healthy
Published Wednesday, August 28, 2019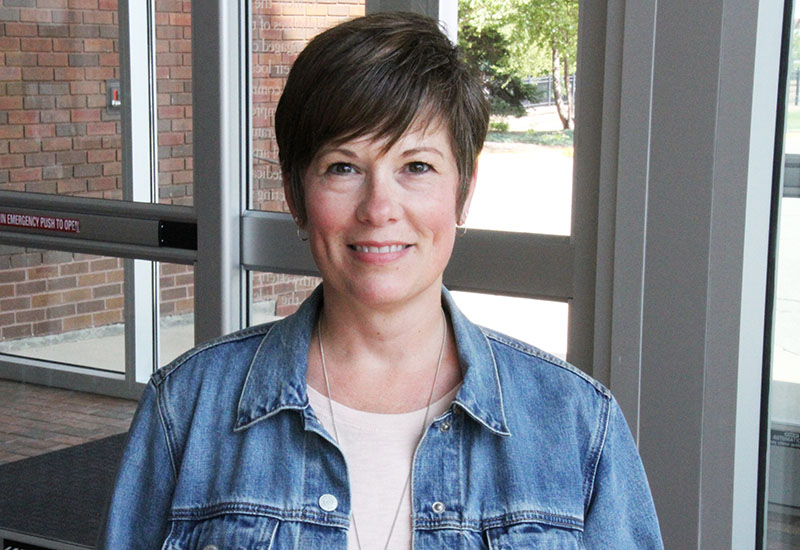 Val Dallenbach
Val Dallenbach, Director of Student Health Services at SMSU, said the start of each semester is usually very busy.
"Sports physicals primarily," she said. "It's economical — $20 — and the students have 30 days to pay."
Her office is located in Bellows Academic 158. The hours are Monday through Friday, 8 a.m.-4:30 p.m.
The office is a formal clinic on Mondays, Wednesdays and Thursday from 1-4 p.m., when medical providers from Avera come to campus. "Students can be seen like a regular clinic. They can be evaluated, receive diagnosis, receive treatments and prescriptions. There are six individuals (from Avera) that rotate, and they are in family practice — nurse practitioners and physician assistants).
Appointments are appreciated, she said, "but walk-ins are welcome."
Dallenbach has been at SMSU since 2012. She received her BSN in nursing from South Dakota State. Prior to arriving on campus, she worked at Avera Marshall for several years, and before that, at various positions in Arizona.
If students need additional care, she said, they "are referred on to the appropriate level of care, for instance, if they need lab work or x-rays, they'd be referred over to the clinic, or urgent care, or the ER. We help them navigate the system."
She said students come to her office for any number of reasons. "It runs the gamut — sprains, cough, cold, sore throat, it might be gastinal intestinal, nausea, or dermatological things, like rashes or acne."
The students don't have to pay when they come to her office. "We don't bill their insurance, and there's no office co-pay," she said. "That's what their student fees cover. We do charge for tests, and things like ice packs and Ace wraps, and that's a nominal fee. We do have some basic prescriptions in-house, and the most expensive is $13. Students never  need money to see me. If there's a charge it goes on to their student account and they have 30 days to pay."
She tries to be proactive in terms of letting students know about her office, its hours and what they do. "We do tabling at registration, and we are on the panel presentation to parents on major visit days. We also do orientation sessions with RAs, and our international students."
During off hours, students are referred to the Avera clinic at Hy-Vee, on Carlson Street or the emergency room.
"On non-clinic days, Tuesdays and Fridays, students can come in and see me for consultation," she said. "I help the students navigate what the next step should be."
Dallenbach grew up on a farm near Walnut Grove and originally thought she'd want to be a veterinarian. "I changed the focus to people instead of animals, she said with a chuckle.
She's a member of the Technology Committee and the Nutrition Network on campus, as well as the Marshall Community Leadership Team and Sexual Assault Multidisciplinary Team.
She has two children, Zachary, a senior in the Tracy-Milroy district, and Nathan, a sophomore. She is engaged to Brad Facile.
Related Articles