Simon One of Seven Selected for Army Fellowship
Published Friday, June 21, 2019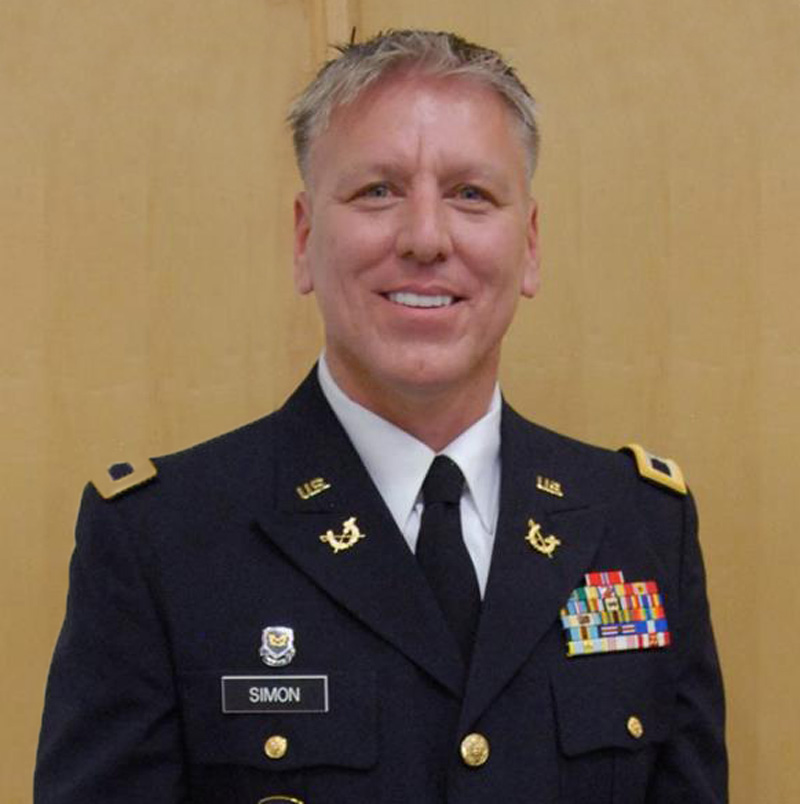 Doug Simon
"In the game of life, there are so many trophies to win and there are not enough people out there to win them, " Political Science Professor Doug Simon tells SMSU students.
Although this lesson is important for students, it remains applicable for Simon's life, as well. He was recently selected for the U.S. Army College Fellowship at the University of Texas at Austin for the 2019-2020 academic year, a highly selective honor.
Simon, who has been at SMSU for over twenty years, currently serves as Department Chair of Management and Marketing and teaches undergraduate courses in political science and business law, and graduate courses in the MBA program.
Along with his roles at SMSU, Simon is also a member of the Minnesota National Guard and is the Staff Judge Advocate, the top military lawyer, for the State of Minnesota, overseeing Air Force and Army Judge Advocates regarding domestic operations and military law.
Throughout the U.S. Army College Fellowship Program, Simon will fulfill academic and research requirements through programming conducted through the LBJ School of Public Affairs and the McCombs School of Business. The military will decide which field Simon researches based on emerging topics within the areas of National Security, International Law or International Politics.  Simon will then take classes, research and write for scholarly, peer-reviewed publications. 
     This prestigious assignment is granted to only seven applicants across the National Guard of the United States each year. In becoming Minnesota's nominee was a difficult feat as he competed against a strong pool of candidates who were vying for selection to U.S. Army War College. The application process proved intense, and included submitting a military biography, a list of awards, officer evaluation reports and a letter to the selection board. 
     Simon has been deployed twice (Bosnia and Iraq), and values those experiences as important in his selection. "I work with great people," he said. "I enjoy the constant challenge. There is never a slow day, and it keeps my mind fresh."  He also appreciates the various perspectives he has gained from his military career. "Those perspectives are invaluable, for my job and life in general." 
     Those perspectives have allowed Simon to bring new ideas into his SMSU classroom. "I have practiced law for 20 years. I understand the complexity and enjoy teaching from these experiences." Simon enjoys wearing both hats and appreciates the way they complement each other.
     Although Simon will be on military leave next year, he knows his fellowship will be valuable both personally and professionally. This education — the highest level of military education one can receive — develops and prepares strategic thinkers who will qualified for the next level of leadership. After completion of this program, Simon would meet the military education requirements to serve at the next grade of leadership, a General Officer. This means that there is potential to serve at a national office, like Washington, D.C., on matters concerning the National Guard of the United States. 
Professionally, Simon understands the impact continuing his own education will have on his students. He teaches his students to go after their goals, and he lives that advice daily. Simon appreciates his role in the classroom as well and truly has fun teaching students. "The classroom and my students are a sanctuary," Simon said. They make his job enjoyable and he loves being able to share with them real-life experiences which they can't learn from studying a textbook.
After next year, he will have even more experiences and life lessons to share with his students.  For now, he encourages them to never give up and to set lofty goals.  "I tell students, if you think small, you are going to get small results. So, don't arbitrarily cap your career or life because you don't think you can get something. You really need to think big!"
Simon and his wife, Molly, have four children, Isaac, Emelia, Michael, and Marlee.
Related Articles