17th Annual Undergraduate Research Conference, Nov. 30
Published Monday, November 21, 2022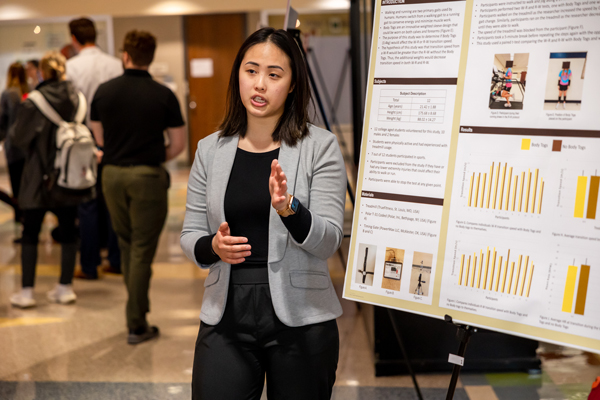 Undergraduate Research Conference 2021
The 17th annual Undergraduate Research Conference will be held on Wednesday, Nov. 30 from 8:30 a.m.-5 p.m. at Southwest Minnesota State University.
Research projects from SMSU students representing 18 academic areas will be featured, according to conference coordinator Dr. Alyssa Anderson, Associate Professor of Biology.
Approximately 125 students will be participating. There are 108 poster presentations including 19 oral presentations, 27 virtual talks, 57 poster presentations, and 5 recitals.
The keynote speaker is Justin Zajic, EdD presenting "Opportunity Knocks; when is it going to be your turn?" Dr. Zajic is a 2007 graduate of SMSU with a degree in History with Social Science licensure. Today he is the superintendent of the Chamberlain School District located in central South Dakota along the Missouri River. It spans 931 square miles and serves 875 students in grades K through 12. Dr. Zajic will discuss two key questions that undergraduate students need be able to answer during their time at SMSU. In addition, he will explain how the coursework and research conducted while at SMSU allowed him to become a successful public-school administrator, grant writer, and lifelong student through the implementation of practical research.
The conference will take place at several locations across campus. Oral presentations will be held in the Conference Center Upper Ballroom while poster presentations will be held in the Conference Center Lower Ballroom.
Poster and oral presentations begin at 9:45 a.m. Oral presentations consist of PowerPoint presentations about the student's research topic, followed by a short Q&A session.
Poster presentations are created using a template and are printed in the GIS Center at SMSU. The posters are the same quality as those used at professional conferences.
The conference features research topics from 18 different academic areas, including:  Agribusiness Management, Biology, Communication Studies, Computer Science, English, Environmental Science, Exercise Science, History, Hospitality Management, Justice Administration, Management, Mathematics, Music, Philosophy, Political Science, Psychology, Sociology, and Theatre Arts. 
The Undergraduate Research Conference originated when the department conducted an Environmental Science program review. They realized the students needed more experience doing original research and then presenting their findings. Participation has grown from the sciences to engage almost all other academic disciplines since it began.
To learn more about the Undergraduate Research Conference, visit: www.SMSU.edu/go/urc
Related Articles