Culinology
About the Program
Culinology® is the next evolution of culinary arts. It is the blending of the culinary arts and the science of food. The Culinologist is a trained culinarian, dedicated to producing the finest possible combination of ingredients to achieve palate-pleasing results. The Culinologist is also a researcher who uses scientific methods and knowledge to ensure their creativity can be enjoyed far beyond the confines of their kitchen or laboratory. Our Culinology program is designed to train graduates for success in food product development and provide guidance and balance from a culinary perspective within a scientific setting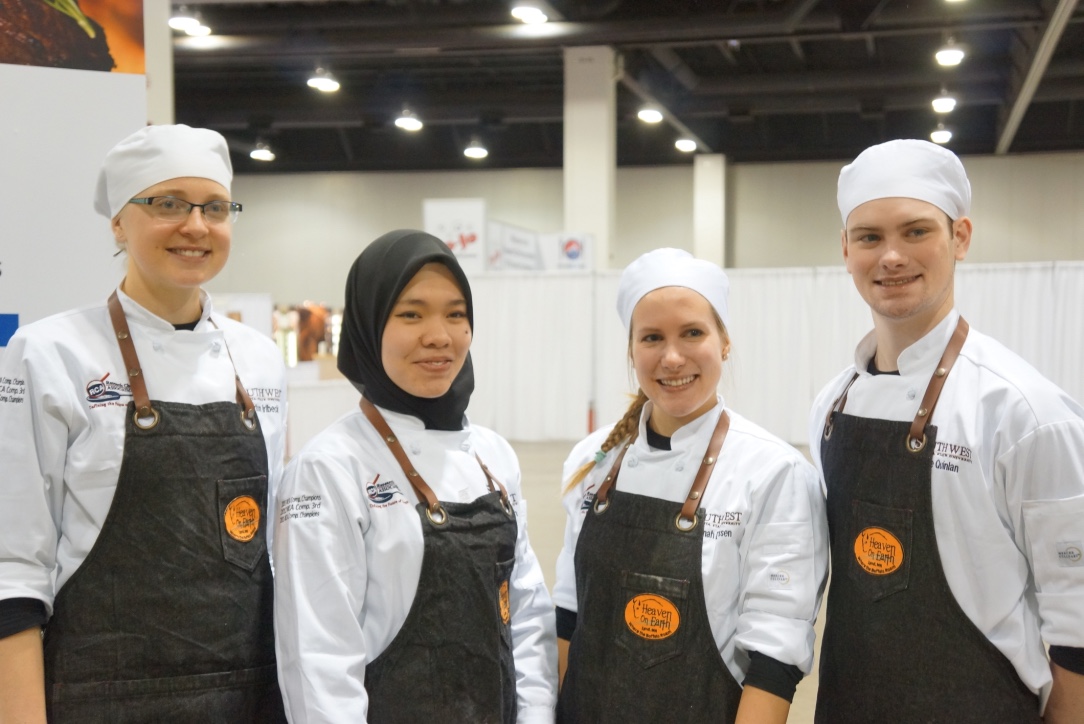 Activities & Associations
Students majoring in Culinology® will be able to participate in actual product development projects through the capstone course for the major and present at relevant conferences.  Culinology® students can join student clubs and become a member of the Student Hospitality Opportunities and the Culinology® Club.  
Majors & Minors
Campus Clubs Related to Major
Culinary Vs. Culinology® Comparison
Culinary Vs. Culinology Comparison
Traditional Culinary
Culinology at SMSU
Years
2 Years
4 Years
Job Opportunities

Product development scientist
Associate food scientist
Research & Development chef
R&D technologist / technician
Quality assurance tech/manager
Quality Engineer

Workplace Location

Restaurants
Food Service Organizations

Ingredient companies
(Cargill, Givaudan, Ingredion, Griffith Foods)
Food manufacturers
(Schwan's Company, Land O'Lakes, General Mills, Pepsico, Nestle, Coca-Cola)
Retailers / distributors
(Target, 7-Eleven, HyVee, Sodexo, Walmart)

Estimated Entry-level Salary
$20-35K/year Benefits not guaranteed
$40-60K/year Benefits included
Promotion Opportunities
Relatively slow
Faster with higher potential to explore more opportunities throughout your career
Internships
Culinology® students need to complete two internships prior to graduation. The first internship is culinary focused, and commences at the end of their second year of studies. The second internship will be in a food product development lab. Internships in culinary arts and also product development are available locally and nationally. Below are places our Culinology students have completed their internship experiences in the recent past.  
Culinary Vs. Culinology Comparison

| Position | Company | State |
| --- | --- | --- |
| Analytical Chemistry Intern  | AURI  | MN  |
| Quality Assurance  | Monogram Meat Snacks | MN  |
| General intern  | Kerry Taste and Nutrition | WI  |
| General intern  | Dairy Farmers of America | MO  |
| Product Development Intern  | Brakebush Brothers  | WI  |
| FSQR Intern  | Cargill Meat Solutions | WI  |
| Baker  | Hy-Vee Foods Bakery Dept. | MN  |
| Line cook  | Sovereign  | MN  |
| Line cook  | Brau Brothers | WI  |
| Line cook  | 3rd Street Bar & Grill   | MO  |
| Prep, Fry, Dessert, Flatbread, Appetizer Chef  | The Craftsman American Tavern   | WI  |
Career Opportunities
Research & development Chef
Product Development Scientist
Corporate Chef
Product Formulation Chef
Development Manager
Culinary Research Director
Food Technologist
Associate Chef

Contact Information
Culinology Program - Office
ST 201, Southwest Minnesota State University
1501 State St.
Marshall, MN 56258
Facilities
The Culinology® program is housed in the Individualized Learning Center (IL)  in Southwest Minnesota State University's campus. This facility was recently renovated into a state-of-the-art facility, which includes a demonstration & baking kitchen, restaurant kitchen, public dining room, Culinology® laboratory, an Ecolab Skills Kitchen, and a new sensory evaluation lab. Students will also gain hands-on experience by participating in the Agricultural Utilization Research Institute (AURI) lipids and meat laboratory on the SMSU campus.
FRESHMAN ADMISSION PROCESS
Complete Application
$20 Non-refundable Application Fee
Official High School Transcript(s)
ACT or SAT Test Scores
FRESHMAN ADMISSION REQUIREMENTS
Rank in the upper half of graduating class
Score a composite of 21 or above on the ACT or 990 on the SAT