The Environmental Science Program at SMSU was developed with three goals in mind:
To prepare students for a variety of career opportunities in the environmental field
To provide students with basic skills and knowledge needed for advanced study in professional or graduate school
To promote an appreciation and understanding of the natural world.
To meet these goals, the Environmental Science Program offers a diversified selection of courses in the biological, chemical, and physical sciences. Supporting courses in biology, chemistry and geology are an important part of this curriculum in that they provide additional skills and knowledge required of environmental scientists.
Majors & Minors
B.S. Environmental Science Natural Science Option Major
B.S. Environmental Science Humanity and Environment Option Major
Environmental Science Minor
Student Clubs/Organizations
This club is dedicated to getting students and the community to become more active in their surroundings. Members of the Environmental Awareness Club learn basic environmental problems that are affecting our Earth and community, and strive to make a change. This club is open to all SMSU students and faculty who are interested in the environment.
Student Research
As part of the Environmental Science major at SMSU, students complete an original research project. In the spring of their junior year students take a Research Methods (ENVS 390) course in which they select a project, design the study and complete a research prospectus. Students may then work on data collection over the summer (if they have selected a field based project) or in the fall when they enroll in the Environmental Science Capstone Course (ENVS 400). At the end of the fall semester, Environmental Science majors present a 10-12 minute PowerPoint presentation at the SMSU Undergraduate Research Conference.
After Graduation

After Graduation ……Environmental Science Students Do Great Things!
 
The Environmental Science Major at SMSU prepares students for a variety of jobs and careers. Examples of places our students have gone to work and jobs they've gotten include:
Program Manager, Washington County Public Health & Environment
Environment & Safety Specialist at a power plant in Iowa
Environmental Health Specialist
Pollution Control Specialist, Minnesota Pollution Control Agency
US Fish and Wildlife Service in Huron, SD
Fisheries technician at Wyoming Game and Fish Department
Minnesota Soil and Water Conservation District in Morris, MN
Education & Communications Associate, Minnehaha Creek Watershed District
Minnesota Pollution Control Agency, Willmar Office
Soil Conservation Technician
Environmental Engineering firm, Wenck Associates, Inc , in Woodbury MN
Upper Sioux Agency, Park Ranger
Glacial Lakes National Park, Assistant Park Manager
Water Quality Specialist at Standing Rock Sioux Tribe Department of Water Resources
Centrol Crop Consultants
Covance Pharmaceuticals, Madison WI
Animal Presenter at Blank Park Zoo, Iowa
Other students have chosen to go on to graduate school. Places and programs our graduates have gone to school are:
University of Minnesota at Mankato, MS in Wetland Ecology
Alaska Pacific University, MS in Environmental Education
St. Mary's University, MS in GIS
Portland State University, MS in Environmental Science
University of Virginia, Environmental Science PhD program
University of Montana, MS in Geosciences
University of MN, Duluth, MS in Geology
University of Hawaii, Manoa, Civil and Environmental Engineering, MS program
Contact Information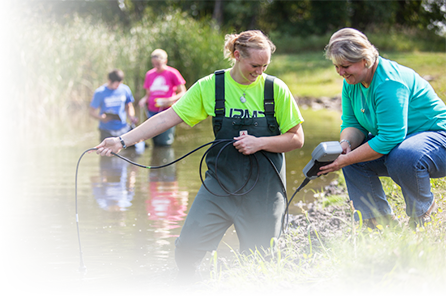 Science Department, Environmental Science
SM 178
Southwest Minnesota State University
1501 State Street * Marshall, MN 56258
Ph: (507) 537-6178 * Fax: (507) 537-6151
Last Modified: 11/29/17 9:36 AM