Science Department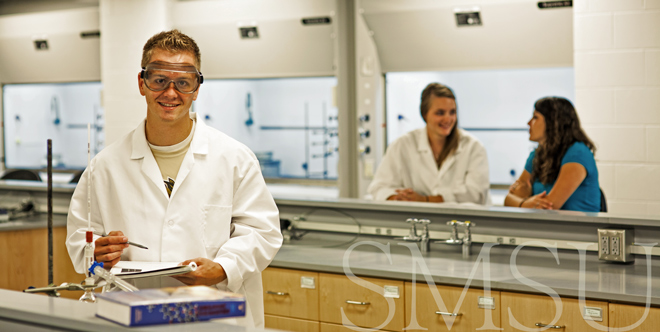 Mission Statement
SMSU's Science Department works collaboratively to provide both majors and non–majors with a foundation in science appropriate to their goals and with knowledge and skills that will allow them to function as responsible global citizens.
Science Department Goals
To foster innovative teaching
To promote critical thinking and logical problem-solving
To encourage regional collaboration between the department and K-12 schools, government agencies, and industry
To share our enthusiasm for science
To provide opportunities for students to develop skills necessary to be lifelong learners in, and contributors to, our specific disciplines
Student Learning Outcomes
Students who complete a science major will be able to:
describe and apply current scientific explanations of the natural world.
generate, evaluate, and communicate scientific evidence.
demonstrate proficiency with a variety of scientific techniques.
Imagine the possibilities!
The science programs combine courses from across the various scientific disciplines to open up a range of possible career choices----just imagine the possibilities!


After Graduation...Science Students Do Great Things!
2005 science graduate Darlene Guse is 2013 GOLD Award Recipient
After graduation, a number of SMSU's Science students choose to pursue postgraduate studies at graduate institutions and professional schools. Recent graduates have been accepted to:
Alaska Pacific University (environmental science)
Creighton University (nursing; pharmacy)
Logan College of Chiropractic
Mayo Clinic (medical school; physical therapy; post-baccalaureate research education)
Minnesota State University-Mankato (nursing; wetland ecology; molecular cell biology)
Northwestern College of Chiropractic
Purdue University (chemistry)
St. Cloud State University, MN (communication science and disorders)
St. Mary's (occupational therapy)
University of Kentucky (chemistry)
University of Minnesota (aerospace; chemistry; motor behavior; nursing, occupational therapy, public health)
University of Montana (geosciences)
University of Nebraska (chemistry, microbiology, immunology)
University of South Dakota (physical therapy, physician assistant, Microbiology)
University of Virginia (environmental science)
University of Wisconsin-LaCrosse (exercise science; physical therapy)
Des Moines University (Osteopathic Medicine, Physical Therapy)
Louisiana State University
University of Hawaii (Civil Engineering)
Concordia (physical therapy)
University of New Mexico (Exercise physiology)
University of Iowa (Medical School, Pharmacy School)
Iowa State University (veterinary school)
University of Illinois (Masters of Public Health)
University of Missouri College of optometry
Vermont Law School (environmental law)
Central Washington University (geology)
Other SMSU graduates have been successful in securing internships as well as jobs in a wide range of fields including health care, government, and private industry. Recent graduates completed internships or were offered employment by many organizations including:
Cardno Entrix, Florida (environmental consulting)
Centrol Crop Consultants
Glacial Lakes National Park (assistant park manager)
Minnehaha Creek Watershed District (Education & Communications Associate)
Minnesota Department of Natural Resources
Minnesota Pollution Control Agency
Ralco Nutrition, Marshall, MN
Sanford Hospital, Sioux Falls, SD
Smithsonian Institute, Washington D.C.
Summit Consulting Services, Alaska (Biology)
Upper Iowa University
US Fish and Wildlife Service
Wenck Associates, Inc (consulting)
Wyoming Game and Fish Dept
To see more student opportunities visit the
  Biology, Chemistry, Environmental Science, and Exercise Science Program pages!
Department Information

The Department of Science includes the Biology, Chemistry, Environmental Science, Exercise Science and Physics Programs. 
Science Department
SM 178
Southwest Minnesota State University
1501 State Street * Marshall, MN 56258
Ph: (507) 537-6178 * Fax: (507) 537-6151
Email: science@smsu.edu