Biology
About the Program
Southwest Minnesota State University's Biology Program is broadly based in biology, the supporting sciences and math. Research experiences are embedded into the curriculum so that all students get the opportunity to perform independent research projects. Within the Biology Program, a student may choose from the following three emphasis areas: biology, biology education, and Medical Laboratory Science (MLS). The biology major is designed to prepare students for a variety of careers in medicine, health care, government, industry, and environmental fields.
The Biology Program plays a major role in advising and teaching students in pre-professional programs. Biology majors satisfy the pre-professional requirements for acceptance into medicine, chiropractic, physical therapy, optometry, dentistry, occupational therapy, physician assistant, podiatry, veterinary, pharmacy and osteopathic programs. Biology majors often continue their studies at the graduate level.
See the Program Goals and Student Learning Outcomes for Biology.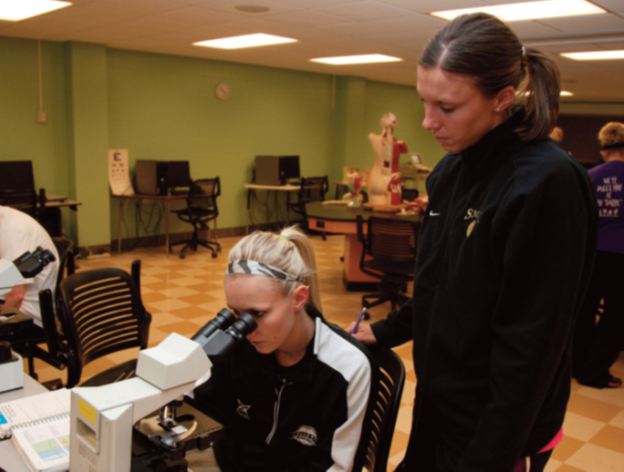 Facilities
The program is housed in the Science/Math Building and the Science/Technology Building. The facilities include six teaching/research laboratories, a media/solutions preparation lab, a GIS lab, greenhouse, natural history museum, and an on-campus 40-acre Wildlife Area. The labs contain a variety of instrumentation including compound and dissecting microscopes, PCR/qPCR, centrifuges, growth chambers, physiology powerlabs, spectrophotometers and more!

Undergraduate Research Conference
The Undergraduate Research Conference (URC) was established in 2006 for science majors to engage in a professional exchange of scientific ideas, as well as a means to showcase and celebrate their hard work and accomplishments. The URC is held annually on campus to include all disciplines across campus and continues to grow each year as we celebrate the intellectual achievements of our students.
Research is such an integral part to learning science that the biology program embedded research experiences throughout the four year core curriculum so that ever student gets this opportunity. Students must use scientific literature to create research proposals, design and carry out experiments, analyze data, and present their findings during the URC. These experiences are beneficial when students begin applying for jobs, graduate schools, or professional healthcare programs.
Activities
Biology majors can involve themselves in many activities that help them gain experience within their field. Students have the opportunity to work as lab assistants in the Biology Lab-Prep Room, help in the greenhouse, or create educational displays in our Natural History Museum. The Biology Club has programs and activities to serve as social and academic focuses for departmental majors and pre-professional students. Many area businesses and healthcare providers provide internships, part-time jobs, and job shadowing experience for our students.
Career Opportunities
Graduates may choose from a number of careers after obtaining a B.A. or B.S. degree in biology. The biology education major, which includes course work from the Education Department, prepares the graduate for a teaching career at the secondary level. The MLS major is based on three years of coursework at SMSU and one year of clinical training at the Sanford USD Medical Center (Sioux Falls, South Dakota). Completion of the clinical internship prepares the graduate for the national licensing exam leading to a career as a Medical Laboratory Scientist.
Biochemist
Wildlife Biologist
Health Professions
Biomedical research
Microbiologist
High School life science teacher
Medical laboratory scientist
---
Contact Information
Biology Program - Office
SM 178, Southwest Minnesota State University
1501 State St.
Marshall, MN 56258
FRESHMAN ADMISSION PROCESS
Complete Application
$20 Non-refundable Application Fee
Official High School Transcript(s)
ACT or SAT Test Scores
FRESHMAN ADMISSION REQUIREMENTS
Rank in the upper half of graduating class
Score a composite of 21 or above on the ACT or 990 on the SAT