Focus Assessment

To get started on FOCUS:
First time users: Create a new account .  Use mustang as the ACCESS CODE (the code is case sensitive).
Returning users: Log on (use the account you have already created)
FOCUS is a self-paced, online career and education planning tool. This resources is available free of charge to all SMSU students and alumni.
FOCUS will enable you to explore your interests and skills and then suggest possible career/major options that are most compatible with your assessment results. Use FOCUS to help choose your major and verify your preferences for a career.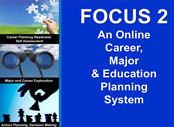 For more information on what the FOCUS assessment can do for you, see this presentation