Services & Retail
The Mustang Zone
If you're looking for a fun place to hang out between classes or during evenings and weekends, the Mustang Zone is the place for you.  The Zone @ The Centers, located on the second floor of the Student Center, offers billiards, table tennis, foosball and the latest Xbox Series X and Playstation 5 games projected on large plasma screens.  The Zone also offers candy, ice cream, hot pockets and fresh, hot popcorn.  The Mustang Zone can also be reserved for your small group activities.
Visit The Mustang Zone online!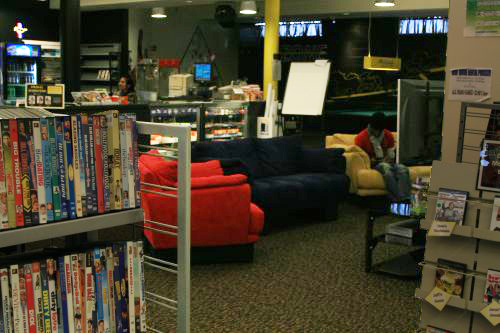 Mustang Zone Theatre
Located in the Mustang Zone, the Zone Theatre is a great place to catch your favorite TV show or sporting event, featuring high definition playing on 85" large screen. Relax in one of the comfortable home theatre seats and enjoy your experience in surround sound. Watch for announcements of special Cinema @ The Centers movies in the Zone Theatre as well.
Computer Stations and Internet Kiosks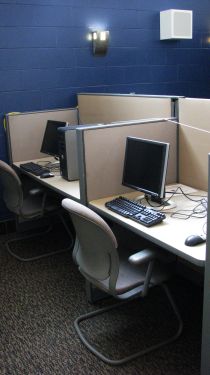 Scattered throughout the Student Center are internet kiosks and computer stations for students and guests to check e-mail, surf the web, put those finishing touches on a class project or keep up with friends from around the world on Facebook. It's a great place to grab a Coffee House treat and work with others on a group project without the restrictions of a computer lab or library.
Barnes & Noble Campus Store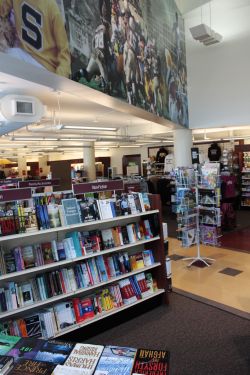 Our Campus Store strives to meet the needs of all students at SMSU.  We provide used and new textbooks, SMSU clothing and gifts, fiction and non-fiction books, school and art supplies, backpacks, magazines and calendars, health and beauty items, greeting cards, snacks, and Pepsi products.  Graduation regalia and announcements are supplied by your Campus Store as well as class rings and diploma frames.
Click the image below for information on textbook rentals!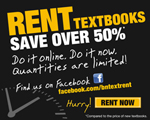 Remember to shop with us online at www.whywaitforbooks.com for textbooks, spirit clothing and gifts, discounts on Dell computers, and up to 85% off software.  We always offer 20% or more off of best selling popular titles, and you can order any book through us and have it shipped for free to our store. 
We buy back books year round no matter where you bought them.  Check our web-site for store hours and return policies.

Visit us on the web at:  http://smsu.bncollege.com/
Campus Dining & Catering
For students and visitors to The Centers @ SMSU, Campus Dining offers everything from restaurant-style dining to quick, easy grab-n-go.  We continuously create new great tastes as they come along, offering traditional American cuisine, international fare, and healthy eating, including low-fat, low-carb, and vegetarian meal options.
Our catering staff is highly qualified to assist you in every detail of your event.  In addition to food, we can offer linens and decorations to add a special touch.  Collaborating with you, we customize events from small business meetings to large banquets and weddings.  If you have any unique requests, simply let us know and we will gladly accommodate you and your guests.
Visit us on the web at:  https://new.dineoncampus.com/southwest