Vending Machines
Vending Machines are scattered across campus to keep your body and brain fed and hydrated.  Most of them are equipped to accept Mustang Money to keep your pockets light and your financial life simple.  All vending machines are located on first floors except for the Student Center machines at the top of the grand staircase.  Snacks and beverages are also available for purchase with your Mustang Money at the Student Center Food Court, Mustang Zone and the Mustang Express convenience store in the PE/BA Link.  Your Mustang Card is all you really need on campus . . . The simple convenience of an all-in-one card!
 Click on map to enlarge.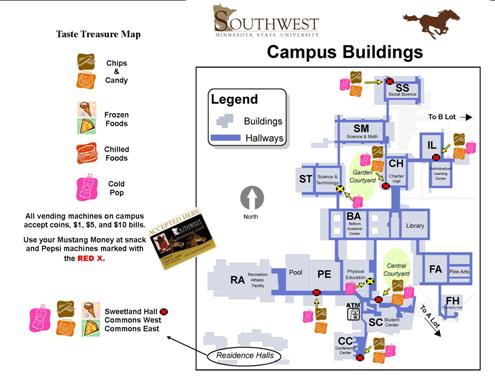 If you receive the wrong product from a machine, you may exchange the unopened item at the Mustang Zone.  If the machine malfunctioned in some other way, please report the error to the Mustang Card Center at the top of the Student Center grand staircase.  Refunds will be credited to your Mustang Card.
Mustang Zone 507-537-6553
Mustang Card Center 507-537-7330