Pre-Professional Healthcare Programs
The Science department also plays a major role in advising and teaching students in pre-professional programs. Students preparing for entrance to schools of medicine, dentistry, pharmacy, optometry, veterinary medicine, or other health care related fields are advised to earn a baccalaureate degree in an appropriate field of study. Most students major in the natural sciences in college (biology, chemistry, etc.) because the prerequisites for professional schools are science intensive.
However, prospective students can major in any degree discipline as long as they complete all of the prerequisite courses for the program. Entrance into professional schools is dependent upon meeting the requirements defined by each professional school. In addition to a high GPA in prerequisite coursework, many pre-professional programs require an admission exam (such as MCAT, DAT, OAT) and recommend work experience (such as internships or job shadowing) to better understand the daily demands of that career.  Academic advisors assist students in selecting courses and in understanding entrance criteria. For these reasons, it is particularly important that pre-professional students work closely with their advisors.
SMSU Pre-Professional Programs: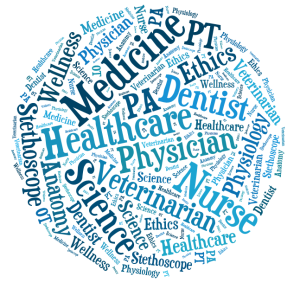 Health Career Information
The U.S. Bureau of Labor Statistics provides an Occupational Outlook Handbook listing many healthcare occupations, job summaries, entry-level education requirements, and median pay.