SMSU Community Wellness Program
SMSU is proud to be partnering with the Wellness & Human Performance Center to offer the SMSU community the opportunity to participate in fitness classes and a wellness program. Community members may participate in the SMSU Exercise Science service learning program, using an innovative approach to improving wellness. The unique program is designed to provide the personalized, supportive, and long-term approach that leads to success.
What is included in a wellness program?
INDIVIDUALIZED PERSONAL TRAINING: Following a pre-assessment, you'll receive individualized/ small-group coaching, training and support. Sessions will incorporate:
One-on-one coaching and training with compassionate and supportive SMSU student trainers
An individualized exercise prescription program wrapped around the realities facing "real people" with busy lives and unique health challenges
Exercise Science student will modify your prescription as you go based on your progress.
We encourage you to work with your student trainer 2-3 times per week, but we understand time is precious!
PRE AND POST PROGRAM ASSESSMENTS
Height, weight, vital signs
Body fat analysis utilizing skin fold calipers, bio-electric impedance, and girth measurements
Fitness testing
Rockport 1 mile walk test
Core strength testing, Plank test
Sit and Reach test
Y-balance test
"This experience with clients helped out greatly in my profession because it allowed me to put everything I learned in my three years here at SMSU altogether. It helped me grow because each one to one with a client is different and helping them improve their fitness and lifestyle. From a scientific perspective it helped me put everything I learned into this program to help my clients. On a personal level it gave me the confidence to be able to work with other people and help them improve their lifestyle. This experience showed me I can work with any client and help them obtain their goals." - SMSU Exercise Science Student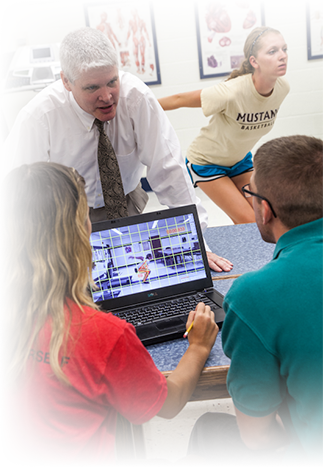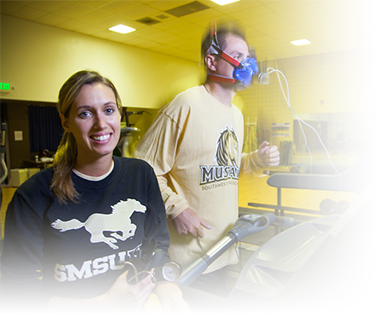 Exercise Science student trainers are in their Junior or Senior year of their education at SMSU. They have completed all of their basic Exercise Science coursework and are currently undergoing practical application for their coursework. This program, as part of their coursework, offers service learning and real world hands on experience.
Sign Me Up!
Below is a link to the necessary information for registration and participation in the Program. Completion of these materials must be done prior to beginning the Program and meeting with a trainer. 
Registration and payment: SMSU Continuing Education Registration (Signup for Wellness Classes here!)
Community Fitness Options
** Additional sessions will be offered based on interest and instructor availability. 
Core/Cardio & Stability: This class is a 30 minute class aimed at strengthening the abdominals, gluteals, hamstrings and quads with emphasis on proper posture and technique to effectively engage your core muscles. Interval training is incorporated to make this a cardiovascular class as well. Wear comfortable exercise clothing, good workout shoes and be prepared to perspire a bit! Offered Mondays and Wednesdays from 12:00 - 12:30 pm. Cost: $50 per semester. Instructor: Kris Cleveland,PT, DPT. Class location: PE 235 - SMSU Dance Studio (**Note new location as of August 14th, 2023.) **Cancellations will be posted outside the fitness center and by email. 
Fitness Training Sessions: Individual training sessions will be provided by Exercise Science student trainers. Trainers will teach you proper form and performance of exercise and help you progress in your fitness goals. Training sessions are scheduled by availability of trainers. Cost: $12 per session (individual), $10 per session (group of 1-2). 
Fitness Testing: This is a battery of tests to determine your fitness level. Testing includes vital signs, body fat percentage via skinfold testing, tests of endurance, strength and balance. Testing sessions are scheduled by availability of trainers. Cost: $25.
Contact Information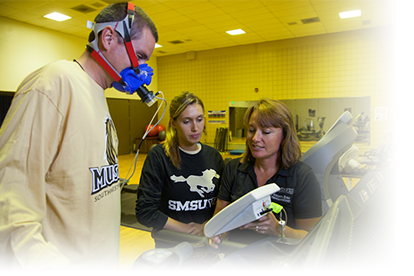 Kris Cleveland, PT, DPT
Associate Professor of Exercise Science
Director, Exercise Science Wellness & Human Performance Center
PE 220
1501 State Street * Marshall, MN 56258
Ph: (507) 537-7233 * Fax: (507) 537-6151
Email: Kris.cleveland@smsu.edu
You may also contact:
Science Department, Exercise Science Program
SM 178
Southwest Minnesota State University
1501 State Street * Marshall, MN 56258
Ph: (507) 537-6178 * Fax: (507) 537-6151