English - Creative Writing
About the Program
The Creative Writing Program balances writing practice and literary study in the context of a liberal arts education. Students work closely with our faculty of published writers and often have the opportunity to work with other renowned writers as part of the SMSU Visiting Writers Series. The flexibility of the program allows students to choose courses which suit their needs, goals, and interests. Specific courses are chosen by students with the advice and approval of their advisors and the Director of Creative Writing. Senior creative writing majors are required to enroll in the one-credit Senior Portfolio Workshop during the Fall Semester of their final year. This is an excellent area of study for those interested in double-majoring. English majors have their own lounge, the Holm & Dacey Lounge, which houses a lending library of books and literary magazines.
An English with Creative Writing Emphasis Major should...
Students should read a broad spectrum of classic and contemporary literature, as well as have experience writing fiction, poetry, personal essays, and/or dramatic scripts.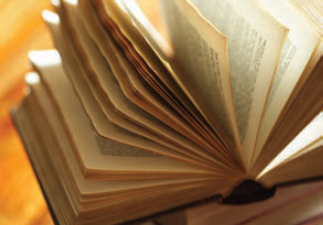 Activities
The Spur (SMSU student newspaper): a chance for students to practice writing for the campus audience
Writing Center: upper-class students are eligible to become tutors
Scholarship/Mentorship: allows students to work one-on-one with SMSU faculty while receiving tuition reimbursement
Perceptions: a literary and arts journal for students to have their works published
The English Club: students attend regional and national writing conferences, as well as plan writing-related events
Readings and Open Mic Events: students may read their own writing or hear the writing of nationally-known writers
Marshall Festival: opportunities to see numerous readings, panels, and discussions with regional and nationally-known authors, as well as volunteer to work in various aspects behind-the-scenes
Creating Spaces: students serve as the first-tier judges for an annual creative writing contest for 3rd to 12th grade students in the 18-county region
Career Opportunities
Teaching
Editing and publishing
Journalism
Public Relations
Freelance Writing
Technical writing for businesses, non-profits and government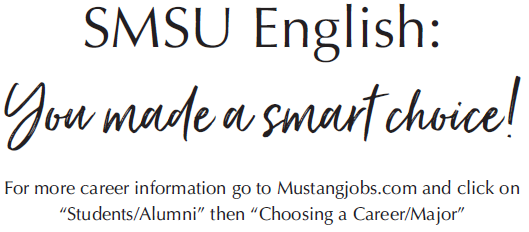 Contact Information
English Program - Office
BA 221, Southwest Minnesota State University
1501 State St.
Marshall, MN 56258
Invalid content type (). Please contact the Web Office. 507-537-6123
FRESHMAN ADMISSION PROCESS
Complete Application
$20 Non-refundable Application Fee
Official High School Transcript(s)
ACT or SAT Test Scores
FRESHMAN ADMISSION REQUIREMENTS
Rank in the upper half of graduating class
Score a composite of 21 or above on the ACT or 990 on the SAT