Safe Living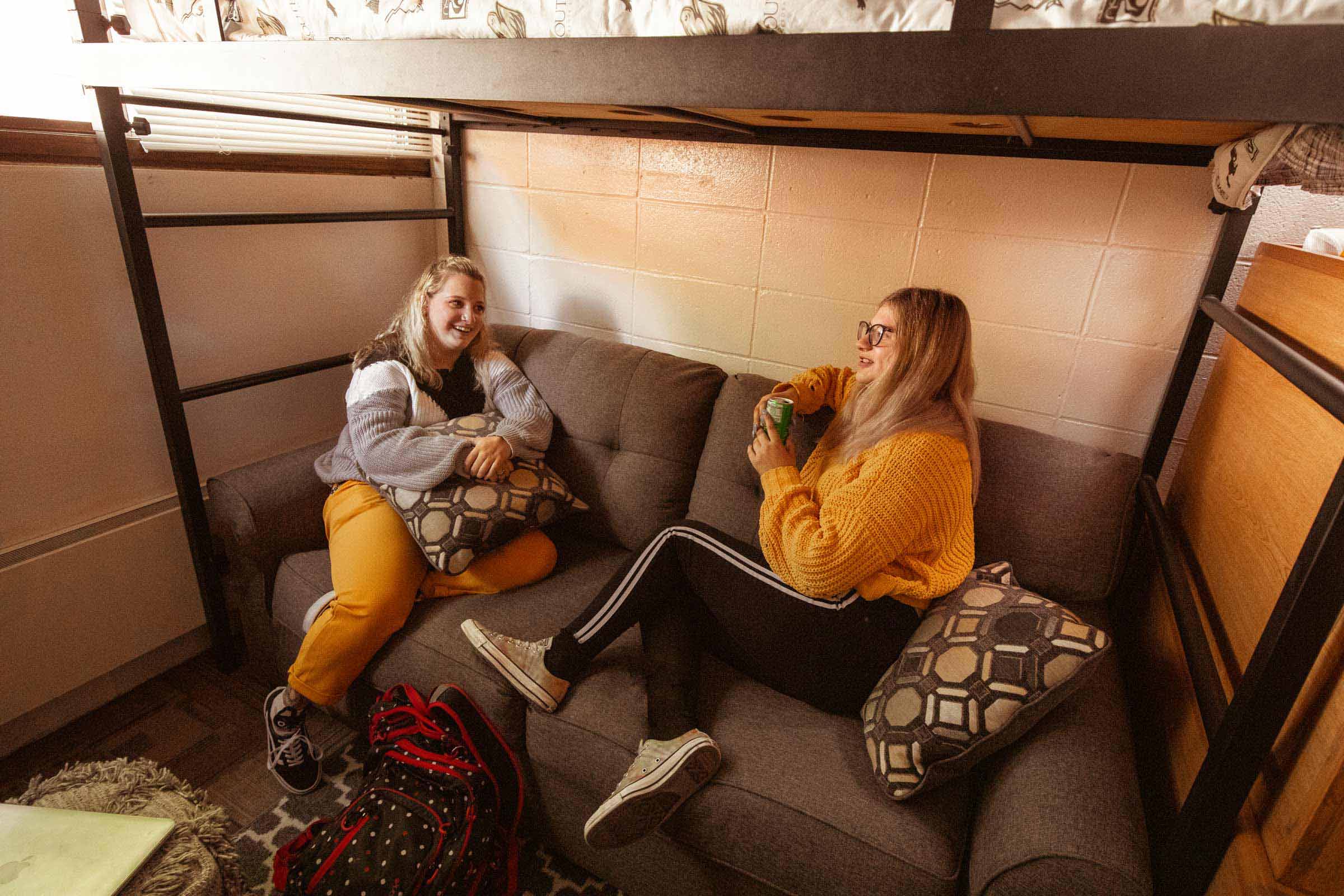 Safety in the Residence Halls may not be the first thought on a student's mind, but it should be their main concern. While on-campus housing offers a great place to meet new friends and socialize, they can also be dangerous if the proper precautions aren't taken. With a solid security plan and some safeguards in place, you can stay safe in your home away from home.
Have a Personal Security Plan
Do you know how to get in contact with the University Public Safety? Where is the SMSU Public Safety Department located? What do I do in an emergency? The answers to the previous questions should be as important to you as those on an important exam. Once you know your schedule, it's very important that you share that information with your family and someone you trust as part of the security plan. Planning different walking routes between classes and your dorm is a great way to protect you from being followed. SMSU Public Safety Department encourages the "Buddy System" when students travel from dorms and residences to the downtown area for a night of relaxation and entertainment. The "Buddy System" also works if you are out late working on a class project or studying.
Security awareness is crucial in a residence hall. Hallways that contain multiple dorm rooms should be thought of as small neighborhoods, which often have a lot of visitor traffic. If you notice anything-suspicious happening in or around your dorm, don't hesitate to notify the SMSU Public Safety. Perhaps some of your neighbors' things have mysteriously gone missing. Or perhaps you've noticed a shady character lurking near your building's front door at night, trying to gain entry without a key. Voicing your concerns to the appropriate authority prevents future criminal activity. If your intuitions are correct, staying silent may come back to haunt you.
Security in your Residence Hall Room
Students don't always have the luxury of knowing who they will be rooming with. In order to protect against this uncertainty you may need some dorm room security products such as room safes, insurance, and laptop locks to keep your things safe. Room safes can be as inconspicuous as a book or can blend in to a drawer without notice. Locking up jewelry, checkbooks, and other valuables when not around can deter would-be snatch and grab thieves. Remember out of sight out of mind!
Valuables that don't fit in a safe or are uninsurable could benefit from something as simple as labeling or engraving them. Labeled items help solve ownership disputes and act as a simple but effective theft deterrent. It is always a good idea to record serial numbers for all your valuables and keep that information in a safe place for future reference if needed.
Dormitories may seem like a fun, safe environment, but an easy way to reduce the risk of theft is keeping your doors locked at all times when you're not in your room. Keeping your door locked while you are sleeping at night is also a good measure to keep intruders out--even if you think your hallway is safe. Roommates must understand the importance of keeping doors locked to safeguard your possessions and yourselves.
When entering and exiting your dorm room or building make sure the door behind you secures properly. Do not allow anyone to enter your room, or building that you don't know. The practice of holding the door for multiple persons, known as "PIGGY BACKING," should be avoided. This practice can allow a person or persons whose goal is to enter the building illegally access to not only the lobby but the hallways and neighborhoods within the community. Remember to treat your Residence Hall and House as it where your neighborhood back home. Get to know your neighbors and encourage each other to keep items out of sight, doors locked, and to remain vigilant to their surroundings.
Fire Safety
Accidents in crowded dorms can often lead to fire mishaps. Smoke alarms should be working and checked regularly. Hairdryers, curling irons and straighteners should be unplugged when not in use and should never be left unattended. Do not use candles in the dorm room and cook in the kitchen area only. Know your escape routes for your building and when the alarms do sound evacuate the building. Some simple, common-sense fire safety precautions can keep everyone safe from common accidents.
More Housing Safety Tips
Although on-campus housing is often your best bet as far as safety and security are concerned, many students prefer to find off-campus housing. When looking into rental properties there are a few very basic safety features and policies which you should consider before signing a lease.
Doors should be made of metal or solid wood construction. Good deadbolt locks and peepholes are also a must.
Make sure the management changes locks or permits the tenant to change them when moving in.
Sliding glass doors should be secured with pins through the frame or have a "charlie bar" locking device.
Apartments located on the second floor, or higher, are safer. Being on the ground floor makes entry through windows easy. Ground floor windows should be secured with pins through the frame or key lock latches.
Hallways and stairwells should be well lit at night. Mirrors to help you see around hallway corners are also important.
Bushes and shrubbery should be well maintained and cut back below window height to reduce the risk of attackers hiding in them.
Is access to the complex limited to residents and guests?
Is there on-sight security? Is there a neighborhood watch program?
Have there been any burglaries in the complex, and if so, how did the burglars gain entry?
Ask management about the availability of extra keys to your apartment. If there are extra keys, ask how they are secured and who has access to them.
Ensure parking areas are well lit at night and afford a clear line of sight to your apartment door.
Ask management if they have a policy against installing intrusion alarms in individual apartments. If not, installation of a simple alarm system might be a good option for additional security at a relatively low expense.
Keep in mind that looks can be deceiving. Just because a complex is new does not mean that it is safe. Look closely at the apartments you are considering. If they don't have the majority of the safety features listed above, you should probably keep looking. When it come to your safety you should not compromise.