Education Programs
Vision
Inclusive communities of practice investigating learning and teaching.
Mission
The mission of the Professional Education programs at SMSU is to create inclusive communities of practice where each learner is an active participant in the investigation of learning, teaching, and leadership processes. Teachers and learners will engage in educational theory, research, inquiry, critical reflection, and application in pursuit of excellence in a culturally responsive education.
Assessment of Student Performance
Assessment of teaching skills begins when applicants are reviewed for admission to the Teacher Preparation Program. Ability to work with children and/or adolescents, strong scholastic achievement, and solid communication skills are examples of characteristics that teacher candidates entering teacher education must have. During the program, teacher candidates receive specific feedback from professors and classroom mentor teachers. At the time of student teaching, each teacher candidate receives a comprehensive assessment by the classroom mentor teacher and the university supervisor. Mastery at the appropriate level for a beginning teacher must be demonstrated in the Ten Standards of Effective Practice. Collaborative skills and attitudes are emphasized. Candidates are also required to complete the edTPA (Teacher Performance Assessment). A portfolio is required.
Program Changes to Meet New Licensure Requirements
The teacher licensure requirements are subject to change without notice to accommodate the requirements of licensure and accrediting agencies. These changes may be applied to teacher candidates currently enrolled in the program. Teacher Candidates seeking a teaching license must complete a program approved by the Minnesota Professional Educator Licensing and Standards Board; the University will then recommend that an appropriate license be issued. Students interested in Teacher Education should ask for updated information in the School of Education Office.
Application to Teacher Preparation Program
A teacher candidate must put forward a formal application for admission to the Teacher Preparation Program if they are working toward licensure in any Education major. Admission to the Teacher Preparation Program is a prerequisite for most 300 or 400 level Education methods courses. A teacher candidate will not be able to register for methods classes that require admission to the Teacher Preparation Program until being formally admitted, so it is important to start this process early.
For information on applying to the SMSU Teacher Preparation Program, see the School of Education Homepage.
UNDERGRADUATE MAJORS
Early Childhood Education, birth - grade 3
Early Childhood Special Education, birth - age 6
Elementary Education, K-6 with Optional Endorsements

Elementary Education K-6 - no endorsement
Elementary Education + Pre-Primary (Ages 3-5)
Elementary Education + Gr. 5-8 Communication Arts-Literature
Elementary Education + Gr. 5-8 Mathematics
Elementary Education + Gr. 5-8 Science
Elementary Education + Gr. 5-8 Social Science
Elementary Education + Gr. 5-8 World Language/Cultures, Spanish
Secondary Education, grades 5-12
5-12 Agricultural Education
5-12 Communication Arts-Literature Education + English
5-12 Communication Arts-Literature Education + Speech
5-12 Health Education
5-12 Mathematics Education
5-12 Social Science Licensure
9-12 Biology Education
9-12 Chemistry Education
K-12 Education
K-12 Art Education
K-12 Music Education Instrumental
K-12 Music Education Vocal
K-12 Physical Education
K-12 Special Education: Academic Behavioral Strategist
K-12 Teaching English as a Second Language (TESL)
Educational Studies (non-licensure)
Minors
Coaching Minor or Coaching Certificate
K-12 Reading licensure
K-12 Developmentally Adapted Physical Education license (DAPE)
Special Education minor
Teaching English as a Second Language (TESL) minor
Graduate
The School of Education also provides Master's programs. More information can be found by visiting the Graduate Studies webpage.
Contact Information
School of Education - Office
IL 229, Southwest Minnesota State University
1501 State St.
Marshall, MN 56258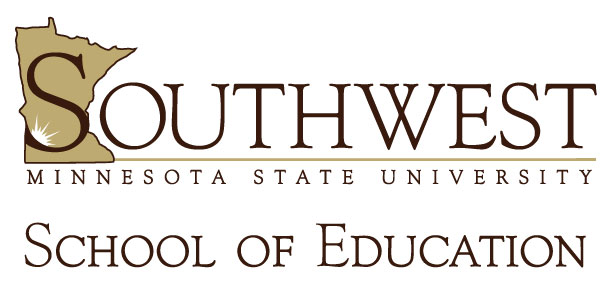 FRESHMAN ADMISSION PROCESS
Complete Application
$20 Non-refundable Application Fee
Official High School Transcript(s)
ACT or SAT Test Scores
FRESHMAN ADMISSION REQUIREMENTS
Rank in the upper half of graduating class
Score a composite of 21 or above on the ACT or 990 on the SAT