Resident Appreciation Week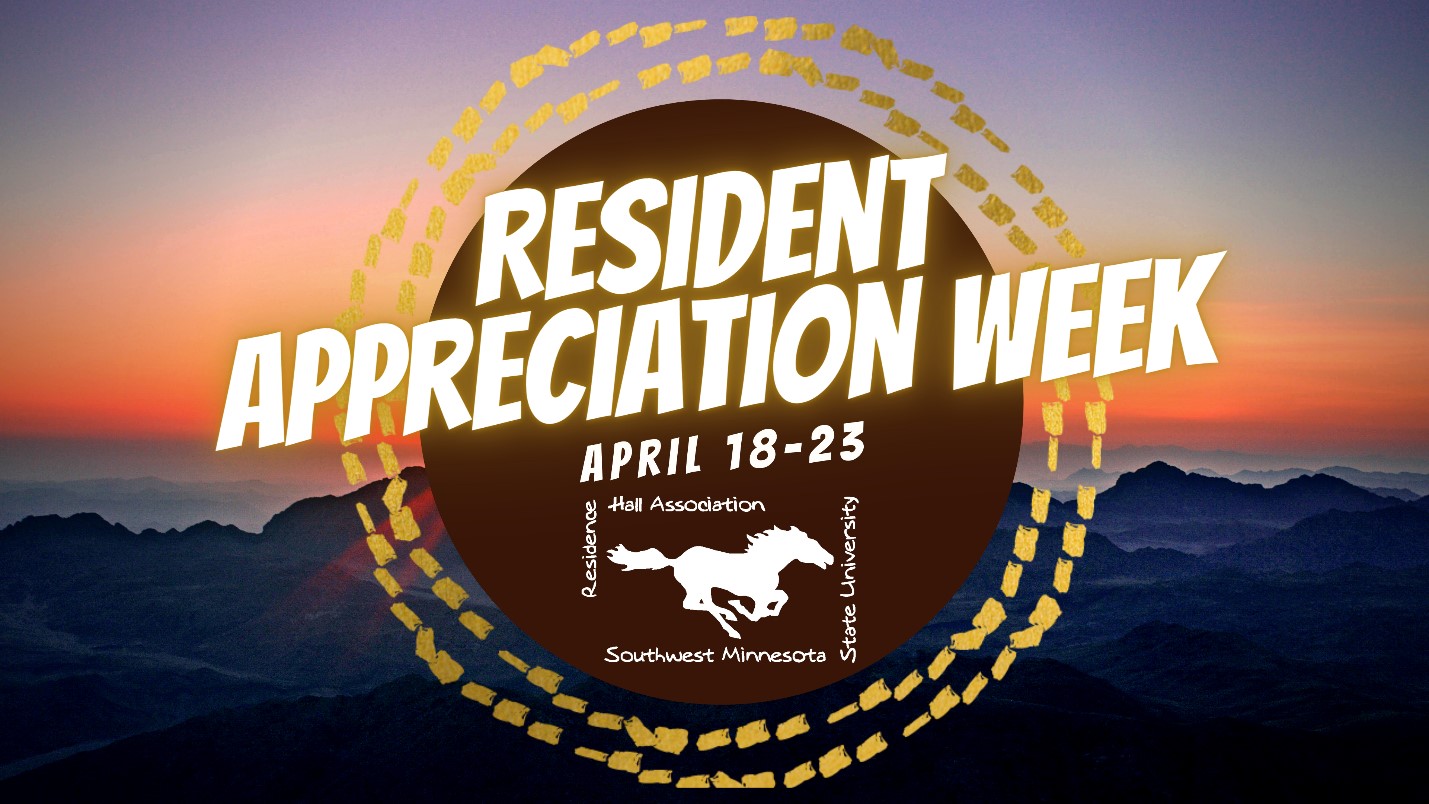 Welcome to your Residence Hall Association! One of RHA's largest motivations is to enhance the experience of those living on campus. As we round out the semester, and you prepare for finals, we plan to highlight those that mean the most to us… YOU! Resident Appreciation Week celebrates all of the great perks of living on campus by hosting fun, interactive events. Throughout the week of April 18th through the 23rd, join us for all of the various FREE activities, programs and events. See you there!
Monday – Earth Day Photography Gallery
In celebration of Earth Day on April 22nd, RHA will be displaying the 1st, 2nd and 3rd place winners of its Photography Contest in the Upper Student Center. Students, staff and faculty were asked to submit images that showed off the beauty of our area. Out of the numerous submissions that RHA received, these three were voted the best by SMSU's own Photography Club. Also included, will be the winner of the category celebrating the City of Marshall's Sesquicentennial Anniversary (150th). The winner of this category was judged by 'Visit Marshall' and will be donated to city in celebration of this great achievement.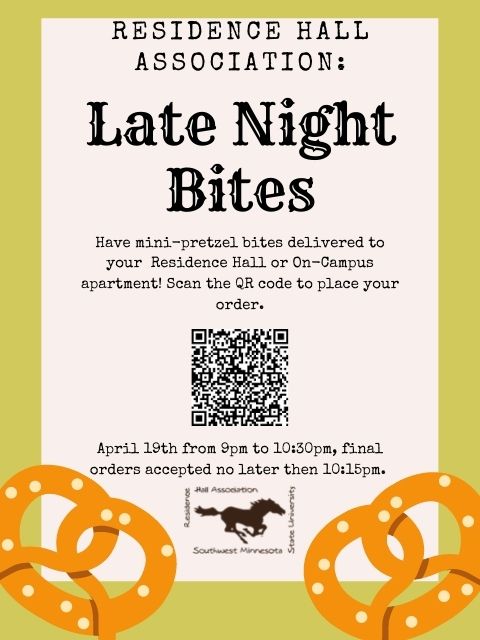 Tuesday – Late Night Bites
When: Tuesday, April 19th
Delivery Time: 9:00 – 10:30
Late Night Bites has become a tradition for the RHA and we are happy to bring it back again this semester! This semester's treat will be soft pretzel bites with a choice of cheese sauce or icing. To place your order, follow the link below and we will deliver it to your Residence Hall! Deliveries will take place between 9:00 & 10:30pm. Feel free to place your order at any point throughout the day on Tuesday.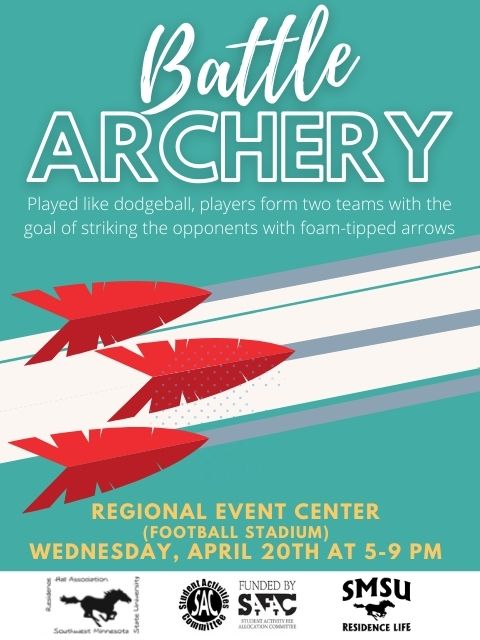 Wednesday – Archery Battle
When: Wednesday, April 20th
Where: REC - Stadium
Time: 5:00 – 9:00pm
Archery Battle is coming to SMSU! The event will be held at the Regional Event Center (Football Stadium) Wednesday, April 20th from 5:00 – 9:00pm. Played like dodgeball, players form two teams with the goal of striking the opponents with foam-tipped arrows, while also trying to score points by hitting targets. Feel free to make teams beforehand or jump in on your own. There will be 6 players on each team and each game will be 7 minutes long. We are happy to present this event in conjunction with SAC and Residence Life "Caught a Vibe" event taking place all day April 20th. For a preview of this event, see the link below.
https://www.thecollegeagency.com/archery.html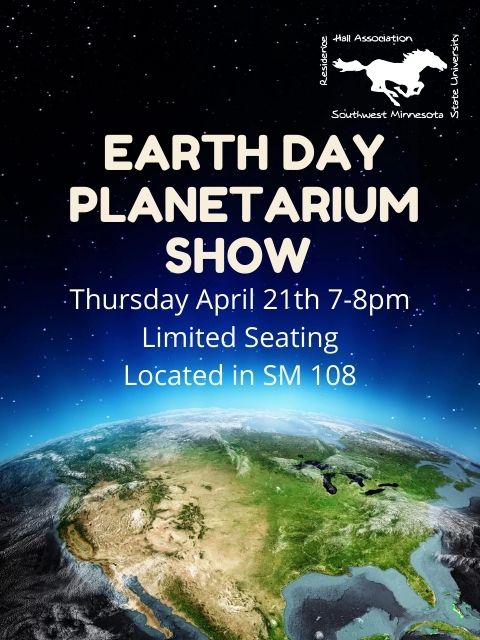 Thursday – Planetarium Show
When: Thursday, April 21st
Where: SM 108
Time: 7:00 – 8:00pm
Thursday, April 21st, RHA will be hosting a special planetarium show celebrating Earth Day. The show, "Birth of Planet Earth" will be presented in the SMSU Planetarium located in SM 108 at 7:00pm. Seating is limited and will available on a first come first serve basis. For a preview of the show, see the link below.
https://www.youtube.com/watch?v=OQMIqZOniXE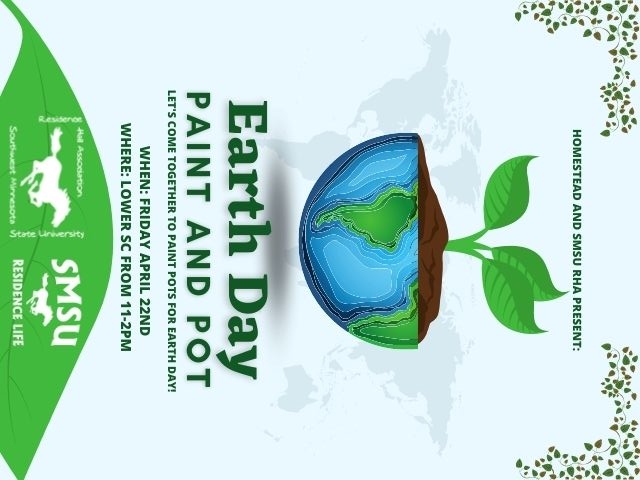 Friday – Plant Potting
When: Friday, April 22nd
Where: Student Center
Time: 12:00 – 2:00pm
In celebration of Earth Day, RHA will be hosting a Plant Potting event Friday, April 22nd. Stop by the Student Center outside of Student Dining from 12:00 to 2:00pm and assemble a flower starter kit. You will also have the opportunity to paint the pots. You can keep your creation for yourself or have the option to donate a pot to a professor. Simply assemble, paint and we will deliver it to that professor. This event is presented in conjunction with Homestead.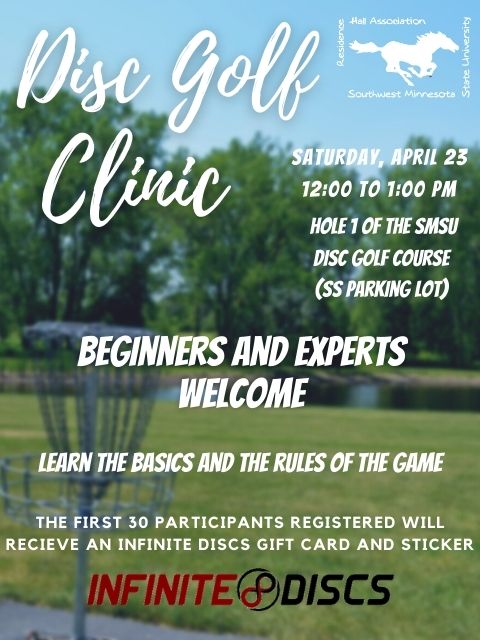 Saturday – Disc Golf Clinic
When: Saturday, April 23rd
Where: Disc Golf Course    (Outside of SS)
Time: 12:00 - 1:00pm 
Ever wanted to learn the basics of disc golf? Are you a pro and want to get back on the course? Did you even know we have an 18-hole course on campus!? Join us on Saturday, April 23rd at 1:00pm at the Disc Golf Course, Hole 1 (SS Parking Lot) to learn the basics of the game in an approachable and casual setting. Disc will be provided for this event, but feel free to bring your own. The clinic will be hosted by SMSU student, Emery Teagle. This event is sponsored by disc golf retailer, Infinite Discs and the first 30 students registered on the day of the event will receive an Infinite Discs gift card and sticker.