Career Resources for Making a Difference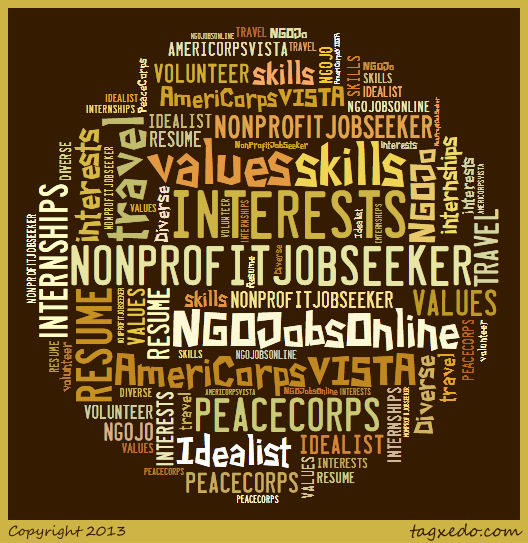 Making a Difference: JOB SEEKING WEBSITES
Making a Difference: CAREER FAIRS
Minnesota College and Universities Career Services Association (MCUCSA) GOVERNMENT AND NON-PROFIT FAIR www.govnonprofitfair.org                                    
Each year in early October, this Career Fair allows agencies to meet with candidates and alumni from 30 participating Minnesota 4-year colleges and universities and participating regional colleges. The Government & Nonprofit Career Fair allows candidates to pursue professional opportunities and internship in all levels of government and nonprofit agencies. The job fair is open only to students and alumni from participating colleges and universities. SMSU regularly participates in this.
The Idealist Grad Fairs connect prospective students with graduate schools in fields such as public administration, international affairs, education, public policy, public interest law, social work, nonprofit management, global and public health, theology, environmental science, and socially responsible business. The fairs are free and open to the public.
To see what the Idealist Grad Fairs are all about, check out this brief video, taken at our New York fair in September 2012.
SMSU Career Services
www.smsu.edu/campuslife/careerservices/ 
Office Location: Bellows Academic, Room 156
Telephone: 507-537-6221
Fax: 507-537-7979
Make use of the wide variety of resources available to support your career development:
Career Counseling and Career Assessments for undecided students
Job and Internship Search Assistance; Job Search Videos
Online Job Listings— www.mustangjobs.com
Resume and Cover Letter Development
Job, Career and Internship Fairs
Graduate School Preparation
On Campus Employer Interviews and Information Sessions
Seminars, Workshops and Presentations
Practice Interviewing with Interview Stream
Going Global - City Career Guides, Country Guides & Search H1B Database