Center for Civic & Community Engagement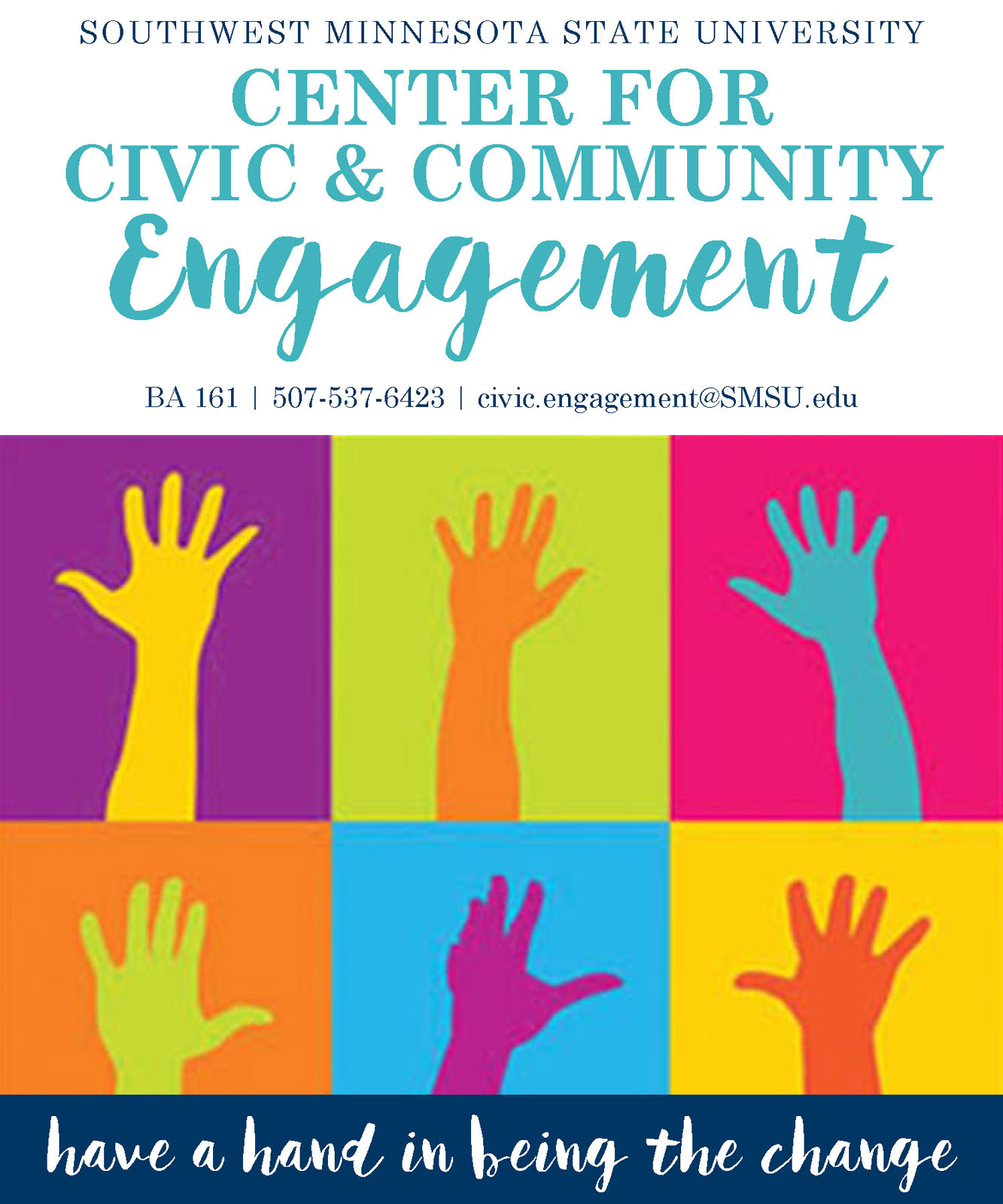 In support of the SMSU Mission, the Center for Civic & Community Engagement connects academic programs with community needs to use scholarship and action for the mutual benefit of the University, its communities, and its diverse peoples. The Center serves as the intersection between student learning, faculty research, and community engagement. It is committed to illuminating the variety of ways in which SMSU strives to make civic and community engagement integral to learning experiences campus-wide. 
---
SMSU Mission
"Southwest Minnesota State University prepares students to meet the complex challenges of this century as engaged citizens in their local and global communities…."
---
 What does "engaged citizen" mean?
            "Civic engagement means working to make a difference in the civic life of our communities and developing the combination of knowledge, skills, values and motivation to make that difference. It means promoting the quality of life in a community, through both political and non-political processes". - Preface, page vi
             A morally and civically responsible individual recognizes himself or herself as a member of a larger social fabric and therefore considers social problems to be at least partly his or her own; such an individual is willing to see the moral and civic dimensions of issues, to make and justify informed moral and civic judgments, and to take action when appropriate. - Introduction, page xxvi
(Source: Civic Responsibility and Higher Education, edited by Thomas Ehrlich, published by Oryx Press, 2000.)
---
AmeriCorps Health VISTA serving at SMSU
---

Campus Election Engagement Project (CEEP) is a national nonpartisan project that helps administrators, faculty, staff and student leaders at America's colleges and universities engage students in federal, state and local elections, working to promote a more equitable and inclusive democracy, and to overcome the ever-changing barriers to voting. With support and guidance from state directors, our schools help their students to register, volunteer in campaigns, educate themselves on candidates and issues, navigate confusing voting laws, and turn out at the polls. Check out voter registration, voter education, and get out the vote resources from SMSU's CEEP Student Fellows here.
Facebook Icon Follow Us On Facebook
Twitter Icon Follow Us on Twitter
Last Modified: 9/18/20 2:13 PM